Robert Quinn Reportedly Expected to Be Fine After Seizures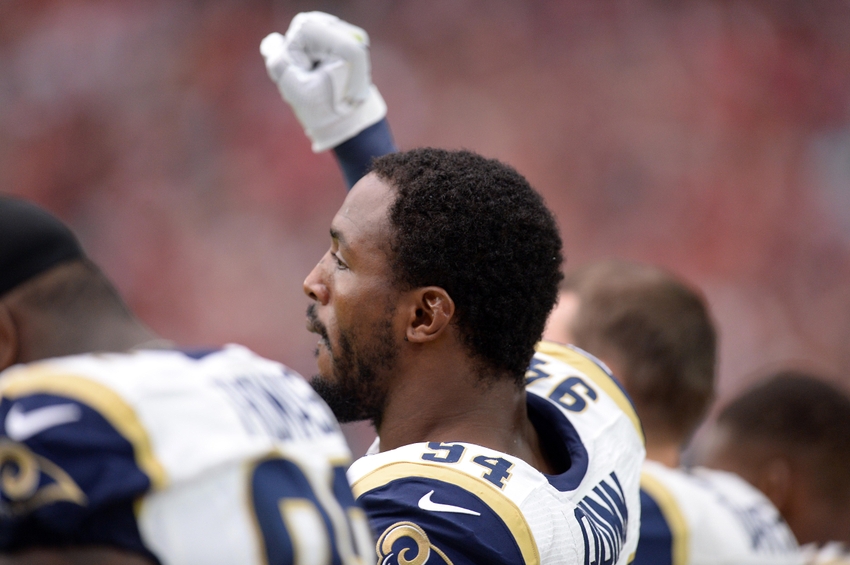 Los Angeles Rams head coach Jeff Fisher updated defensive end Robert Quinn's status on Monday evening.
Los Angeles Rams defensive end Robert Quinn admitted himself to the hospital after he suffered two seizures on Sunday night, but is reportedly expected to be fine.
ESPN broke the news on Quinn's status, which was shared by Turf Show Times editor, Peter Dunbar.
After being hospitalized this morning, ESPN reporting Rams DE Robert Quinn is going to be fine, just going through more testing

— Peter Dunbar (@PeterDunbar7) November 14, 2016
Jeff Fisher to Update Robert Quinn's Status on Monday Evening
Rams head coach Jeff Fisher is expected to give a further update at his weekly press conference on Monday evening.
The news about Quinn broke on Monday afternoon when a post by his brother James was discovered on Facebook. In the post, Quinn's brother wished him well and let people know his brother was hospitalized after two seizures.
The post has since been taken down, but we have a screenshot thanks to a Rams fan:
@TurfShowTimes @MJ_STL pic.twitter.com/IeIFkx9Csf

— HoldenCantor (@HoldenCantor) November 14, 2016
Later on, this tweet came from Quinn's account, but we're not sure what it means:
Lllppppp

— Robert Quinn (@RQuinn94) November 14, 2016
Quinn's medical issues are well-known. Not only did he have a benign tumor removed that caused him to miss most of his senior year in college, but he also lives with a tumor at the base of his brain.
It isn't known if the seizures are related or not.
#Rams Robert Quinn has some serious health issues- a tumour at the base of his brain that he's been living with since high school.

— Liz Habib (@LizHabib) November 14, 2016
The 26-year-old was on the field for Los Angeles in Week 10 on Sunday during a game that the Rams won.
It's good to see Quinn is doing OK and we hope he makes a speedy recovery.
This article originally appeared on