Rob Kelley Earns Starting Job For The Washington Redskins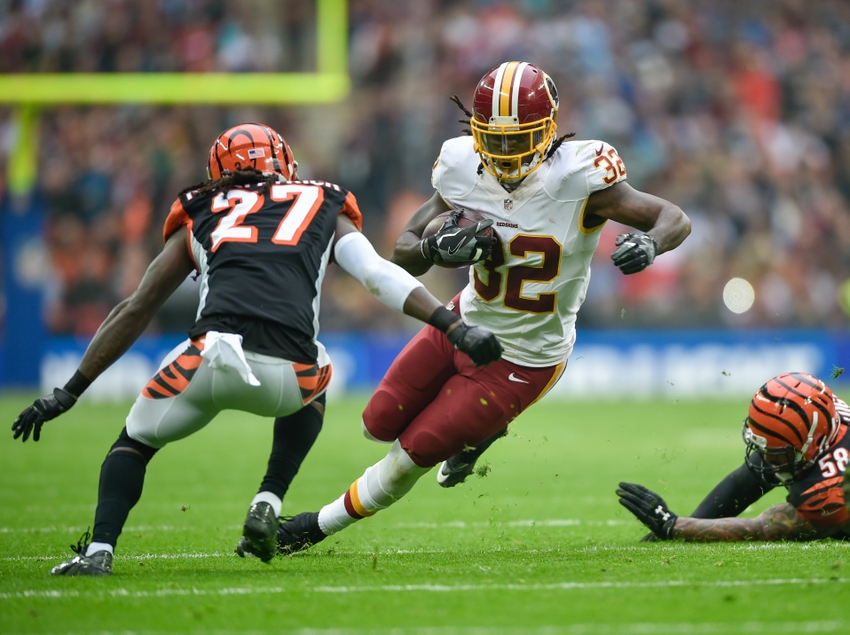 Coach Gruden has designated running back Robert Kelley as the lead back moving forward. How is Kelley preparing for his new role?
After a strong game against the Bengals, Coach Jay Gruden has named rookie Rob Kelley the new starting running back for the Redskins.
Kelley's appointment comes off the heels of an 87-yard rushing game. The 6-foot', 228 pound back ran the ball powerfully and proved hard to bring down. Additionally, his performance earned the respect of many teammates and coaches. Ultimately, Coach Gruden decided to hand over the reins of the starting job.
Right now, Robert Kelley is our first-string running back. When we start the game, it'll be Robert and then we'll go from there. We'll decide the rest of the group later on.
Gruden's remarks, per the Washington Post's Master Tesfatsion, also indicate that former starting running back Matt Jones will only be used on a case-by-case basis. For now, the job is Kelley's to lose.
Kelley continues to remain hungry and is definitely eager to learn. Kelley appears to be humbled by the opportunity, according to the Washington Post.
I feel real good knowing that I have the opportunity to be something that I always wanted to be. Not necessarily saying it's going to happen, but I have the opportunity. Just coming from where I come from, it just let me know everything I've been through and still going through is worth it.
In his limited experience, Kelley has developed immensely as a running back. The change in his running even between the first and second halves of the Bengals game illustrates his willingness to make adjustments. For example, he showed patience in waiting for holes to develop on the offensive line in the second half. Due to this adjustment, his runs became longer (per ESPN).
Early in the game I was trying to get downhill as fast as possible, then I realized I was leaving a lot of yards out there running without thinking about what I was doing. I came back out and tried to be more patient.
As for Matt Jones, he is firmly buried on the depth chart beneath Kelley and Chris Thompson. In his last significant action, he was involved in three fumbles against the Lions. Gruden benched Jones during the fourth quarter of that game.
Kelley will face a tough challenge this Sunday against the Minnesota Vikings. The Vikings currently rank third in the league in overall defense (by yards allowed), and eighth in run defense. With a talented front seven, including 2015 Pro Bowlers Anthony Barr and Everson Griffen, the rookie will certainly be tested.
However, he feels up to the challenge.
"I try to keep it simple, I try not to get over my head with it," Kelley said, according to Redskins.com's Stephen Czarda. "I'm going to take it as they come."
This article originally appeared on