Rival Watch: Behind enemy lines Vol 2 (week 3 for the Cowboys, Redskins and Giants)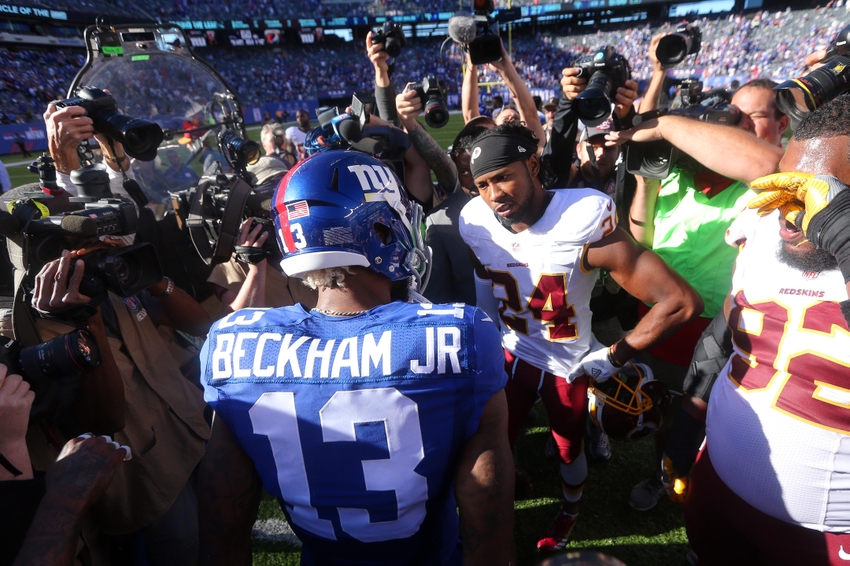 As the Philadelphia Eagles head into their bye week, let's take some time to look around the NFC East.
This past Sunday was very interesting as the New York Giants and Washington Redskins played in a divisional game for the second time in two weeks. The Dallas Cowboys took the field later that night and disposed of a very shaky opponent in the Chicago Bears. There's been quite a bit of talk about each franchise in the NFC East, as there always is, but here's something of note. The Philadelphia Eagles are the only team in the division who hasn't played a divisional opponent yet, and they won't play one until October 16th when they lock horns with the Redskins in our nation's capital.
They'll have plenty of film to study. Next up for the Eagles, following their bye week, is an October 9th matchup with the Detroit Lions. Hopefully for their fans they'll continue their winning ways and gain a measure of revenge for last year's embarrassing Thanksgiving Day loss.
Until then, here's your power rankings for the NFC East following week three. We hope that takes your minds off of the appeal hearing for right tackle Lane Johnson.
Enjoy.
1. The Dallas Cowboys
The Cowboys overtake the Giants this week due to their close loss to "Big Blue" in week one and how bad the Giants looked at times on Sunday. Dallas, on the other hand, continues to improve each week. It's still hard to believe in their secondary and their pass rush, but they're set at running back. They appear to have a steadily improving rookie quarterback in Dak Prescott. Time and, maybe, some adversity will tell if we're right on that one, but let's be clear. Prescott has exceeded all of our expectations to this point.
Yes, we knew he had the talent when he was at the collegiate level, but no one knew his game would transfer as well as it has. Otherwise, the Cowboys wouldn't have waited until the fourth round to select him.
Even with that being said, there's no reason for fans of this team not to be excited about what they're building in "Big D". We hear that rookie quarterback's got a pretty good receiver on the outside and a hall of fame worthy tight end to toss the ball to as well if things get complicated.
Grade: B+
Next Opponent: San Francisco 49ers at Levi's Stadium on October 2nd
2. The New York Giants
The following statement will only upset Redskins fans who rely on emotion rather than fact in their arguments. Yes, the Giants are still better than the Redskins.
More from Inside the Iggles
New York did everything that they could to blow the game and was finally successful in doing so when Eli Manning threw a game-ending interception to halt what could have been the Giants' chance to move the ball into position for a game winning field goal. The interception was Manning's second of the game.
What's even more sad is the fact that even though the Giants were held to six second half points and turned the ball over three times, they still appeared to be the better team on the field. They should have won and even with all of the mishaps, they still had a chance to win. No one will complain about a victory, but facts are facts and the Redskins were fortunate to get out of MetLife Stadium with a win.
By the way, Odell Beckham needs to find a more healthy way to take out his frustrations before he gets himself killed by some sideline equipment.
Grade: C
Next Opponent: Minnesota Vikings at U.S. Bank Stadium on October 3rd (Monday Night Football)
3. The Washington Redskins
Okay, now that we've beaten the Redskins up, let's give them some credit. Some of their skill players, including wide receiver DeSean Jackson are starting to get a little old in the tooth, but they still have the ability to be difference makers. Their defense has proven that they can bail this team out on occasion. They seem to be building something steady within their leadership (something we're not used to from the Redskins).
Want your voice heard? Join the Inside the Iggles team!
What's frustrating about this team is, as yesterday's contest evidenced, they still need help to win against better teams, and they probably won't be able to win without constant mistakes from the opposition. It's just hard to imagine this team beating better or elite teams unless they're provided with help, whether that be turnovers, penalties or breakdowns. They just don't seem to be good enough to line up and win tough games on their own. Quarterback Kirk Cousins finally beat a team with a winning record (something he's never done) as the Giants entered Sunday at 2-0. It's just hard to imagine that trend will continue for him.
Ultimately, the eyeball test still makes one wonder if the Redskins gave this guys too much money and signed him for too many years.
Grade: C
Next Opponent: Cleveland Browns at FedExField on October 2
This article originally appeared on