Richard Sherman Picks Off Tyrod Taylor, Stares Down Rex Ryan (Video)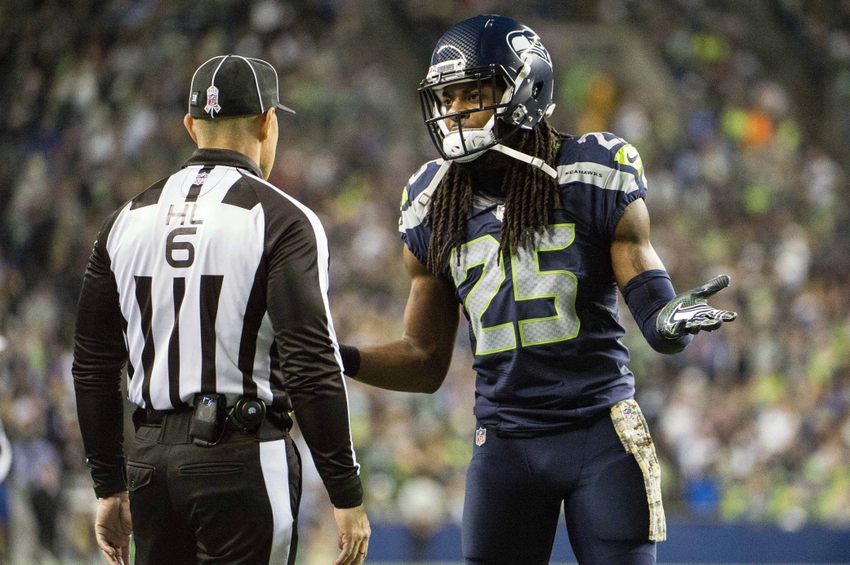 After the wild ending to the first half, Richard Sherman picked off Tyrod Taylor on the second half's first drive—and proceeded to stare down Rex Ryan.
Things got pretty ugly to end the first half of Monday Night Football in Week 9. With the Seattle Seahawks ahead, the Buffalo Bills looked to pull closer with a field goal going into the half. Instead, Richard Sherman jumped offsides and laid a questionable hit on kicker Dan Carpenter after not letting up. After there was no 15-yard penalty and Carpenter had to come out, Rex lost his mind on the sidelines. With personalities like this, of course this carried over to the second half.
Buffalo got the ball to start the second half and was driving quite well. Once within striking distance, though, Tyrod Taylor looked to try and put six points on the board with a deep shot. However, he and his receiver were not on the same page. The result was essentially a deep pass to Richard Sherman.
The cornerback took the ball out of the end zone rather than taking the touchback and went up the sidelines. After a solid gain off the turnover, Sherman then turned his attention to Rex. Never one to back down, Sherman stared down the Bills head coach before finally walking off:
defpensports: Sherman vs Rex 👀 ESPN Monday Night Football: Bills at Seahawks https://t.co/6ipKjkQs65 pic.twitter.com/FcEXOtS72n

— FanSportsClips (@FanSportsClips) November 8, 2016
While I understand that Sherman is a competitor and love the way he plays most of the time, this was a bit far. For starters, the hit on Carpenter could easily be construed as "dirty." What's more, there's no need for these antics after a full halftime when everything just needs to die down. But alas, these are some of the strongest personalities in the league we're talking about here. So really, this staredown was inevitable.
This article originally appeared on