Richard Sherman not impressed with Kaela Carpenter's apology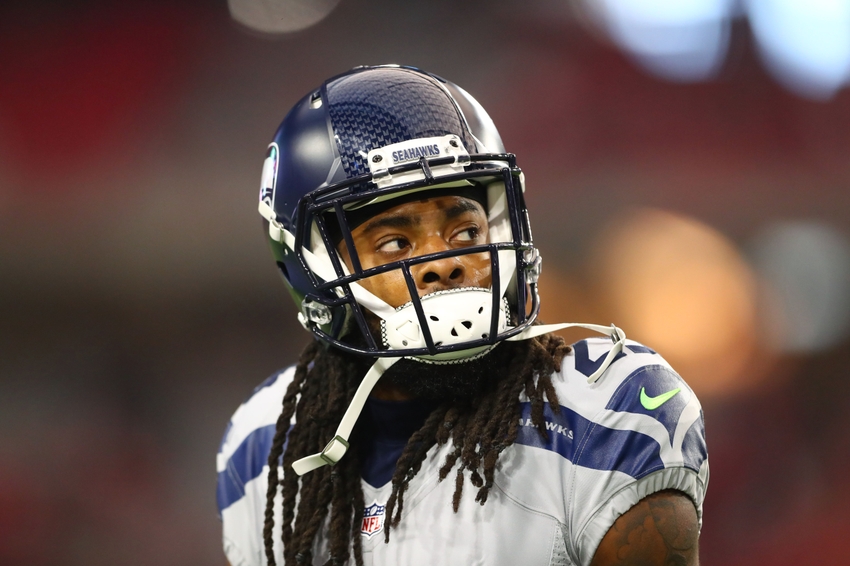 Seattle Seahawks cornerback Richard Sherman called an apology from Dan Carpenter's wife "BS."
After a rough hit on her husband, kicker Dan Carpenter, by Richard Sherman, Kaela Carpenter sent an ill-advised tweet insinuating that the All-Pro cornerback should be castrated. The tweet has since been deleted, but the kicker's wife tweeted, "I know what we do on the farm when a male can't control his own rage. #LuckyImNotThere #Sherman #ActLikeAnAnimalGetTreatedLike1," while adding a photo of a castration device.
She tweeted an apology message shortly after deleting the original tweet.
— Kaela Carpenter (@KaelaCarpenter) November 9, 2016
Sherman, as outspoken as ever, did not take the apology seriously, and addressed it when speaking to reporters on Wednesday.
"It's not surprising at all," Sherman said when addressing Carpenter's apology. "This is a day and age, you've got the Ku Klux Klan running around. People say whatever they want, and there's very little consequence. For her to say something like that and then have a BS apology like she did, it's just the way of the world. I don't let it bother me. It's something I'm very used to. It's just the way people are, the way people were raised."
He went on to add, "It's more disappointing than anything. But it's also something that's understandable. Ignorance has always been in this world. The core of this country has been built off of slavery and people owning people. So any time you understand that's the core principles of the way the nation is built, then you've got to have some kind of sympathy for it."
"My son's too young to understand it, but I don't shield myself from it," Sherman said. "I'm sure if she came up, trying to execute the actions that she said she would, I'm sure my family would have something to say about that."
For all of the criticism Sherman takes for his posturing and borderline dirty play on the field, he is one of the most intelligent, insightful, measured players off the field. This is a man worth paying attention to no matter what topic he's discussing.
This article originally appeared on