Richard Sherman fined around $9,000 for hit on Dan Carpenter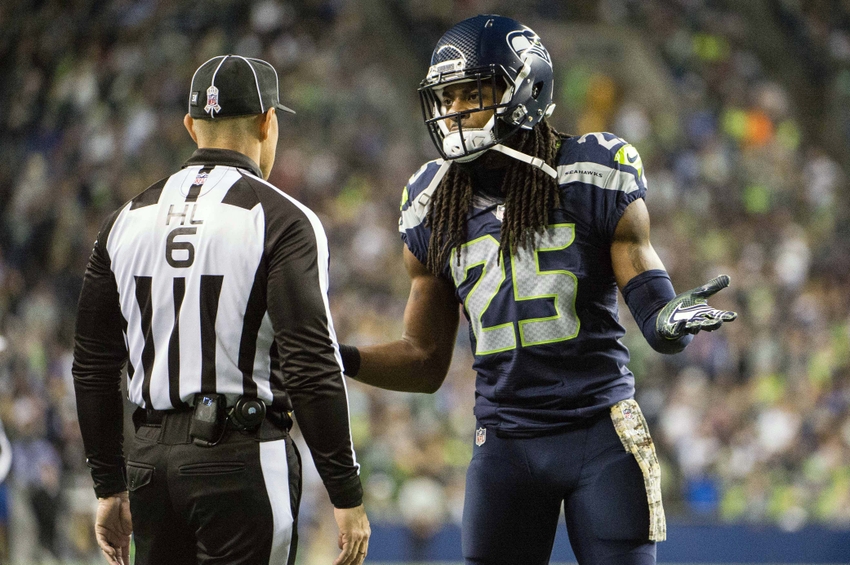 In the aftermath of the most notable play from last Monday night's game, Richard Sherman has been hit with a fine.
Monday night's game between the Buffalo Bills and Seattle Seahawks was exciting and competitive throughout, but the talk about it centered on a ridiculous sequence just before halftime. Seahawks cornerback Richard Sherman jumped offside, roughed Bills kicker Dan Carpenter because he didn't hear a whistle, and the Bills then got an inexplicable delay of game penalty as the officials botched the whole situation.
Sherman was only penalized during the game for jumping offside, but the league has now fined him for his hit on Carpenter.
Per source, Seahawks Richard Sherman was fined roughly $9,000 for unnecessary roughness for his hit on Bills K Dan Carpenter.

— ProFootballTalk (@ProFootballTalk) November 10, 2016
Virtually immediately after the play in question Monday night, NFL senior vice president of officiating Dean Blandino went to Twitter to say Sherman should have drawn an unnecessary roughness penalty. So it's not surprising a fine has now come, regardless of Sherman "finishing the play" or "playing to the whistle" without apparent malicious intent.
Sherman has been very outspoken regarding criticism of his hit on Carpenter, from the step-too far, almost humorous sentiment from Carpenter's wife to more well-reasoned criticism centered on the bad officiating of the whole sequence.
Sherman's suggestion Carpenter shouldn't have gone through with the original field goal attempt, or any suggestion a penalty wasn't warranted, is missing the point. Sherman's actions were within his control, and he chose to put another player in relative peril with a barrel roll into Carpenter's legs. But the fine amount is inconsequential enough to be irrelevant, so we may see more unabated runs at kickers down the road if there's something to be gained.
This article originally appeared on