Richard Sherman blasts Dan Carpenter, Rex Ryan goes nuts (Video)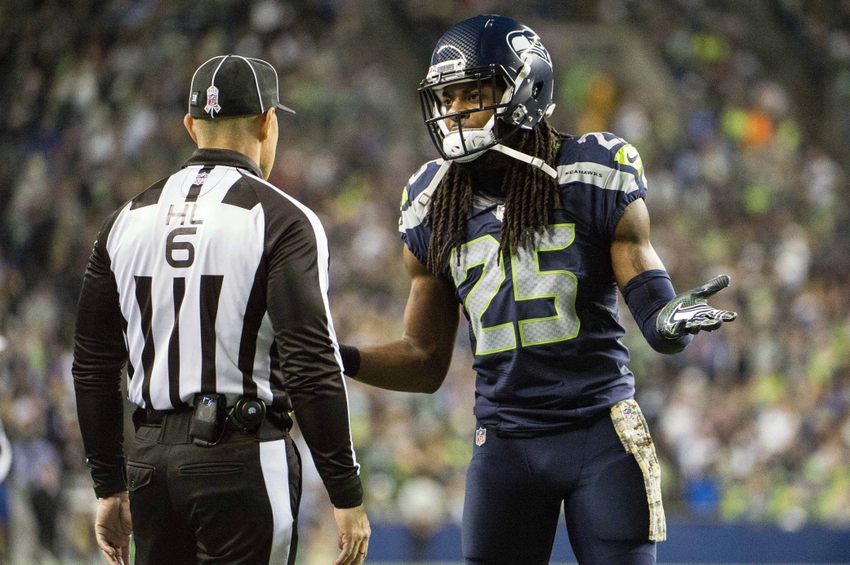 In a very strange end to a high-scoring first half on Monday night, Richard Sherman destroyed Dan Carpenter, and Rex Ryan cursed him out.
The Buffalo Bills lined up for a field goal to end the first half of their Monday Night Football matchup against the Seattle Seahawks, and all hell broke loose.
Seattle Seahawks cornerback Richard Sherman came off the left side and laid the smackdown on Buffalo kicker Dan Carpenter, in one of the weirdest field goal tries in recent memory.
Sherman appears to make no effort to actually block the ball, but instead headed right for Carpenter. Take a look below and make your own conclusions.
Incredibly, Sherman was not called for a roughing the kicker penalty on the play, as the Bills had to re-kick the ball.
After the play, Buffalo Bills head coach Rex Ryan went nuclear on Sherman.
On his next attempt, Carpenter sailed one through the uprights, but it did not count due to the Seahawks calling a timeout. Carpenter's third try would go wide right, as the Bills headed to the locker room down 28-17.
The fact that Sherman was not called for a roughing penalty is beyond me, as he blatantly was headed for Carpenter's knees. Sherman has been very vocal about the lack of quality officiating in the NFL this season, and then he goes out on national television and has one of the dirtiest plays of the season.
Carpenter could have been seriously hurt on the play, but once again, the NFL did not get it right.
Outside of the wacky ending to the first half, the Seahawks and Bills are putting on a nice show on Monday Night Football. The NFL has had some poor showings in primetime this season, but after the Oakland Raiders and Denver Broncos' great game on Sunday Night, it appears we will get two good games in a row.
This article originally appeared on