Rex Ryan Flips Out After Dirty Richard Sherman Hit (Video)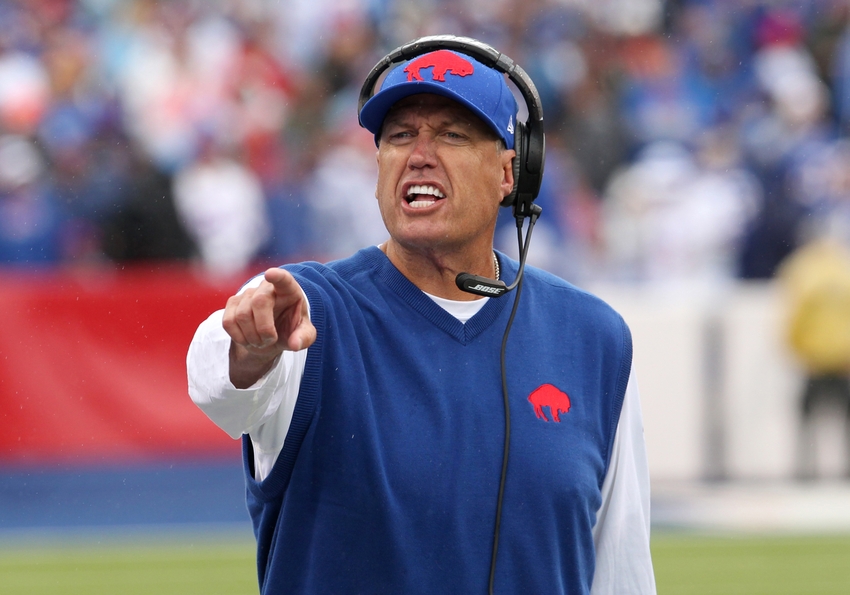 Buffalo Bills head coach Rex Ryan was livid after Richard Sherman took a cheap shot at his kicker and the ensuing consequences.
Unlike what most would've expected from two great defenses, the Seattle Seahawks and Buffalo Bills were in a bit of a shootout on Monday Night Football in Week 9. In the waning moments of the first half, the Seahawks were ahead 28-17 at home. A nice Tyrod Taylor drive for the Bills, though, left them in position to kick a field goal going into half. However, all it ultimately led to was Rex Ryan losing his mind over what occurred.
Dan Carpenter lined up to kick the makable field goal, but Seahawks cornerback jumped the snap-count way too early. He ran unabated to the kicker, but didn't let up a bit. What's more, he didn't even seem to go after the ball.
The result was Sherman going right into the knee of Carpenter on a nasty looking hit that left everyone thinking "cheap shot:"
WHAT? pic.twitter.com/6I6btD7i4E

— Steve Noah (@Steve_OS) November 8, 2016
As if that wasn't bad enough, Sherman didn't receive a 15-yard penalty because of the play—which seems absurd. Things only got worse from there, as well. Because trainers came out to check on Carpenter after the hit, he had to come out of the game for a play. This was too much for Rex Ryan as he blew a gasket on the sidelines (and rightfully so):
defpensports: Welp. Rex ryan. ESPN Monday Night Football: Bills at Seahawks https://t.co/7Z4n8er2Jw pic.twitter.com/7xYOCfz5Cq

— FanSportsClips (@FanSportsClips) November 8, 2016
Many times, you see a coach react like this and think it's a bit overblown. That's not the case here. The Bills got hosed for a dirty play by the opposing team. Even worse was the fact that they didn't get a fresh play-clock, got penalized, and then missed the field goal.
I'm sure Ryan's mood didn't improve going into the locker room.
This article originally appeared on