Reporter Clarifies Jim Harbaugh to Rams Rumor Comment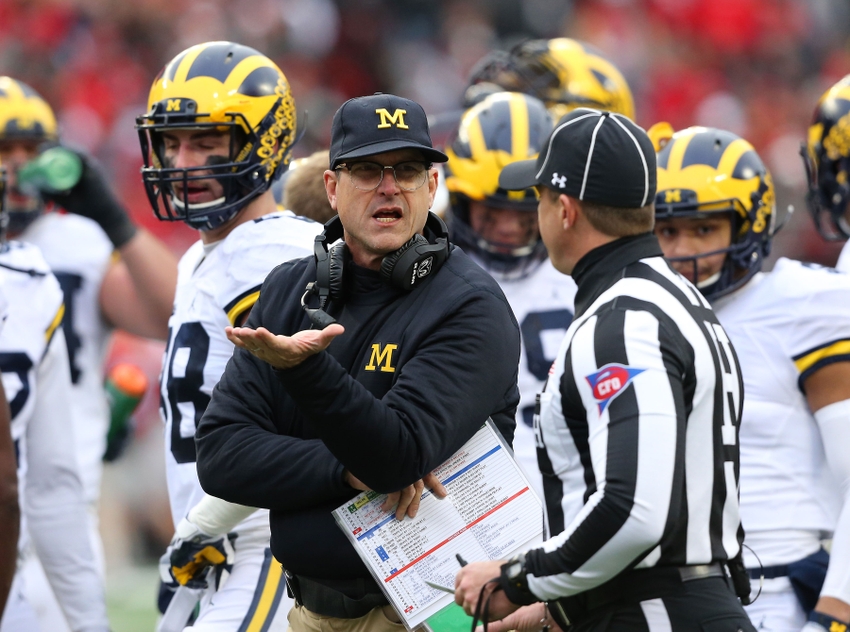 MMQB's Albert Breer attempted to clarify his comment that a rumor about Jim Harbaugh going to the Los Angeles Rams was "a very real thing."
After getting a ton of slack for his reported comment about a rumor that has Michigan head coach Jim Harbaugh possibly going to the Los Angeles Rams in the future, MMQB's Albert Breer tried clarify the situation.
It all started on Colin Cowherd's show, when the radio talk show host revealed Breer told him that a rumor about Harbaugh going to the Rams was a "very real thing."
Of course, we reported the story to you because of its interesting nature, however many Wolverines fans didn't take too kindly to it and they let Breer know about it – as they did with us.
So, Breer attempted to clarify the situation with this tweet:
To be clear … I never said Harbaugh was going anywhere. I believe he'll eventually be back in the NFL. Until then, teams will pursue him. https://t.co/f67iLlwmSo

— Albert Breer (@AlbertBreer) December 11, 2016
Clearly Breer and Cowherd need to have a conversation about what the talk show host said because it doesn't exactly align with what Breer is saying. Cowherd made it sound like Breer told him Harbaugh could leave college to go to Los Angeles soon and it was more than just a reported interest on behalf of the team.
Whether or not Cowherd misunderstood Breer and made something bigger out of this than he should have remains to be seen, but it wouldn't be surprising coming from Cowherd, who routinely makes a mountain out of a mole hill.
We tend to buy Breer's side of the story, as he's a well-respected reporter in NFL circles. And, while we reported the rumor to you, we here at Ramblin' Fan aren't buying it.
Why Jim Harbaugh Isn't Going Anywhere
Harbaugh has spent just two seasons at Michigan, his alma mater, and it would be silly to think he'd leave shortly after building the program back up. Not to mention, the Wolverines narrowly missed out on the College Football Playoff and Harbaugh has Michigan on the cusp of winning a National Title in the very near future.
Leaving Michigan now would be an awkward move for Harbaugh, as it would alienate a loyal fanbase that has put its faith in the talented head coach. We can't imagine he would want to ruin that, thus his return to the NFL won't happen right now.
We do believe he'll make his return to the NFL at some point, but he has unfinished business in Ann Arbor and he isn't likely to leave until he accomplishes what he has set out to do.
However, this notion that Harbaugh to the Rams can't happen on a basis that Rams head coach Jeff Fisher just got an extension couldn't be more wrong.
Fisher is embarrassing the franchise right now with his team not showing up to play, so it is very conceivable he loses his job despite signing an extension months ago that wasn't announced until later in the season.
If Fisher does finally get fired, Harbaugh might be at the top of the list to replace him, but again, it is far from likely he'll leave Michigan right now to do so.
FOLLOW Ramblin' Fan on Twitter
This article originally appeared on