Report: LSU nearing a deal with Tom Herman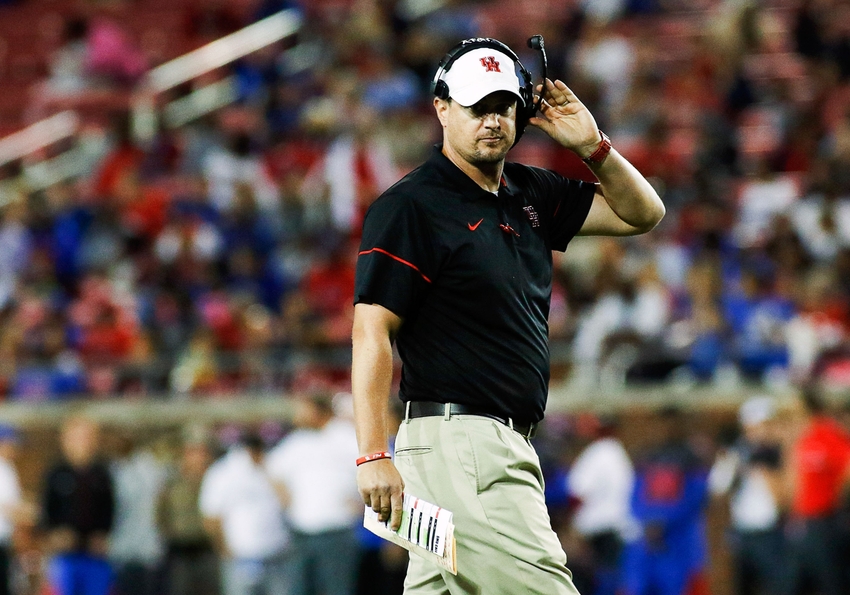 Tom Herman will reportedly accept the head coaching position at LSU, but who knows what will end up happening.
This offseason will be a big one for college football. Major programs like Texas and LSU will likely have openings, but it turns out they may not be at the same time. While the LSU gig is currently vacated, or expected to be unless Ed Orgeron somehow convinces brass to give hime the job, Texas hasn't y et officially rated ways with Charlie Strong.
One man who is expected to be a candidate for not only the Texas and LSU jobs, but every opening in college football, is Houston's Tom Herman. He could come off the market before anyone gets a real shot at him though.
According to a report from HornsDigest, Herman is close to accepting the head coaching gig at LSU. Of course, this is the only report floating out there at the moment and we all know how college football reports can go south at the drop of a hat. ESPN's Chris Low is also reporting that a deal could be reached as early as this upcoming Saturday.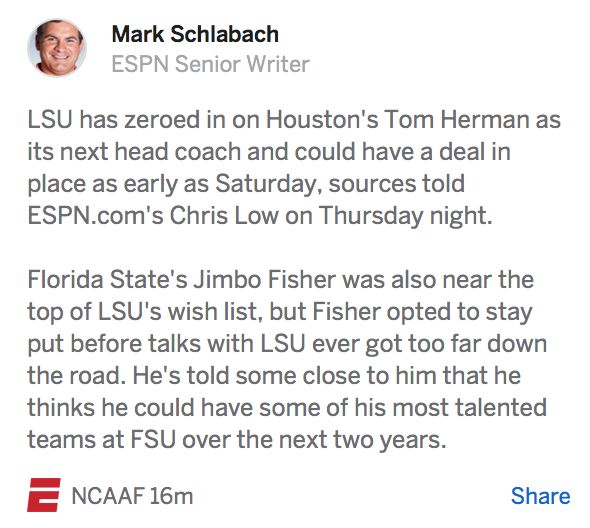 That's not to say this report isn't true, but just a few days ago it was reported by ESPN that Texas had decided to fire Charlie Strong and the school immediately denied that.
All signs seem to point towards Herman taking the job at LSU. This has a residual effect for two schools — one more obvious than the other. There were rumors that Jimbo Fisher could be taking the LSU gig, but this means he's staying put at Florida State. It could also force Texas to keep Charlie Strong, as Herman was widely expected to be the man to replace him. If he's off the coaching market, the incentive to fire Strong goes away, and keeping him for another year makes more sense than it did a week ago.
More from FanSided
This article originally appeared on