Report: Jared Goff may not play at all in 2016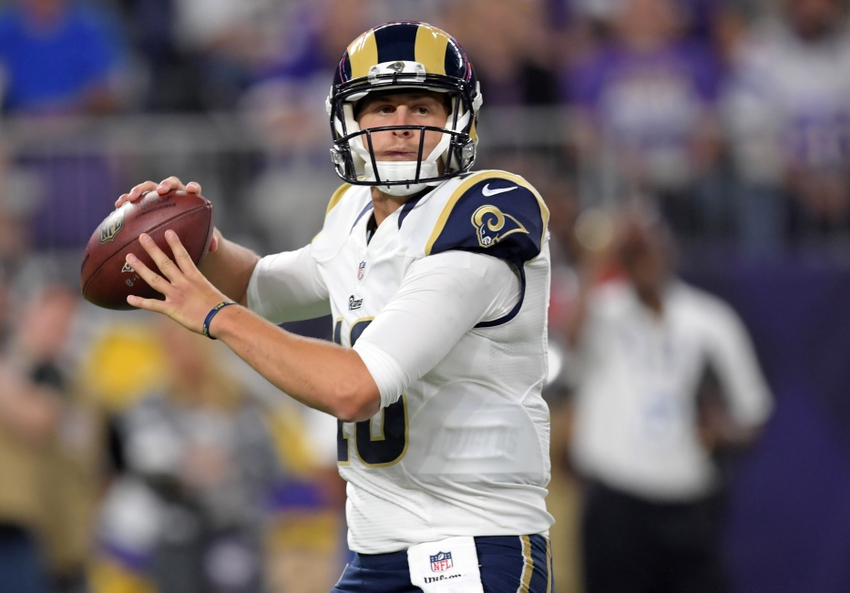 Los Angeles Rams rookie quarterback Jared Goff has yet to appear in an NFL game. There is reason to believe Goff may not play at all in 2016 for the Rams.
The Los Angeles Rams traded up to No. 1 in the 2016 NFL Draft to select junior quarterback Jared Goff out of California to be their next franchise quarterback. Goff didn't dress in the Rams' Week 1 loss to the San Francisco 49ers. According to NFL analyst Mike Silver, Goff may not even play at all in 2016.
Silver appeared on CBS Radio's 'The Doug Gottlieb Show' to dispel rumors that Rams head coach Jeff Fisher was forced to draft Goff No. 1 overall. Silver said, "my source–in February, in March, in April–now is the same source on this. The source is Jeff Fisher. Jeff Fisher really, really, really wanted to draft to Jared Goff. That was his guy."
What Silver does point out is that Los Angeles seems fine with Goff not seeing the field for the Rams this season. Ever since Matt Ryan and Joe Flacco had great success in 2008 as rookie/first-year starters, the trend in the NFL has been to play rookie quarterbacks right away.
Keep in mind that perennial Pro Bowl passers like Aaron Rodgers, Philip Rivers, and Carson Palmer all had to sit their rookie seasons. Sitting out isn't necessarily a bad thing for Goff going forward.
Fisher's best quarterback in his 22 years as an NFL head coach was easily the late Steve McNair with the Houston Oilers/Tennessee Titans. McNair didn't start right away after starring in Division II at Alcorn State.
Goff had not taken a snap under center since early high school. He played in an Air Raid offense all three years at Cal. Goff will need to learn the nuances of a pro-style offense to have any success quarterbacking the Rams.
Silver would end his case with, "I think ideally [Goff] might not play all year, if Jeff Fisher were doing what he philosophically believes is best. Now we all saw that atrocity on Monday night. If it keeps looking like that for much longer, I don't know if they're going to have a choice."
More from FanSided
This article originally appeared on