Report: Dak Prescott Most-Accurate NFL Quarterback in Week Five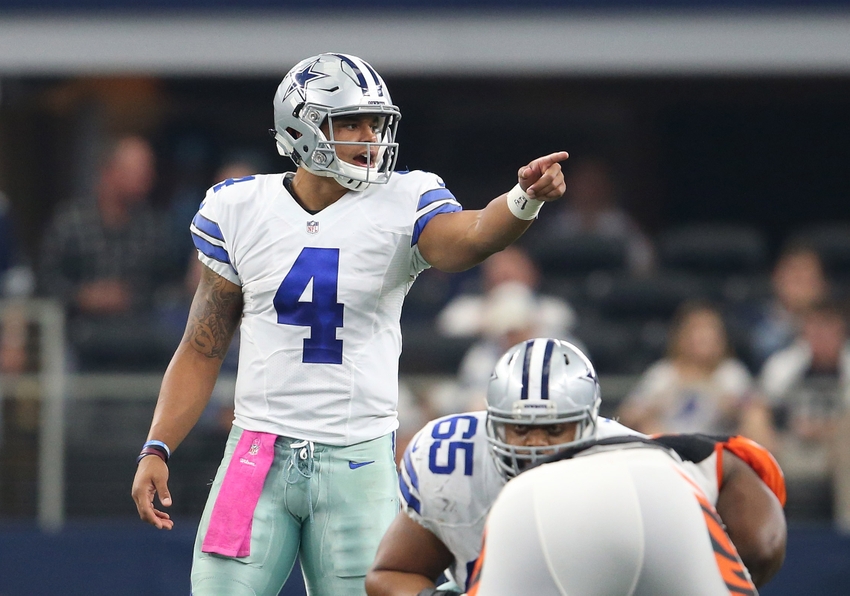 A football analytic website calls Dallas Cowboys rookie Dak Prescott the NFL's most accurate quarterback in Week Five.
Through the first five weeks of the 2016 regular season, there has likely been no bigger story in the NFL than the rise of Dallas Cowboys rookie quarterback Dak Prescott. Selected in the fourth round of April's NFL Draft, the 23-year old was suddenly vaulted to the premier position in all of sports, under center for America's Team, after veteran quarterback Tony Romo was injured in the preseason.
The rookie passer has exceeded even the most lofty of expectations, leading the Cowboys to a 4-1 record all while completing a whopping 69% of his passes. And maybe even more impressive, Prescott hasn't thrown a single interception in 155 passing attempts as a professional.
Last Sunday, Prescott was likely at his best. Throwing for 227 yards and posting two touchdowns, one by air and the other on the ground, the young quarterback continued to be uncannily efficient. Completing 75% of his passes against a highly-touted Cincinnati Bengals defense, Prescott led the Cowboys to a dominating 28-14 victory.
Prescott's play was so good, one analytic website is now calling the rookie out of Mississippi State the most accurate quarterback in the NFL in Week Five.
"On 27 dropbacks versus the Bengals, Cowboys rookie quarterback Dak Prescott recorded an adjusted completion percentage of 90.5, the highest mark in the league this week—and the best single-game adjusted completion percentage of the season," wrote Chase Howell on the analytic website Pro Football Focus. "Prescott completed 18 of 24 attempts, with his receivers dropping one catchable target (he also threw two passes away, and was hit as he was throwing on one occasion)."
Prescott has been aided by the league's top rushing attack. With fellow rookie running back Ezekiel Elliott averaging 137 rushing yards in Dallas' last three contests, the onus of the Cowboys offensive attack doesn't solely rely on his Dak's shoulders. And that's a good thing.
The rookie passer plays smart, efficient football. By limiting his mistakes and taking measured risks, Prescott has been able to string four-wins together for a Cowboys team playing once again without their veteran leader under center. And a club that only had four total wins last season. The fact a Cowboys rookie was one of the top passers in Week Five is simply icing on the team's 4-1 cake.
This article originally appeared on