Replacing Cody Kessler with Josh McCown was a baffling move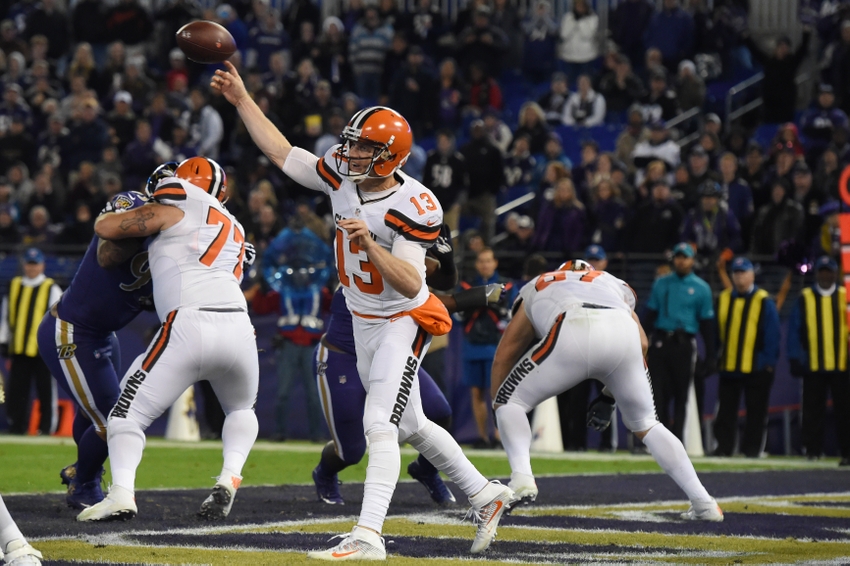 Cleveland Browns head coach Hue Jackson decided to pull Cody Kessler in favor of Josh McCown during Thursday night's game. The move made no sense.
The Cleveland Browns are more likely than ever to finish 0-16, and if Thursday night is any indication of the future, the final six games will be impossible to watch.
The Browns actually held a 7-6 lead heading into halftime. Then the second half rolled around and Cody Kessler rightfully stayed on the field as the quarterback. He led a quick three-and-out, which led to a Ravens touchdown. The score was 13-7. That was when the game officially ended.
It ended because Hue Jackson decided to bring in Josh McCown, even though Cody Kessler was 11 of 18 for 91 yards and a touchdown. He did not make any mistakes, and once again was making smart throws.
Enter McCown, who immediately threw an interception. Joe Flacco was kind enough to throw an interception of his own, but McCown then led a three-and-out, followed by another interception on the next drive.
McCown is known for trying to make big plays out of nothing, often resulting in drive-killing interceptions. Kessler is not, which makes it confusing as to why he was taken out of the game.
Hue Jackson said he was trying to find a "spark" for the offense, but two interceptions and a fumble are properly the opposite of a spark.
And yes, it is easy to sit here the day after and criticize any decision that didn't work out. But it just doesn't make any sense. It was not like the Browns brought in Tony Romo to save the day. McCown has had flashes of success as a member of the Browns, but he is also known for his mistakes.
Just look to the Week 2 matchup against the Ravens. He was playing with a broken collarbone, but after the awful taunting call on Terrelle Pryor, McCown threw the ball up for grabs, resulting in a game-ending interception.
Kessler is the opposite kind of player, always searching for the safe throw instead of the home run play. This does not always mean the offense will put up great numbers, but it at least keeps the team in the game with a chance to win.
Hue Jackson has drawn criticism for different decisions all season, but this may be the most notable gaffe all year. He panicked when his team was only down six points in perhaps the best remaining shot at a victory.
Jackson said Kessler is going to remain the starter, so we will see if that holds true, or if he will be replaced once again in favor of McCown or Robert Griffin III.
Kessler is the best option the team has right now, so pulling him again may be enough to make Jimmy Haslam make a rash decision at the end of the year. And that would be a disaster worse than any other.
More from Dawg Pound Daily
This article originally appeared on