Relax, Chiefs fans: It's just one game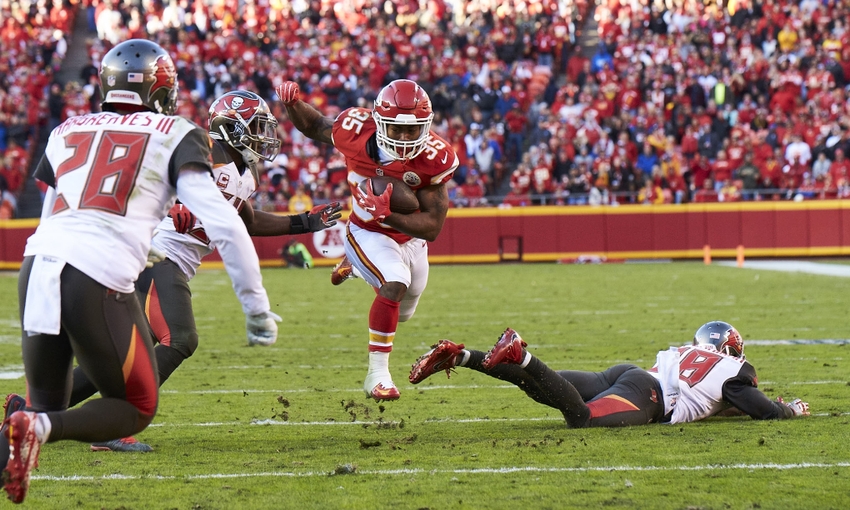 If you hadn't guessed, today's headline is pure clickbait. I make no apologies about it. This is the sentiment I've seen expressed since Sunday's 19-17 loss to the Tampa Bay Buccaneers. What's the big deal? Sometimes, an NFL team drops a game they're favored to win. As a fan of the game for the past 30 years, I understand that as well as anyone.
Be clear: The Kansas City Chiefs are 7-3. That's four games above .500 with six games to play in the regular season. They could probably split their final six games and still make the postseason. They've done enough work that qualifying for the NFL playoffs is practically a formality. Is that all Chiefs Kingdom wants, though — to make the postseason?
Your concerns about the Kansas City Chiefs are legitimate — whatever they are. A five-game win streak masks a team's warts. It's never "just one game." At least not at this point in the season. The Chiefs began the day as the No. 2 seed in the AFC. Today, they're the top wildcard in the conference. If the regular season ended today (we all know it doesn't, but follow me) Kansas City would travel to Baltimore in the first round of the playoffs. That's a winnable game. In fact, it's one I'd expect the Chiefs to win. Should they clear the first postseason hurdle, in all likelihood, they'd draw New England again in the divisional round.
There are reasons to think a healthy Chiefs team would have a puncher's chance this time around. Though, I doubt anyone feels confident they could win, on the road, with the anemic offense they've trotted onto the field the past few weeks. It matters where that game is played. Sunday was a missed opportunity to stay in control of their own postseason destiny. They'll still get a crack — three of them, in fact — at two of the conference's best teams.
This race is far from over, but Tampa Bay was one of the softest games remaining on Kansas City's schedule. You can't lose that game, at home, at this point in the season. Not against the league's 26th-ranked defense and not when your defense surrenders fewer than 20 points sans multiple starters.
It's tough to ignore the Chiefs' offensive struggles of late. It's tempting to isolate those struggles to Sunday's game, but that's revisionist history. Kansas City was 0-for-3 in red zone situations the previous Sunday (in Carolina). It's time to face the fact that this offense isn't holding up its end of the bargain and could snuff out this team's aspirations of making a deep run in the postseason. The final frame of the season is approaching and the Chiefs are still in the process of fixing what ails an offense full of weapons.
Alex Smith is without excuse at this point. His apologists, already few in number, are fleeing.  He's not the conservative quarterback avoiding mistakes at this point. He's a shell of his former self, turning the ball over in crucial situations and missing wide open receivers at a time where his offense is starved for production. He's the problem now. It's a mistake to make him the singular issue on this offense, and frankly, he isn't.
Andy Reid also has dirty hands. His mishandling of an otherwise talented group of offensive skill players is inexcusable. It's unfathomable that he hasn't been able to do more with an offense that boasts Spencer Ware, Charcandrick West, Travis Kelce, Jeremy Maclin, Tyreek Hill and Chris Conley. It's time for him to relinquish offensive play calling. That red zone interception was devastating. The Chiefs were in position to take the lead with a touchdown. Had they managed to score there, they might've walked away with a win. Even the decision not to attempt a 54-yard field goal earlier in the game played a role in the Chiefs falling to the Buccaneers.
The worst part about Sunday's loss is that it reveals a glass ceiling Kansas City might never escape from left to Reid's control of the offense and Smith's limitations as a quarterback. For some, it might seem like an overreaction. For others, it could easily be reconciled as a harsh but inescapable reality. There's time to fix what ails this team, but the stakes will also get higher over the next six weeks.
Are you confident that the Chiefs can sort through their offensive issues or are they doomed to make another two-and-done trip to the postseason? Might Clark Hunt consider relieving Andy Reid of his play calling duties in the offseason? Could 2016 be Smith's swan song if he can't get the Chiefs to the next level? Use the comment section below to weigh in. As always, we appreciate your readership and support!
Until next time, Addicts!
More from Arrowhead Addict
This article originally appeared on