Regrading the 49ers 2016 NFL Draft Class Midway Through Season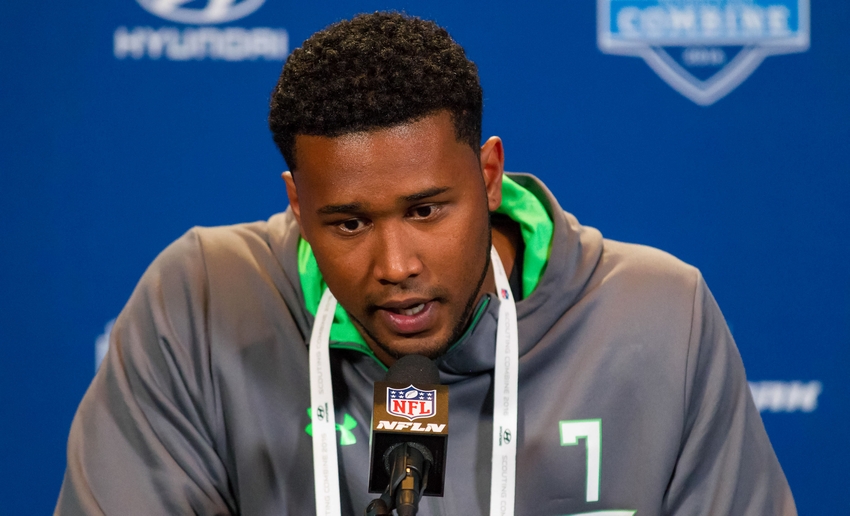 San Francisco 49ers general manager Trent Baalke picked up 11 prospects via the 2016 NFL Draft. Knowing what we have now, Niner Noise goes back and regrades this year's draft class after nine weeks of NFL action this season.
The San Francisco 49ers needed to hit a few home runs in the 2016 NFL Draft.
49ers vs. Cardinals: Previewing Week 10 for San Francisco
Most people thought they had when general manager Trent Baalke took former Oregon defensive end DeForest Buckner at No. 7 overall.
As for the rest of the draft? Well, there's a bit to be desired.
Baalke did find a nice piece in cornerback Rashard Robinson. And the team hopes its other first-round pick, guard Joshua Garnett, will be a linchpin of the offensive line for years to come.
We're entering Week 10 now. And the 49ers boast a 1-7 record and rank at, or near the bottom of, nearly every major offensive and defensive category.
Needless to say, this year's draft class hasn't exactly provided the thump one might have hoped for last spring.
It's far too early to write off the majority of players selected. We need a few years to do that. But knowing what we know now, let's go back and revisit this 49ers draft and look at each actual grade where things stand now.
Starting off with Buckner.
Round 1: DE DeForest Buckner (No. 7 Overall)
Former Oregon defensive end DeForest Buckner was a no-brainer pick. He fell to San Francisco, when the Baltimore Ravens — at No. 6 — took offensive lineman Ronnie Stanley.
Pro Football Focus was enamored with Buckner leading up to the draft. The 6-foot-7 behemoth was going to be the next bookend along with fellow Oregon teammate Arik Armstead for years to come.
Buckner's rookie season has been OK at best. He has 16 tackles, 22 assists and two sacks on the year so far. At times, he shows signs of being a prolific pass-rusher. But he still makes a lot of rookie mistakes. He plays with a pad level, which is too high at times, and struggles to gain leverage at the point of attack.
Perhaps this explains why his run defense has suffered. And the 49ers run-stopping abilities (last in the league) show for it as well.
PFF is giving Buckner a 62.0 grade overall so far. Not bad, but certainly lower than what most were hoping for from a guy many thought would be the league's Defensive Rookie of the Year.
Grade: B-
Round 1: G Joshua Garnett (No. 28 Overall)
The 49ers traded back into Round 1 to land former Stanford guard Joshua Garnett at No. 28 overall in the NFL Draft.
Garnett was inactive in Week 1 — one of only two first-round rookies to be so (the other was Los Angeles Rams quarterback Jared Goff). Since then, Garnett has managed to get into seven games and has started three of them at right guard.
He's certainly a better run blocker, which is why the 49ers selected him so high. But the 2015 Outland Trophy recipient still struggles in pass protection.
This likely explains Pro Football Focus' 40.5 pass-blocking rating through Week 9.
Signs are pointing towards Garnett being a good interior lineman though. If he shores up his pass protection, he'll be a reliable piece along San Francisco's offensive line for years to come.
Grade: B
Round 3: CB Will Redmond (No. 68 Overall)
Remember when general manager Trent Baalke said cornerback Will Redmond would be ready for the start of training camp?
Well, the latest addition to Baalke's "All-ACL" team wasn't. And the Niners had to place him on injured reserve, albeit with a designation to return.
That didn't work either. Redmond's knee recovery wasn't far along enough for the 49ers to activate him.
So now Redmond is yet another lost pick Baalke should wish he had back. And to think this was a player selected in the third round — not the fourth, fifth or sixth — of the NFL Draft. Oh, to think where that pick could have gone instead.
Redmond could still wind up being a decent-to-good player. But the lost year will hurt his development, and it certainly hinders the 49ers on-field abilities right now.
Grade: F
Round 4: CB Rashard Robinson (No. 133 Overall)
If Trent Baalke missed on cornerback Will Redmond, he had a nice find in former LSU cornerback Rashard Robinson.
Robinson came with a checkered past. And there were plenty of concerns surrounding his dismissal from LSU in 2014.
But Robinson quickly emerged as one of the bright spots in San Francisco's otherwise ugly first half of the season. Even Pro Football Focus gave the up-and-coming corner plenty of praise over the first few weeks of the season.
Robinson is dealing with a knee issue, which has forced him to miss some time his rookie year. He currently has 15 tackles and four pass breakups in what has been a promising season thus far.
Grade: A
Round 5: DE Ronald Blair (No. 142 Overall)
A small-school player like defensive end Ronald Blair wasn't going to find himself much higher in the NFL Draft. And yet his selection is one for which the 49ers should be hopeful moving forward.
Blair has the versatility to line up as an edge rusher or on the interior. And his pass-rushing prowess is something San Francisco will love to have if he can develop adequately enough at the pro level.
Through nine weeks, Blair hasn't seen much of the field though. He's appeared in only seven games, started none of them (not surprising) and has just two tackles and half a sack.
Pro Football Focus is giving him just a 45.3 grade on the year so far.
The results might not be ideal. But it's hard to suggest this was a wasted pick. He still has room to grow, and the 49ers hope they can tap his full potential in coming years.
Grade: C+
Round 5: T John Theus (No. 145 Overall)
Shortly after drafting defensive end Ronald Blair, general manager Trent Baalke tried to address offensive line depth with the selection of former Georgia tackle John Theus.
Theus wasn't seen as a viable option to start right away. And he has yet to take a snap in a regular-season game.
So it's hard to truly gauge his value at this point. On one hand, he might earn his way towards becoming a swing tackle on the depth chart. If his development works out well enough, he might be considered for a right tackle starting job, with second-year pro Trent Brown moving to the left side in coming years (factor in left tackle Joe Staley's age here).
It wasn't a wasted pick. But it also has generated zero results so far.
Grade: D
Round 5: T Fahn Cooper (No. 174 Overall)
If Trent Baalke's selection of tackle John Theus wasn't enough, the 49ers took a shotgun approach by selecting former Ole Miss tackle Fahn Cooper with their next pick.
Cooper adequately backed up former teammate Laremy Tunsil, while the latter was serving a suspension. And this certainly added to Cooper's draft stock rising.
Currently, Cooper sits on the 49ers practice squad, although we did see him take 42 snaps against the San Diego Chargers in the final week of preseason action.
Cooper is a lot like Theus, in regards to developmental hopes and long-term options. Again, it's not a wasted pick. But there haven't been any results to suggest either. Only his accolades from Ole Miss earn him a better grade than the guy taken before him in the NFL Draft.
Grade: C-
Round 6: QB Jeff Driskel (No. 207 Overall)
The 49ers waited until Round 6 of the NFL Draft to finally address quarterbacking needs. And general manager Trent Baalke went with Jeff Driskel.
While quarterback Blaine Gabbert won over the starting job to start the season — over both Driskel and Colin Kaepernick — it wasn't as if Gabbert was a clear-cut winner. Had someone removed the numbers and nameplates from each quarterback's jersey, the competition would have been very close.
Driskel still wasn't ready for NFL action though. And it was a bit of a surprise to see the Niners sign, and keep, quarterback Christian Ponder over Driskel on the 53-man roster.
The Cincinnati Bengals jumped on Driskel after roster cuts. The 49ers no longer have a project quarterback with which to work.
A wasted pick.
Grade: F
Round 6: RB Kelvin Taylor (No. 211 Overall)
San Francisco is having fumbling problems with their running backs. Just ask tailbacks DuJuan Harris and Mike Davis after Week 9.
Sitting on the practice squad is rookie Kelvin Taylor, who never fumbled while at Florida.
It's hard to envision journeymen tailbacks like Harris and Shaun Draughn as long-term options for a struggling 49ers offense moving forward. So it's a bit of a surprise to see Taylor idle and not on the 53-man roster.
San Francisco should part ways with Draughn and, likely, Davis as well in order to give Taylor a shot. He could be the nice change-of-pace back teams covet so frequently now.
This isn't a wasted pick. But the way the Niners are handling Taylor raises some eyebrows.
Grade: D+
Round 6: WR Aaron Burbridge (No. 213 Overall)
Wide receiver Aaron Burbridge might not be on the practice squad. But, for some reason, he remains buried on the depth chart behind almost-useless veterans like Rod Streater.
Burbridge is the guy many viewed as a poor man's Anquan Boldin — not a burner, but whose physicality and catch radius made him worthwhile. Burbridge is one of the reasons why former Michigan State quarterback Connor Cook was a hot commodity leading up to the NFL Draft.
Still, falling to Round 6 doesn't bode well for the rookie receiver. And he wasn't able to separate himself in training camp or the preseason.
Currently, Burbridge has just two catches for 20 yards on a Niners team desperate to get some offensive help.
Grade: F
Round 7: CB Prince Charles Iworah (No. 249)
San Francisco's final pick in the 2016 NFL Draft landed former Western Kentucky cornerback Prince Charles Iworah.
General manager Trent Baalke sure loves his defensive backs, doesn't he.
Iworah is raw in every category. But he still might be the fastest player on the team. Currently, he sits on the practice squad. It is feasible, however, to see him a year or so down the road as the 49ers look to round out their secondary.
With cornerbacks Rashard Robinson and Jimmie Ward likely to be the Nos. 1 and 2 guys in coming years, Iworah won't offer San Francisco anything more than depth in coming seasons.
But that depth is key. Just imagine an injury or two to the Niners defensive backfield.
Like a number of late-round picks, we can't quite consider this one wasted. Only time and player development will reveal the true answer.
And even if Iworah doesn't develop, using a seventh-round pick on him doesn't exactly suggest a mistake. He gets a (somewhat) OK grade, merely for having the attributes to be a decent player down the road.
Grade: C-
This article originally appeared on