Redskins at Giants: 3 things we learned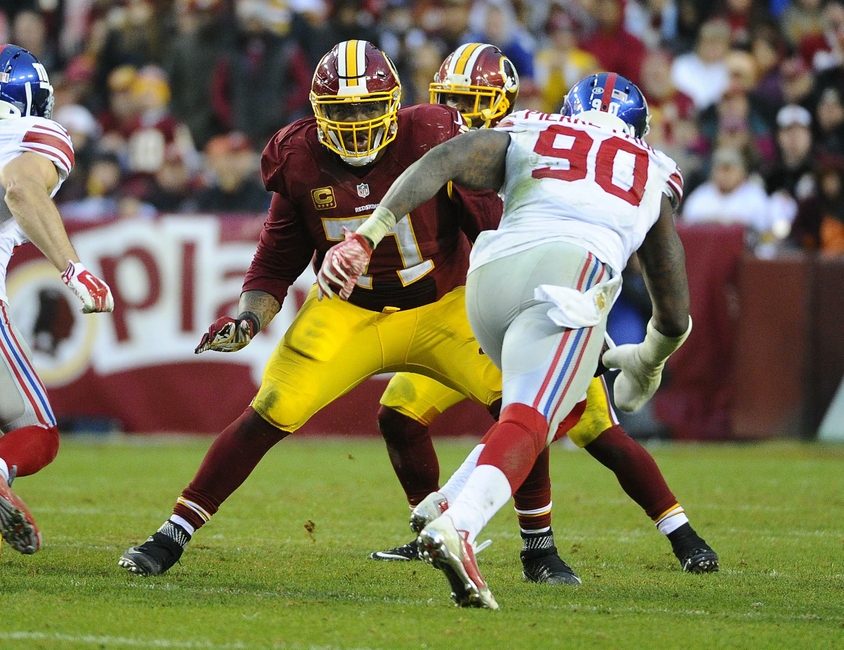 Three takeaways from Sunday's NFC East showdown between the New York Giants and Washington Redskins.
The Washington Redskins came away with their first win of the season on Sunday afternoon, defeating the Giants 29-27 in a game that started off being dominated by the home team, but ultimately became a back-and-forth affair.
The win puts the Giants at 2-1 and Washington at 1-2 to start the season. Here are three things that stuck out to us in this early-season slug-fest.
1. The Giants missed a prime opportunity to pad their lead
A win's a win, and credit should go to the Washington Redskins for getting their first one here. However, the New York Giants had a major chance to go 3-0 and continue their stay atop the NFC East. Instead, their own errors cost them. Among the costly mistakes were silly plays from the offense against cornerback Josh Norman. On one play, starting center Weston Richburg shoved Norman to the ground, resulting in his second unsportsmanlike conduct penalty, and hence an ejection.
Check out these other NFL posts from FanSided:
Top 10 craziest NFL fan bases
Top 15 NFL Draft busts of all-time
Top 15 Heisman winners who flopped in the NFL

Later, it was Odell Beckham who robbed his teammate of a catch made within scoring territory. Once again, it was due to shoving Norman during the play. One might credit Norman for being able to get into his opponents' heads, but  shame on the Giants for not capitalizing when it counted. Indeed, with a pair of tough NFC North match-ups on the docket (against the Minnesota Vikings and Green Bay Packers, respectively), New York's path to the postseason doesn't get easier any time soon.
2. Kirk Cousins still has what it takes to lead this team
Much was made of Cousins' mistakes through his first two games. He had them in this game as well, including a fumble to close out the first half, when the team could've scored an easy field goal. However, he also racked up 296 yards and two touchdowns on 21-for-35 passng. DeSean Jackson was Cousins' target of choice, going for 96 yards and a touchdown, but Jamison Crowder also contributed nicely. A key stat was shown before the game that proved somewhat prescient: When Cousins throws an interception in a game, his team is just 3-15. No interceptions for Cousins today, and the Redskins get their first win of the season.
3. The Redskins have the resilience needed to win games
When it comes down to it, an analysis of today's game will reveal key mistakes by both sides. There's also the assortment of injuries Washington has been dealing with, including DeAngelo Hall having to leave today's game, and DeSean Jackson very nearly leaving it. The Redskins had their share of penalties, turnovers, and bad plays. However, they also stayed tough throughout the game. Rather than rolling over and allowing another opponent to top them like last week, Washington was the one that shut down their NFC East foe.
That sort of resilience may have saved this season for the Redskins. Now they'll face the Cleveland Browns with a chance to even their record at 2-2 for the season.
It should be interesting to see where these two teams go from here. Washington could have the easier time of it next week as they'll face the Browns. Meanwhile, Eli Manning and the Giants take their 2-1 record to a hostile Lambeau Field for a Sunday Night Football game against the 2-1 Green Bay Packers.
More from FanSided
This article originally appeared on