Redskins at Cowboys Recap, Highlights, Final Score, More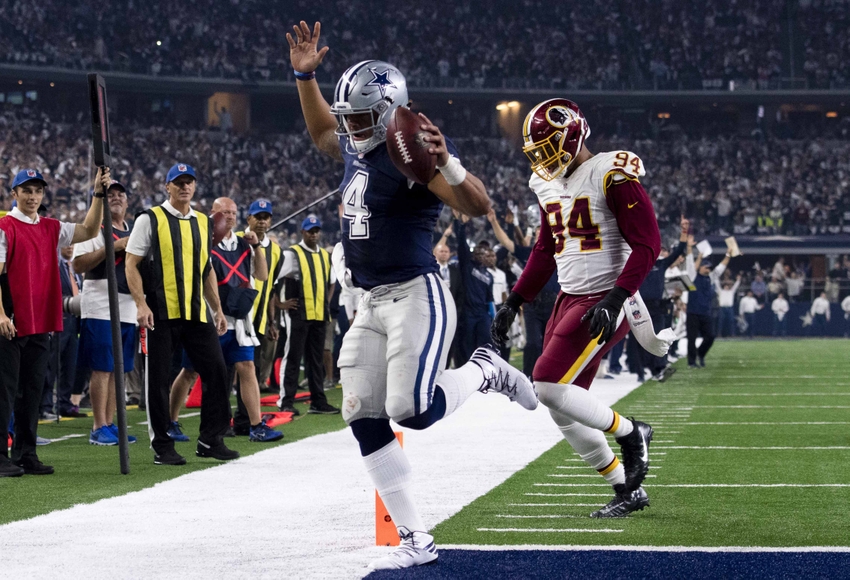 The Dallas Cowboys earned their 10th-straight win and took a commanding lead in the NFC East by outlasting the Washington Redskins on Thanksgiving Day.

26

31
Entering their Thanksgiving Day matchup against the Washington Redskins, the Dallas Cowboys were eyeing a few things. First, they were looking to take a big lead in the NFC East. Secondly, they were hoping to sweep their rivals for the 2016 NFL season. And of course, they were looking to win their 10th-straight game for the first time in franchise history.
Most people expected this to be a shootout right from the start, but that wasn't the case. Though the Cowboys scored quickly thanks to a dominant first drive from Ezekiel Elliott, the points were scarce in the first half. Redskins quarterback Kirk Cousins put up impressive yardage totals, but Washington managed only six points in the first half thanks to a pair of missed Dustin Hopkins field goals. Dan Bailey added a field goal and Dak Prescott found Terrance Williams for a nasty toe-tip touchdown to give Dallas a 17-6 lead at the half.
Whatever happened in the locker room, it brought about the shootout that everyone was awaiting on Turkey Day.
After leaving the game with a shoulder injury in the first half, Redskins tight end Jordan Reed returned for the second 30 minutes and showed out. After putting Washington in the red zone with an absurd one-handed catch, he capped it off with a score, though the Redskins failed to get the two-point conversion. Prescott answered for the Cowboys with a six-yard run off an impressive drive.
Washington then continued to roll as Cousins found DeSean Jackson deep down the right sideline thanks to a blown coverage by Anthony Brown. The Redskins then looked to get tricky with an onside kick, but it was booted too hard and recovered by the home team. That led to another solid drive and another Zeke score. Washington fired right back with another throw from Cousins to Reed, putting the score at 31-26 with just under two minutes remaining.
Hopkins tried one more onside kick, but the Cowboys made a heady play in the pile to push it out of bounds. Washington still had two timeouts, but a first-down pass to Cole Beasley ended the game essentially. Dallas ran out the clock to pick up the huge division win over their rivals and move to 10-1 on 2016.
Three Stars
Kirk Cousins, Redskins – Captain Kirk may have been on the losing end in this one, but he continued to look like a star as he lit up the Dallas secondary. He finished Thanksgiving going 41-of-53 for 449 yards and three touchdowns. Sheesh.
Ezekiel Elliott, Cowboys – If you listened to commentary, you might think Ezekiel Elliott had an off-day on Turkey Day. If an off-day means he finishes with 20 carries for 97 yards and two touchdowns two catches for 23 yards, Dallas will take an off-day most times out.
Dak Prescott, Cowboys – The rookie quarterback's stats don't jump off the page, but he was an absolute force on Thursday. Prescott finished the day going 17-of-24 for 195 yards and a touchdown along with six carries for 41 yards and another score.
Highlights
Next Game
Washington will be on the road again next Sunday, heading out west to face the Arizona Cardinals in Week 13. Dallas play again on Thursday next week, taking on the Minnesota Vikings on the road.
This article originally appeared on