Redskins at Cowboys: Preview, Predictions, and More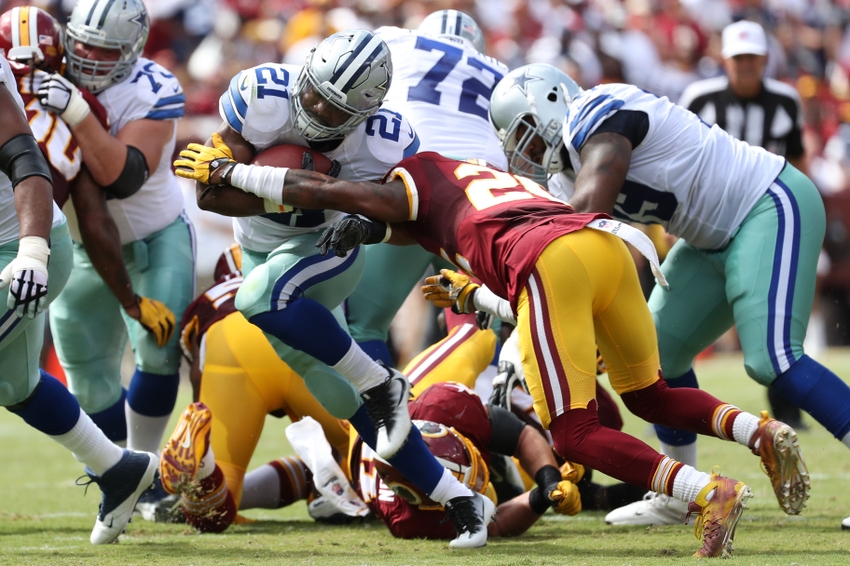 NFL Thanksgiving 2016: Washington Redskins vs. Dallas Cowboys
The Washington Redskins (6-3-1) and the Dallas Cowboys (9-1) face off on Thanksgiving Day in an NFC East showdown. Dallas is fresh off their ninth-straight win and Washington is coming in off a beat down of the Green Bay Packers on Sunday Night Football.
It's a short week for both teams, but for Washington it's even shorter. Dallas played an early game last week at home, whereas Washington had to play their game late Sunday night. The extra hours of rest as well as lack of travel for Dallad could be a huge benefit on this Turkey Day.
Here are the keys to victory for each team:
Washington Keys To Victory
Expose Defensive Backs: The Dallas Cowboys are still without starting cornerback Morris Claiborne and strong safety Barry Church. In their absence, rookie corner Anthony Brown has filled in well for Claiborne and safety J.J. Wilcox has been solid in place of Church. However, both can be beat. Wilcox is a hard hitter, but a liability in coverage and Brown has made some rookie mistakes that have led to deep plays. The Redskins need to attack these two players.
Feed Fat Rob: Rob Kelley endeared himself to many when he introduced himself as "Fat Rob" on Sunday Night Football. The undrafted rookie has been a monster running the ball and in order to win this game, the Skins need to feed Fat Rob all day long. If Kelley feasts on Thanksgiving, that's a good sign for Washington.
Connect on Open Passes: In Week 2 the Redskins lost to the Cowboys, but probably shouldn't have. Quarterback Kirk Cousins missed several wide-open throws. Receiver DeSean Jackson got behind the secondary at one point for what should have been a score and Pierre Garcon also beat his guy for a potential touchdown. The throw to Jackson was a mile too high and the one to Garcon skipped five-yards short. Cousins needs to take advantage of such opportunities this week to win.
Dallas Keys To Victory
Limit Big Plays: As mentioned above, Dallas was lucky that Cousins missed some open players. The Redskins signal-caller has been much sharper since that game so they can't depend on having such luck this time around. The safeties have to defend the deep ball and keep the players in front of them.
Control the Clock: Washington is a solid team all around. They do have a slight disadvantage as they not only travel on this short week, but they also played the Sunday night game several hours after Dallas was already recovering. If Dallas keeps pounding the ball and controlling the clock, the Washington defense could break down early. This strategy also keeps Cousins and their quick-scoring offense off the field.
Avoid Penalties: While the final stat sheet showed just five penalties for 45 yards, Dallas has a bit of a problem with getting penalties at the worst time this season. After falling behind the Ravens last week they were suddenly staring at a first and 30 thanks to back-to-back holding calls. They were fortunate to play their way out of that one, but that's not a recipe for success moving forward. They need to play much smarter, especially when it comes to the terrible holding penalties.
Odds
Point Spread: Dallas -7
Moneyline: Dallas -300, Washington +250
Over/Under: 52
Prediction
While it's true that Kirk Cousins has been playing much better since the Week 2 matchup between these teams, the same can be said about Dallas quarterback Dak Prescott. When they last faced, he was an injury fill-in and still a week away from throwing his first career touchdown pass.
Now Prescott is the no doubt face of the franchise and is playing like an MVP candidate. He also has much more help around him on offense than Cousins does. The edge there goes to Dallas, but this one will be close, as they always are with these two teams. The extra rest and lack of travel gives Dallas the edge.
Pick: Washington Redskins: 26, Dallas Cowboys: 31
This article originally appeared on