Recap: Miller, Roby Tame Jaguars Late, Denver Broncos Win 20-10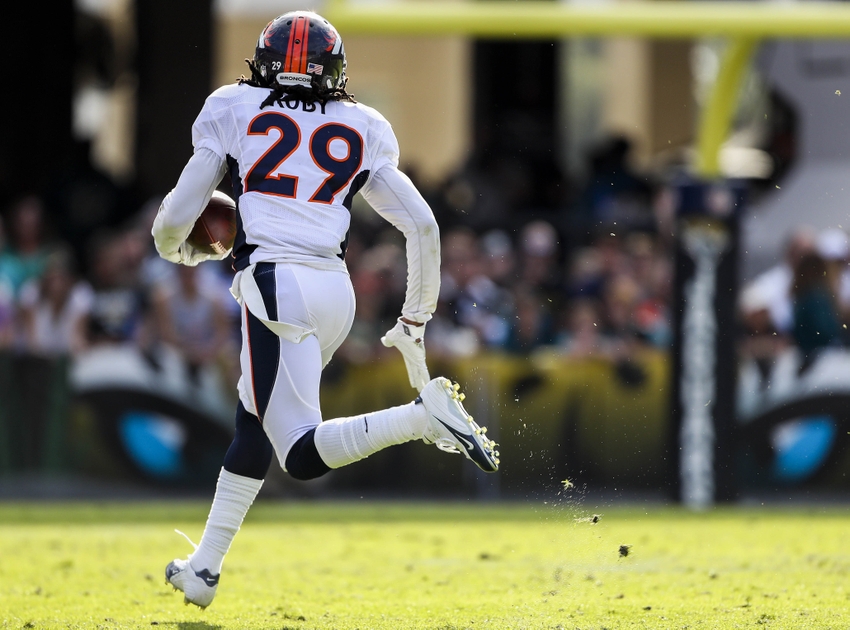 Denver Broncos quarterback Paxton Lynch earned his first NFL win as a professional while Von Miller and Bradley Roby tame Jaguars late to win 20-10.
The Denver Broncos needed a victory over a talented Jacksonville Jaguars defense. Broncos' rushing attack and aerial assault of Devontae Booker/Paxton Lynch hit a stalemate for the majority of the game. Jalen Ramsey and Jaguars' pass defense is no slouch placing them in the top-five.
Jason Myers, Jaguars field goal kicker, started the scoring after there were no points in the first quarter. After dumb roughing the passer penalty by the Jaguars, Lynch and the offense responded to take a lead 7-3 on Booker's best run of the game.
Clock management could be scrutinized late in the first half, but Lynch put together his only other good drive aided by Kalif Raymond and the Jaguars on fourth down. Raymond's punt return before the quarter ended set up the Broncos with excellent field position. Brandon McManus ended the half in a field goal as the Broncos answered to 10 unanswered before half.
Despite a shaky beginning to the game for the team's new return man, Raymond settled in well, possibly ending Jordan Norwood's tenure on punts. Look for Raymond to continue as the focal returner and punts.
It became imperative for Bradley Roby to play up to the potential from 2014 and 2015. Roby, for most of the game had sit on about every route from the Jaguars. A door opened as Von Miller pressured Blake Bortles, but Bortles let it go. The pass fell right in pocket of Roby as it was clear sailing for a pick six extending the lead to 17-3.
During the week, Miller's crucial comments carried to Sunday. As a leader it is up to you to step up in key moments and the Super Bowl 50 MVP delivered for the game sealer. However, Broncos defense still displayed a lapse in containment on fourth down. McManus added a late field goal for the clincher to 20-10.
This is an important game for the Broncos' playoff picture. If season ended today, the team would be back in the playoffs, but the division may still be in question. In order for the Denver to win out for the number one seed and/or home-field, the team must find a semblance of running game and offensive line needs to get angry.
Nonetheless, Miller and Roby tamed the Jacksonville Jaguars putting a leash on the game tallying the Broncos record at 8-4.
Next up: Denver Broncos at Tennessee Titans, 11:00am start on CBS.
More from Predominantly Orange
This article originally appeared on