Ravens at Browns: Highlights, score and recap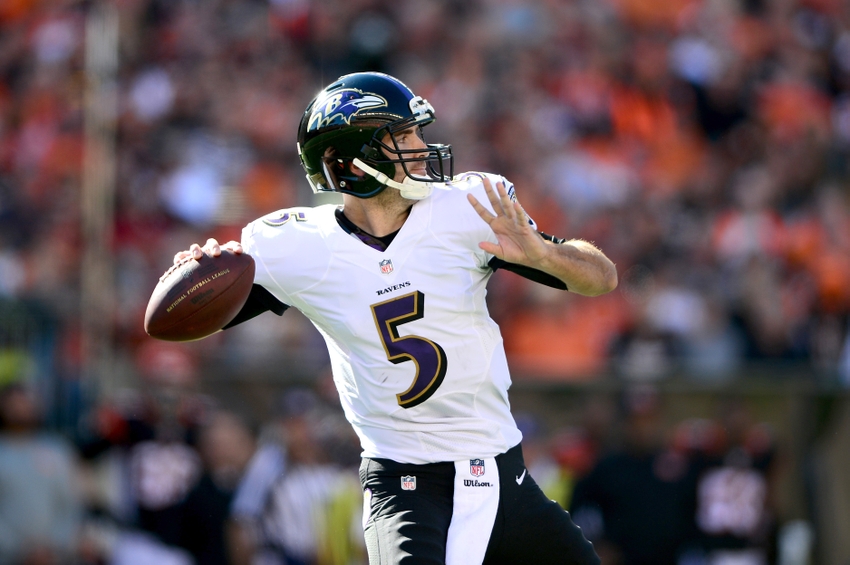 Avoiding an 0-2 start won't be easy for the wounded Cleveland Browns when they host AFC North rivals the Baltimore Ravens in Week 2.
The Browns will still be ruing the shoulder injury that's landed quarterback Robert Griffin III on injured reserve after just one game. Josh McCown will be under center against an intimidating Ravens defense.
It will be up to McCown to get all of the Browns playmakers involved. Cleveland's offense isn't short of difference-makers, including tight end Gary Barnidge, wide receiver Corey Coleman and running back Duke Johnson.
McCown has the weapons to hurt Baltimore, but he'll need more than a little help from his offensive line. It won't be easy to keep dominant tackle tandem Brandon Williams and Timmy Jernigan at bay.
It may be tougher still for the Browns defense to stop Joe Flacco. The Ravens quarterback is going against a team short on credible pass-rush threats. That's bad news for the Browns considering how many targets Flacco has to aim for.
He can go deep to a fleet of burners led by fellow wideouts Mike Wallace and Breshad Perriman. There's also 37-year-old Steve Smith Snr. to work underneath. Speaking of working underneath, tight ends Dennis Pitta and Crockett Gillmore are both excellent mid-range pass-catchers.
But it's running back Justin Forsett who could prove the decisive player this week. The Browns have been horrible stopping the run for too long now, and there's little to suggest that's changing.
It would help if Danny Shelton finally becomes a force inside. The hulking nose tackle could have his way with Baltimore center Jeremy Zuttah, who struggled mightily against the Buffalo Bills last week.
Shelton and middle linebacker Demario Davis both need to have big games to shut down the Ravens rushing attack. If they can't boss the line of scrimmage and control Forsett, it will be a long day for the Browns.
Highlights
Highlights will be posted live as they happen.
Three Stars
1. Joe Flacco
Flacco has too many weapons not to enjoy a monster game. He can spread passes between a deep and talented stable of wide receivers who can all stretch the field.
But it won't be all about the deep ball with the Baltimore passing game this season. Not when Forsett is an excellent receiver out of the backfield, while Pitta is finally healthy.
2. Justin Forsett
He only had 10 carries in Week 1, but Forsett still looked like a very useful runner in his 10th season. Specifically, the 30-year-old showed he can still anticipate and decisively attack the cutback lanes. That's a priceless skill on zone plays. It's also a trait sure to frustrate the Browns.
3. Andrew Hawkins
The Browns were all about stretching the field deep in Week 1. But that was with Griffin's rocket arm firing the passes.
McCown's place as starter means Cleveland will likely try to exploit the underneath passing lanes more often in Week 2. It should mean a productive day for veteran slot receiver Andrew Hawkins.
He can shake loose of press coverage with swift moves out of his breaks. Hawkins is also excellent after the catch, making him a threat on screens, as well as shallow crossing patterns.
The Raven have injury problems at cornerback, and it's still not certain who is the slot corner of choice. Hawkins could take advantage of the uncertainty and make McCown's job easier.
Next Week
Trips to Florida await both teams in Week 3. The Browns will travel to face the Miami Dolphins, while the Ravens are on the road against the Jacksonville Jaguars.
This article originally appeared on