Ranking Tony Romo's Top 5 Dallas Cowboys Games
Brandon Orange/FanSided via The Landry Hat

Fansided
We look back to veteran quarterback Tony Romo's time with the Dallas Cowboys and rank his top five performances with America's Team.
Fans of the Dallas Cowboys enjoyed a very exciting 2016 season, winning 13 games with a very young core including rookies Dak Prescott at quarterback and Ezekiel Elliott at running back. The future is blinding in northern Texas, and it seems like a new era of America's Team has begun. There are a lot of reasons to be excited about the future, but that doesn't mean fans shouldn't reflect on the past.
The saying goes "out with the old, in with the new," and that applies to football as well. We have probably seen the last of quarterback Tony Romo in a Cowboys uniform, and while we do not know what the future hold for the Cowboys leading passer, we can always look back at the performances he has gifted us over the years.
5) Indianapolis Colts @ Dallas Cowboys, 12/21/14
18/20, 90%, 218yds, 4TD, 0INT, 129.0 rating
We start in the 2014 season, which may have been Romo's peak. While closing in on the 2014 NFC East division championship, the Colts came to town looking to lock up their own division. Romo, still feeling the effects of a back injury suffered earlier in the season (one that would eventually end his tenure in Dallas) stepped up to the plate to deliver a historic performance and blow out the Colts.
Romo connected on 18 of his 20 attempts and found the endzone 4 times, only the second player in NFL history to complete 90% or more of his passes and throw for at least 4 touchdowns. Had this game not become a blowout very fast, who knows what type of passing records Romo would have been in range of.
With this game, Romo made a strong case to win the MVP award. Although he didn't take the award home, he continued his very impressive 2014 campaign en-route to a 12-4 record.
4) Dallas Cowboys @ New York Giants, 11/23/14
18/26, 69.2%, 275yds, 4TD, 0INT, 143.4 rating
A month prior to carving up the Colts, Romo and the Cowboys traveled north to take on the Giants in a division rematch from a few weeks before. A divisional game on the road is as difficult as is gets in a regular season football game.
With the Giants in the middle of a losing streak, it was the perfect time for Romo to shine in prime time. Romo has made a career out of beating the Giants with a record of 20-11 against them, including the last game he started and finished in Week One of the 2015 season.
Want your voice heard? Join the The Landry Hat team!
In what was an exciting game between two rivals that involved a catch by Giant's receiver Odell Beckham Jr. you may have heard of, Romo put on a show. Completing 69% of his passes and finding the end zone four times, he put together the best performance of his career against the Giants.
This game will go down as one of Romo's best due to him once again shedding the "choke artist" label and throwing a clutch touchdown to Dez Bryant with 1:01 left.
The score gave the Cowboys their 2nd division win in three tries, and helped right the ship after suffering back to back losses to Washington and Arizona.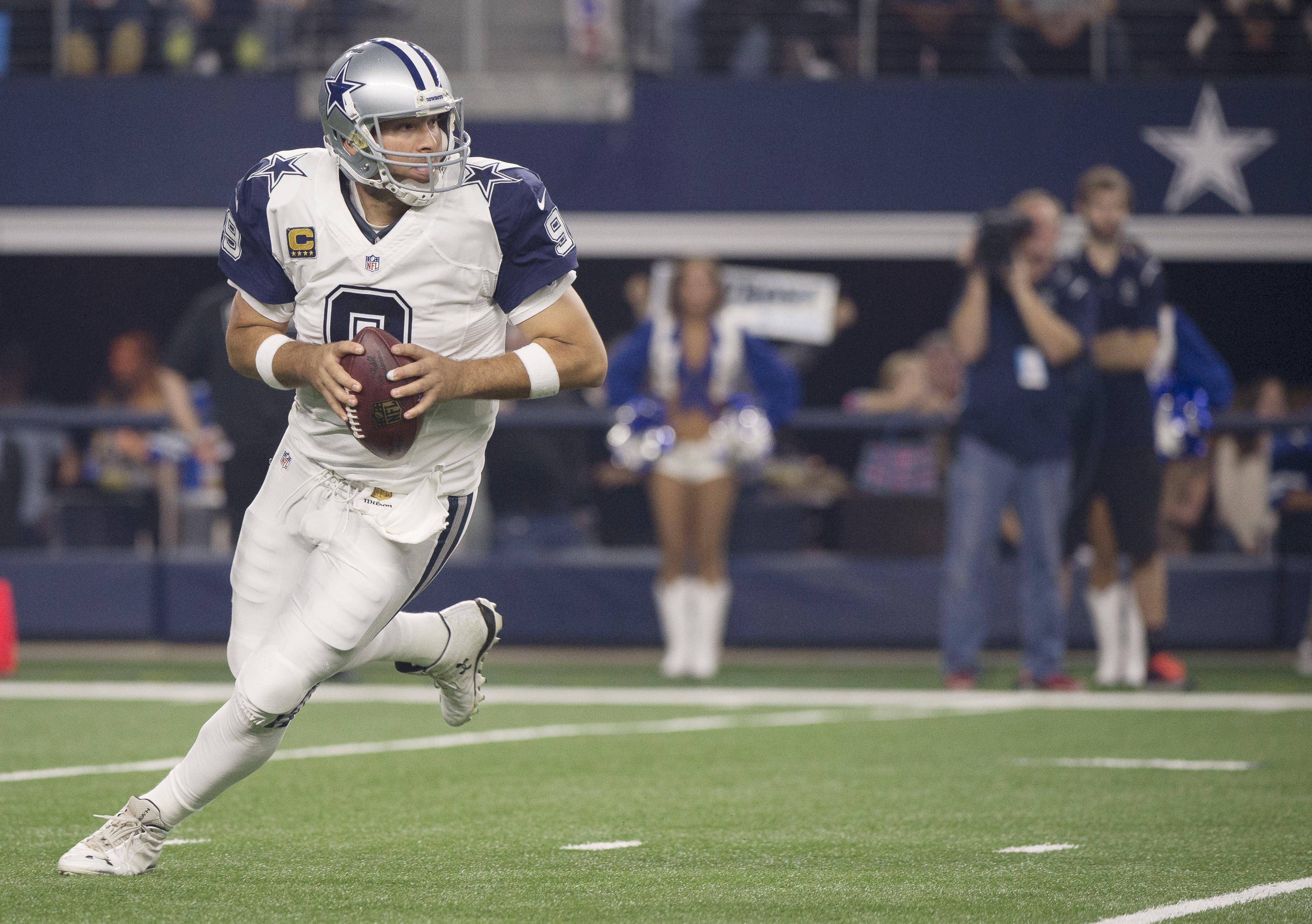 3) Tampa Bay Buccaneers @ Dallas Cowboys, 11/23/2006
22/29, 75.8%, 306yds, 5 TD 0 INT, 148.9 rating
Going way back in time, a 26 year old Tony Romo snatched the starting job after Drew Bledsoe went down against the Giants, and never looked back.
After a couple promising performances and a few that left fans wondering whether or not he could be the future of the team, the Tampa Bay Buccaneers came to town for some holiday football.
Romo lit the Tampa defense up for 306 yards and 5 scores. Despite four of them being less than 10 yards from the end zone, it still showed the greatness this young undrafted quarterback had in him.
It also began a successful relationship with future Hall of Fame receiver Terrell Owens, as they connected for a score for the 5th time, a duo that would combine for plenty of future touchdowns.
In his Thanksgiving debut, young Romo showed he could shine while the lights were on bright. He picked the Bucs apart to stretch their winning streak to three games, and had his first career five touchdown game.
This really put Romo on the map and put the belief in people's mind that he could be the franchise quarterback the Cowboys had been looking for since Troy Aikman retired in the year 2000.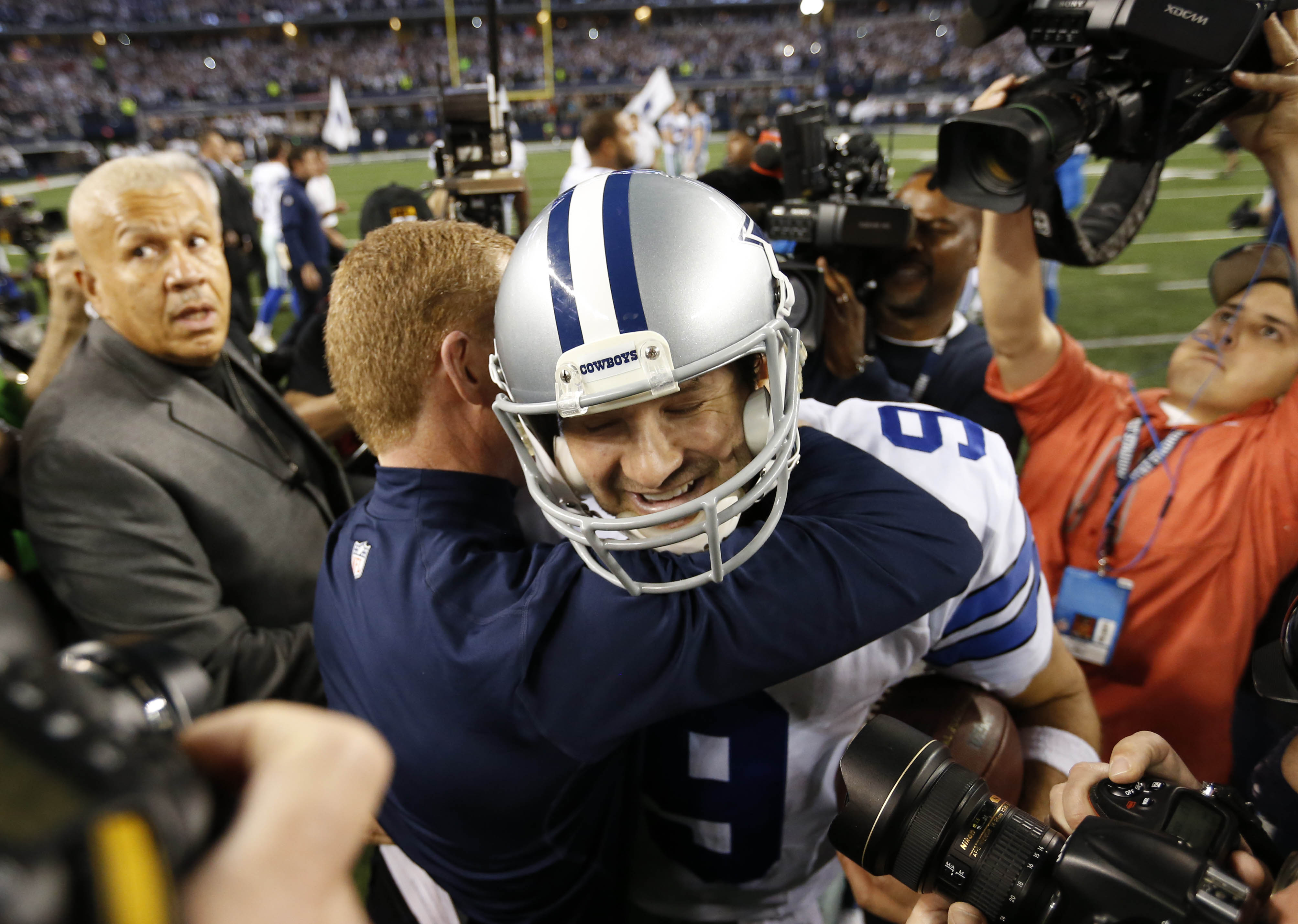 2) Detroit Lions @ Dallas Cowboys, 1/4/15
19/31, 61.2%, 293yds, 2TD 0 INT, 114.0 rating
Heading back to the 2014 season one last time, we look at the Wild Card round of the playoffs, where we see Romo's signature late game heroics in the postseason. In a game marred with controversy, Romo put together a good stat line while putting the team on his back and leading them to a come from behind victory over the Detroit Lions.
This game is most notable for being Romo's most impressive playoff performance in his unfortunately short postseason career. Putting together a solid box score as well as scoring the game winning touchdown in dramatic fashion, this game was vintage Romo.
Down 20-7 in the third quarter, Romo began to lead the team back into it. Following a DeMarco Murray touchdown and a long field goal from Dan Bailey, Romo dissected the Detroit defense to march the team downfield. With 2:30 left in the game, he threw a dart to Terrence Williams to take the lead.
The postseason run would end the next week, despite another good performance from Romo. The win against Detroit still stands as the last Cowboys playoff win. We've seen the Cowboys back in the postseason, but it remains to be seen whether Romo will get another chance to shine in the playoffs.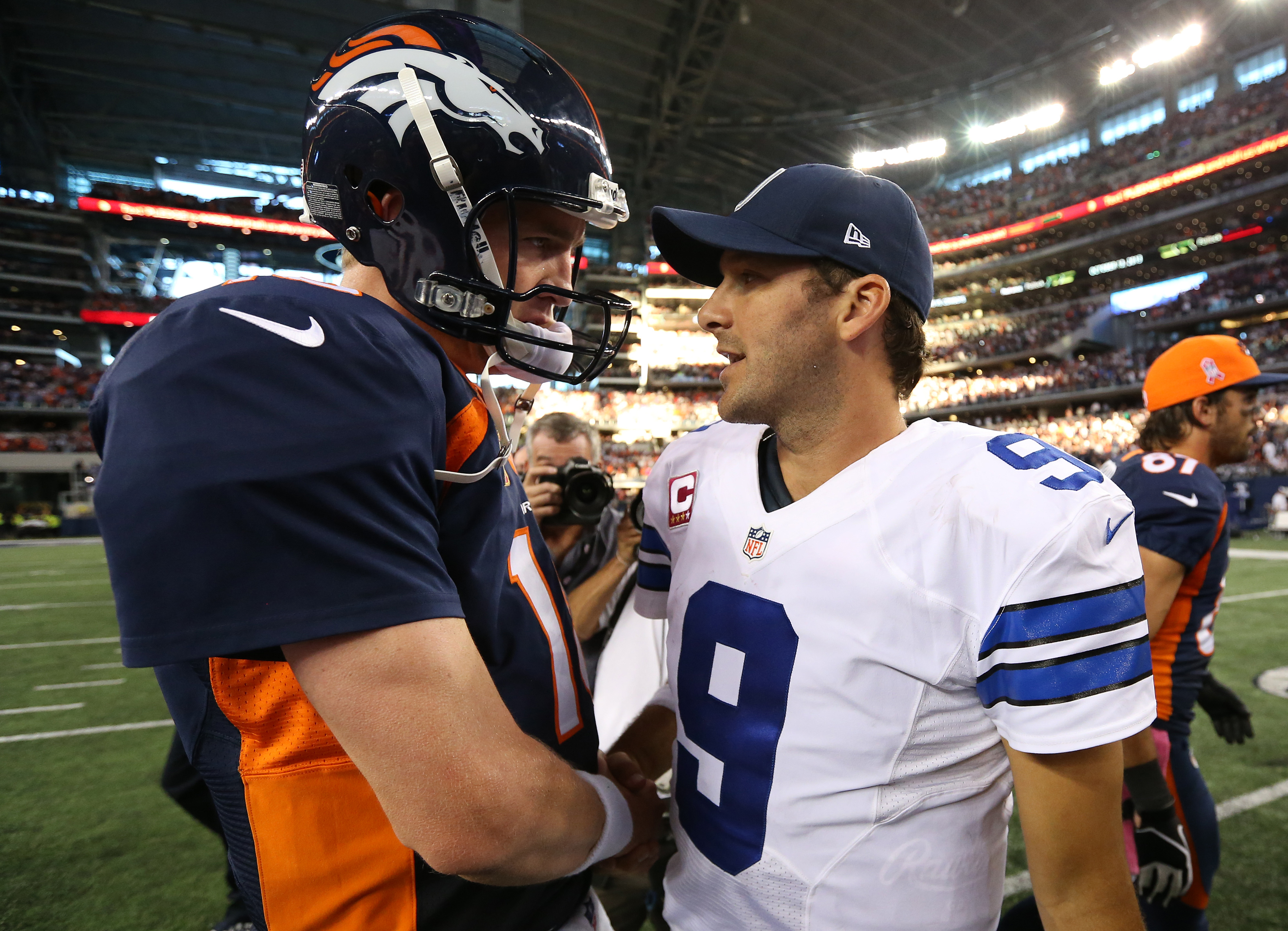 1) Denver Broncos @ Dallas Cowboys, 10/3/13
25/36, 69.4%, 506yds 5 TD 1 INT, 140.0 rating
Finally, the best game Tony Romo has produced came on an October afternoon almost four years ago. The Denver Broncos came to AT&T Stadium on fire at 4-0. Peyton Manning came into the game with 16 touchdowns to 0 interceptions, with almost 1500 yards between four games.
Romo was having a spectacular season in his own right, tossing 8 touchdowns to just one interception, but the Cowboys were just 2-2 heading into the shootout with Denver.
This game was the definition of a barn burner. Both sides had prolific offenses, combining for 99 points, 12 touchdowns total, including 10 passing touchdowns. This goes down as Romo's best performance simply because he went toe to toe with Manning, in the midst of the best quarterback season in NFL history.
Romo completed almost 70% of his passes against a spectacular Denver defense, and racked up over 500 yards and 5 touchdowns. He went pass for pass with the best quarterback in history, against a team that went to the Super Bowl that season.
While this performance came in a losing effort, Romo converted a lot of fans with this game. Putting up one of the all-time great stat lines, in a nationally televised game won people over and showed how great he could be.
This was a high point in a spectacular Cowboys career. Tony Romo put together a lot of terrific games with a star on his helmet, and this team was never out of it when he was on the field. We don't know what the future holds for him, but he left us fond memories over the last decade.
This article originally appeared on