Ranking Tony Romo's Best Options for 2017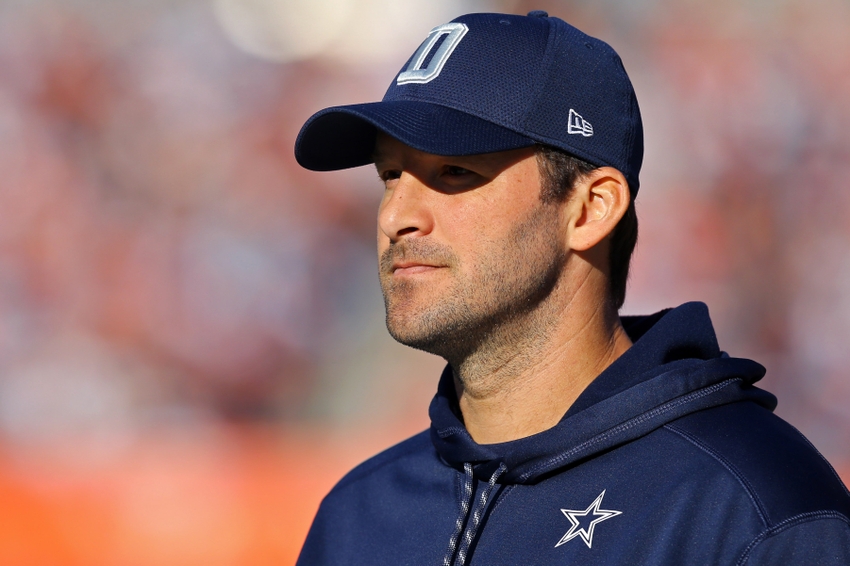 The top choices for current Dallas Cowboys quarterback Tony Romo to play in 2017 ranked in order of best fit for him and the team.
Not much is certain about how the 2016 NFL season is going to play out. Even less is sure about what will take place in the 2017 NFL season. Yet, there is one thing that's a near certainty about next year's NFL. Quarterback Tony Romo will be looking for a new home. The Dallas Cowboys franchise passing leader orchestrated a brilliant 12-4 season in 2014 and had Dallas in striking distance of the NFC Championship game that year.
They dropped a close game to Green Bay, thanks in large part to the referees not understanding that when a player takes three steps, switches the ball to his dominant hand and dives for the end zone, he actually posses the ball. After that defeat it looked like Romo and his team were ready to break through.
Instead he just saw bones break. Last season, Romo played just four games thanks to two separate collarbone breaks. He was 3-1 in those starts (and the team was1-11 without him), which made the team hopeful that this season would be better with him fully healthy.
Again bad breaks happened to ruin those plans. In a preseason game against the Seattle Seahawks, Romo broke a bone in his back and again was set to miss most of the season. This time instead of falling apart, though, Dallas flourished without their quarterback. Currently riding a 10-game winning streak, Dallas is now the best team in the NFL record-wise and one of the biggest reasons is rookie quarterback Dak Prescott.
With Prescott fully entrenhed as the starter, Romo is on the outs and will be looking for a new home next year to continue his playing career. Here we rank his potential destinations looking for the best fit for the veteran gunslinger.
6. San Francisco 49ers
So this team is here simply because they could be in the market for a new quarterback. Their current stable of Colin Kaepernick and Blaine Gabbert have raced out to a 1-10 start on the season.
Thanks to their lackluster play at the position (as well as the venomous dislike people feel towards Kaepernick), San Francisco could be interested in getting a veteran leader that can right their offense. Romo is also a likable guy, which could be welcome in the Bay Area after the bad press they have gotten in recent years thanks to guys like Kaepernick, former head coach Jim Harbaugh, CEO Jed York, etc.
One thing stopping such a move is that Romo will be 37 years old in April. He isn't a spring chicken and really has no time to go to a franchise looking to rebuild. That's exactly what the Niners need to do since they have no weapons on that offense outside of running back Carlos Hyde.
Another issue is that Romo would be a bad fit for head coach Chip Kelly's offense. He can say all he wants that he doesn't need a mobile quarterback—but he needs a mobile quarterback. A lot of his offense works on deception and zone reads. Defenses wouldn't respect Romo's running and Kelly's offense would also put him at risk of even more injury.
Of course all that is assuming they don't just fire Kelly and tell him to go back to the NCAA where he fits. Either way, this isn't an ideal for for Romo or the team.
5. Cleveland Browns
Here's another group that can probably count pursuing Romo as a lost cause, although he could be a great fit. Cleveland Browns head coach Hue Jackson has a history of getting good production out of his quarterbacks. During his lone season as the head coach in Oakland, he led the Raiders to an 8-8 season with Carson Palmer as his starter.
For some perspective, that 2011 season when Jackson led Oakland to an 8-8 record was their last decent season until this year. They spent the past five years trying to get close to where he had them headed.
At his last stop prior to Cleveland, he also had success. Jackson had Cincinnati Bengals quarterback Andy Dalton looking like a franchise player during his time as their offensive coordinator. This season with Hue in Cleveland, Dalton has regressed. History suggests he can get the most out of Romo. Logic suggests that Romo will want no part of that, at least not with the Browns.
Cleveland in the worst team in the NFL at 0-12 and they have shown no signs of improving. Just like with San Francisco, Romo won't be looking for a rebuilding process and that's exactly what he would be stepping into here. This one goes in the long-shot category.
4. New York Jets
This team could be more likely than the others that preceding them. The New York Jets are a dumpster fire at the moment with just three wins and eight losses, but they do have some talent. At receiver they feature some explosive players with Brandon Marshall, Quincy Enunwa and Eric Decker (currently on IR). They also have good players at running back in Matt Forte and Bilal Powell.
Most of the guys on this roster now were part of a great regular season in 2015. The Jets had 10 wins and narrowly missed the postseason. Hope was high after that season, but nothing good has materialized.
Quarterback Ryan Fitzpatrick has regressed from his '15 form and there's not a lot of hope for either Geno Smith or Bryce Petty to replace him. Rookie Christian Hackenberg may have the talent, but the team has been reluctant to turn to hims which doesn't bode well for him.
Signing Tony Romo may be a huge plus for them. He would have plenty of weapons to get the ball to and would be a huge upgrade over Fitzpatrick. His presence would also give them time to get Hackenberg ready, rather than throwing him to the wolves sooner than they hope. If Romo likes the receivers, this one could be a possibility. This is not the most likely, but also not completely out of the question either.
3. Denver Broncos
A Romo-to-Denver pairing made much more sense before Sunday Night Football in Week 12. The defending champions have been playing well this season, despite not having a lot of explosion in their passing game.
On Sunday night against the Kansas City Chiefs, first-year starter Trevor Siemian found some explosive plays. The second-year player threw for over 350 yards and had three touchdowns. He did all he could to help the team win, but they still couldn't pull it out.
Now at 7-4, they are a still a good team, but if they had Tony Romo they would be a great team. The problem is that Denver has been too stubborn with Siemian even when he struggled. Should he continue to put together some solid games, there's no way they move on. Another issue would be the worry that Romo would be too fragile and that giving up on Siemian would be a mistake if the guy they bring in is unable to suit up for most of the season.
That argument could be negated with the fact that they do have a rookie first-round pick on the bench if that did happen. Paxton Lynch's presence is the one thing keeping Romo in play with the Denver Broncos. His arrival would allow them to let Lynch continue to season via practice and could also bypass a potential quarterback controversy between the two young guys.
For Romo this one makes a ton of sense. Denver has arguably more offensive weapons than Dallas does and they have a far superior defense. He would finally be able to win games without having to go old west shootout style. The problem is Denver may not be as interested thanks to their investment in youth at the spot. It's an option, still worth keeping an eye on.
2. Houston Texans
Here's a team that would seem unlikely at first, but it makes a ton of sense. The Houston Texans just invested a lot of money to quarterback Brock Osweiler. The former Denver Broncos backup was given a contract with $37 million guaranteed, but he has been downright awful through 11 games.
Could Houston really give up on him after one season? Sure, why not? It sounds like a crazy thing to say, but the Texans will know everything they need to know about Osweiler after a full season with him. After this year he will have three years remaining on his deal, but why stick it out if it isn't working?
The cap hit will hurt no doubt, but Romo has a cap-friendly number in 2017 if he was traded for and could most likely be even more affordable via free agency coming off two injury-plagued seasons.
Houston has talent on both sides of the ball. They have a great receiver in DeAndre Hopkins, who has been held back by Osweiler. They also have the best defensive end in the game in J.J. Watt, who has a limited shelf life as evidenced by his recent rash of injuries.
Bringing in Romo would fix a lot of their offensive woes while also maximizing the final years of Watt's prime. That's what they wanted to do when they overpaid for Osweiler and it failed. They can't let one mistake force them into another one by ignoring Romo. This one makes a lot of sense for both sides.
1. Arizona Cardinals
And the best fit for soon-to-be-former Dallas Cowboys quarterback Tony Romo would be—the Arizona Cardinals. Head coach Bruce Arians had three-straight seasons with at least 10 wins, but 2016 has been a different story. As of now, his team sits at 4-6-1 on the year and their offensive struggles are a lot of the reason why. Since arriving in the desert, Arians has gotten the most out of Carson Palmer at quarterback.
The former first-overall pick looks to have lost a step this season though and they could be in play for an upgrade especially given the lack of a developmental youngster on their roster. Say what you want about Romo, but he would be quite the upgrade over Palmer.
With weapons like running back David Johnson and receivers Michael Floyd, Larry Fitzgerald and John Brown at his disposal, Romo could shine with the Red Birds. He would also have the benefit of a stout defense as the Cardinals are still solid at this group despite a down season.
Arians also likes to air it out on offense, something Romo is no stranger too. With 34,154 yards and 247 touchdowns in his career, the veteran has shown that he excels at pushing the ball downfield.
2016 has been a rough year for the Cardinals but making a splash like acquiring Romo would do wonders towards making 2017 a better season. They also feature an offense the quarterback can work with and a defense that can help take some of the pressure off him he felt for years in Dallas.
This one is the best fit for both player and team.
This article originally appeared on