Ranking the Top 10 Free Agents the 49ers Should Pursue in 2017
The 49ers find themselves in a great position heading into the offseason as they currently are slotted at the No. 2 pick in the NFL Draft and are loaded with cap money to spend in free agency. Niner Noise takes a look at the top 10 free-agent targets the 49ers should sign.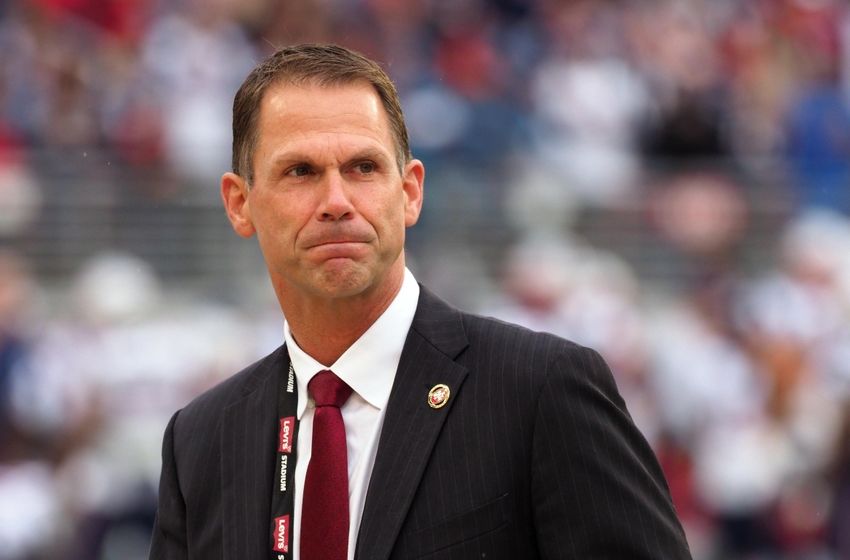 The San Francisco 49ers have approximately $46 million in cap space next year, according to Over the Cap. If they roll over that money this year, they would have close to $90 million in cap space.
This number can increase if quarterback Colin Kaepernick and linebacker Ahmad Brooks are cut, allowing the team to have flexibility in free agency.
Unfortunately, among many draft pundits, the 2017 class is generally weak. According to an ESPN article by John Clayton, one GM exposed the weakness.
"To me, [the 2017 class] stinks," one general manager told Clayton. "If you were at the top of that [2013] draft, you didn't get value. It was just a bad class."
While it's hard to ignore this disastrous season the team is in a proper position to rebuild for the future. They can go a number of different ways in the draft.  but lets take a look at a group of ten pending free agents that the Niners should take a hard look at.
Wide Receiver Michael Floyd
The 49ers need a big playmaker and Michael Floyd is a perfect fit. He is a mismatch nightmare at 6-foot-5 and 230 pounds) and would solve the red zone deficiencies.
Floyd has never been the No. 1 target, having been playing next to future Hall of Famer Larry Fitzgerald and could finally be the main target in San Fransisco. The Niners would need to unload the bank for Floyd, as his current cap hit is at $7.32 million in 2016, per Spotrac.com.
This would be a good fit for both sides because Floyd can finally be the main guy, and the Niners would instantly upgrade the receiving core.
Linebacker Kiko Alonso
The Oregon product, Kiko Alonso, has a prior history with head coach Chip Kelly when he played under him in college. The linebackers have struggled mightily, without NaVarro Bowman, and could use another difference maker on the defensive side. Bowman will be returning next season, but questions still remain about his durability.
Signing Alonso would make a lot of sense here, as he could solidify the other inside linebacker spot alongside Bowman. His flexibility to run fluidly in coverage make him a hot commodity.
He isn't expected to get paid as an elite linebacker, and the 49ers would be able to sign him at a reasonable price.
Defensive End Jabaal Sheard
It's no secret the defensive line needs major help this offseason. The 49ers are last in rush defense in the league in multiple categories and have endured durability issues all year.
New England Patriots defensive end Jabaal Sheard isn't an elite player. But his versatility in a 3-4 defense is a good scheme fit. He was projected to make the move to outside linebacker coming out of college and can play several positions.
He is fairly young in his sixth season, at 27, and has 34.5 sacks in his career, instantly upgrading the woeful pass rush.
Offensive Tackle Marshall Newhouse
Other than left tackle Joe Staley, the 49ers don't possess a solid veteran lineman since Mike Iupati left for free agency last year.
New York Giants tackle Marshall Newhouse is a good pass blocker with quick feet, and the Niners have struggled to keep the quarterback safe. Last game against the Chicago Bears, they gave up five sacks to quarterback Colin Kaepernick, and he only threw for five yards before getting benched in the fourth quarter.
It would be wise for the team to invest in a short-term deal for Newhouse for two years and around $1.5 million a year. This type of move would allow the younger linemen like Joshua Garnett and Trent Brown to develop.
Defensive End Jason Pierre-Paul
Defensive end Jason Pierre-Paul is a pure pass-rush specialist, something the Niners have lacked since linebacker Aldon Smith's prime.
The current outside linebackers are unproven, and Ahmad Brooks could be cut, with only one more season left on his six-year contract.
Pierre-Paul is younger (27 years old) and faster than the aging Brooks (32 years old). The only issue with JPP is his injury history. He recently underwent a sports-hernia surgery ending his season. This could be a blessing in disguise, as the Giants could be more weary of re-signing him, giving the Niners an opportunity to swoop him up.
The risk is worth the reward in this situation for the Niners, who can take a flyer on him with his huge upside.
Quarterback Tony Romo
The days in Dallas are numbered for quarterback Tony Romo after his benching for rookie QB Dak Prescott. While owner Jerry Jones has insisted Romo is in their plans of the future, I don't see him staying with the Cowboys as a backup.
There are many teams looking for quarterback help, including the New York Jets and Denver Broncos. At this point in his career, it's unlikely Romo would sign with a rebuilding team and rather to a team where he can contend for a Super Bowl.
But ,for the sake of the hypothetical and given the need for a signal-caller, the 49ers should warrant at least an inquiry.
They could draft a quarterback in the later rounds for Romo to groom for the next three to four years, which is better than handing the reins over to a rookie right away.
Wide Receiver Justin Hunter
The 2017 free-agent class is weak  outside of the wide receivers. There are hidden gems throughout this group, including current Buffalo Bills wide receiver Justin Hunter.
He is relatively young, with only three years in the league out of USC, and already has 42 catches this year. His market won't demand top dollar, as his current salary is a shade under a million per year. 
Hunter's best years could be ahead of him, and the 49ers would be wise to add multiple receivers this year, whether it be via free agency or the draft.
Nose Tackle Brandon Williams
Baltimore nose tackle Brandon Williams has had a solid year for the Ravens with 36 total tackles. He is another 2013 draft product along with most of the players in this upcoming free-agent class.
The Niners need a massive nose tackle to stuff the run, and Williams has the sheer size (6-foot-1 and 340 pounds) to fill the need.
Baltimore will most likely try and re-sign Williams. But if the Niners make a sweet long-term deal, they could sway him to the Bay Area. They would have to pay him around $3 million per year for four to five years because of his age and productivity.
Running Back Kenjon Barner
There are star running backs available this year, including Le'Veon Bell, Latavius Murray and Eddie Lacey. But I think the 49ers are confident Carlos Hyde can be the main workhorse.
That doesn't mean the team shouldn't look into adding another back to compliment him.
Insert former Oregon running back Kenjon Barner.
A former player with head coach Chip Kelly at Oregon and with the Philadelphia Eagles, Barner is the type of one-cut running back who works well in his offense. This move wouldn't be to push Hyde for starting reps, but it could be an underrated pick up as a third-down running back capable of making plays, catching out of the backfield, returning punts and kicks.
Wide Receiver Jeremy Kerley
49ers wide receivers Jeremy Kerley and Quinton Patton are both free agents, and I don't expect San Francisco to re-sign both.
Kerley has the upper hand right now, and he is easily having one of his best years in the NFL. He leads the team in catches (43) and reception yards (466).
Look for the Niners to bring him back on a three-year extension and let Patton walk.
There won't be a lot of teams seeking Kerley's services, and this pairing should be a no-brainer for both sides.
This article originally appeared on