Ranking All San Francisco 49ers 2016 Positions by Strength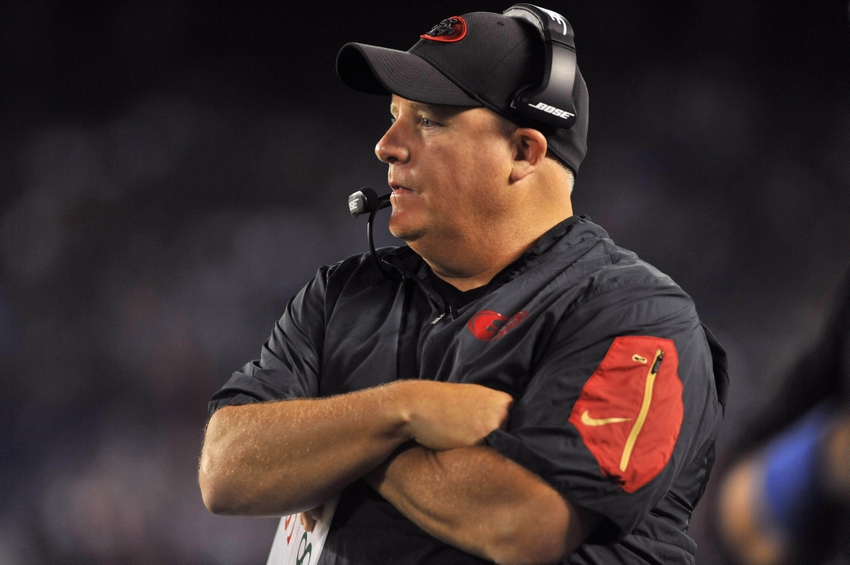 The San Francisco 49ers are in full rebuild mode after coming off a disastrous 5-11 2015 season. Niner Noise takes a look at which position groups are the best and the worst heading into 2016.
Preseason is finally over and it's time for the real deal. The San Francisco 49ers head into the 2016 NFL season ranked at dead last in power rankings.
The 49ers are also not favored in a single game in 2016, and Week 1 will be the first step towards their full rebuild process.
With 2015 ending not as expected, at 5-11, the 49ers front office fired the coaching staff with the exception of running backs coach Tom Rathman.
New head coach Chip Kelly and his staff have taken on the responsibility of rebuilding a storied franchise that is used to one thing: winning.
In rebuild mode, proper evaluation is the cornerstone of the process. If one can find out where their strengths and weaknesses truly are, then one can capitalize on the strengths and fix the weaknesses.
Niner Noise takes a look at each position group and ranks them from the weakest to the strongest. The weakest being where the 49ers should focus most of their efforts and the strongest being the groups that the future of the franchise should be built around.
We will be using the following criteria to rank each position group:
Experience

Overall depth

Player chemistry within the group

Individual play-making ability within the group

Any Pro-Bowl/All-Pro candidates within the group
No. 11: Quarterback
It's safe to say that the quarterback position for the 49ers is the weakest group.
That doesn't mean that they have bad quarterbacks. It just means that the group, collectively, is not what the 49ers coaching staff would like it to be.
Head coach Chip Kelly has named quarterback Blaine Gabbert as the starter heading into Week 1.
Gabbert started off the preseason on a rocky note and finished with touchdowns on three of the eight series he played in.
With all the national attention surrounding backup QB Colin Kaepernick for non-football reasons, Kaepernick has also not shown any progression since his stellar 2012 campaign and, deciding to keep newcomer Christian Ponder, the 49ers certainly have their work cut out for them.
Even if Gabbert performs well in 2016, look for the 49ers to target a QB very early in the 2017 NFL draft.
No. 10: Wide Receiver
The wide receiver position heading into training camp was up for grabs for any player who decided to step up. The problem?
Nobody did.
Carlos Hyde: Identifying 49ers RB's Scheme Fit in 2016
At first, it seemed as though the 49ers had decent depth at the position with key additions like Eric Rogers — a big, physical WR out of the CFL who seemed poised to flourish in a Chip Kelly offense.
Rookies Aaron Burbridge and Bryce Treggs showed flashes of playmaking ability.
Second year WR DeAndre Smelter was finally healthy and ready to contribute, and WR Bruce Ellington was poised for a breakout year.
Fast forward to Week 1 and you will see Rogers is out for the season with a torn ACL. Ellington is out for the season with a torn hamstring, and both Smelter and Treggs have been released.
This group has thinned out and, with the sloppy QB play, the passing game is going to be some tough sledding in 2016.
No. 9: Tight End
The tight end position for the 49ers has generally been a serious strength among the team. They should still be considered a strength, but for different reasons.
The days of seeing Vernon Davis blow past the safety downfield to reel in a huge catch are gone.
Today's tight ends have proven to be reliable in the short passing game with players like Garrett Celek. Tight end Vance McDonald has been a stellar run blocker and has found his hands in the preseason, finishing with six catches for 94 yards and a touchdown in three games.
The potential of college QB, turned TE, Blake Bell is starting to emerge.
As a group, they are a fairly solid unit. And if they can maintain some consistency, the Niners TEs might find themselves higher on this list by Week 17.
No. 8: Cornerback
The cornerback position has been a weak point within the 49ers defense for quite some time. But this group seems to have started turning a corner (no pun intended).
Veteran Tramaine Brock leads the unit with 2014 first-round selection Jimmie Ward starting to emerge as a star.
Upcoming

Schedule

9/12
Los Angeles Rams
9/18
at

Carolina Panthers
9/25
at

Seattle Seahawks
10/2

Dallas Cowboys
10/6

Arizona Cardinals
In 2015, Ward's first-round talent was on display near the end of the season, where he played at the nickel corner spot. Although, in 2016, Ward has been moved to the outside opposite of Brock and will look to continue his exceptional play.
Another rising name is the new nickel back Chris Davis. Davis was picked up from the San Diego Chargers where he was signed as an undrafted free agent. Davis has shown great instinct throughout the preseason and has taken the starting nickel spot.
With the change of position for Ward and the unproven Davis, the group as a whole remains lower on this list. But they certainly are heading in the right direction.
No. 7: Offensive Line
Had this been written in 2015, the offensive line would absolutely be at the bottom of the list.
One year can sure change a lot.
The 49ers have almost rebuilt their offensive line completely. Former Pro Bowl tackle Anthony Davis has returned and in excellent shape.
The 49ers signed former Pro Bowl guard Zane Beadles in free agency. And seventh-round tackle Trent Brown has emerged as one of the best lineman on the team alongside veteran Joe Staley.
In the 2016 NFL Draft, the 49ers traded back into the first round to select guard Joshua Garnett.
The offensive line has now become a position of strength. But with change comes the uncertainty.
The group has played only four preseason games together, and players like Davis have been moved to the guard position. It can take some time for them to build chemistry together as a whole, which is why they are lower on the list.
Once they gain that chemistry and trust with one another, this group has what it takes to become the strongest on the team.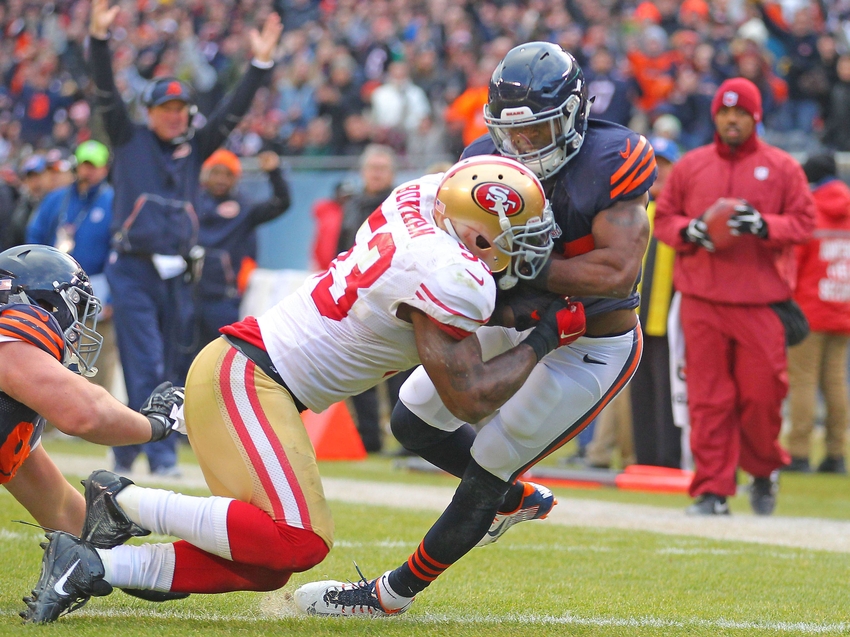 No. 6: Middle Linebacker
One might say, "with All-Pro linebacker NaVorro Bowman, how is this group not the strongest?"
Well, because Bowman only makes up a small part of the group. And, besides Bowman, there hasn't been much production from the middle linebacker position.
Many tend to forget that there actually is another MLB that plays next to Bowman since it seems like he can cover the whole field by himself.
This group would have most definitely been higher on the list had former middle linebacker Chris Borland not retired after his very productive one season.
However, the emergence of MLB Ray-Ray Armstrong in the preseason has brought some of that fire back into the heart of the 49ers defense. Armstrong has looked superb and compliments Bowman's game well.
If Armstrong can carry his play into the regular season, the MLB position is on the right track.
No. 5: Outside Linebacker
In about four weeks time, this position group will be higher on this list.
Third year OLB Aaron Lynch will be returning from a four-game suspension to line up next to run stuffing OLB Ahmad Brooks.
In Lynch's place will be second-year OLB Eli Harold, who has made some strides in his pass-rushing skills.
Former defensive end, turned OLB, Tank Carradine has also proven to be a reliable pass-rusher.
This position group is certainly one of the more stronger units and will become even stronger when Lynch returns.
No. 4: Kicker/Punter
There's not much to really say about this unit and that's a good thing.
Eighteen-year veteran kicker Phil Dawson is about as reliable as they come, and 2015 fifth-round selection punter Bradley Pinion is consistent.
Kickers are people too, and the 49ers have a strong group.
No. 3: Running back
Third-year running back Carlos Hyde was on pace to break 1,000 yards in 2015 before his season was cut short due to injury.
With Chip Kelly at the helm, if Hyde can remain healthy, he can become one of the better backs in the NFL and should cruise past 1,000 yards.
Backups Shaun Draughn and Mike Davis offer great depth at the position, and both feature different styles Kelly can utilize.
Draughn has proven to be a reliable pass catcher while Davis, who has shined in the preseason, brings the best of both worlds with finesse and power.
With the zone-run scheme Kelly utilizes, this group of running backs are in for a big year.
No. 2: Safety
Veteran leadership and consistency.
That's what this position group brings, with three-time Pro Bowl safety and 11-year veteran Antoine Bethea leading the way.
Fourth-year safety Eric Reid has become a veteran presence alongside Bethea and looks to return to his Pro Bowl form in 2016.
Both of these players will play a pivotal role in any success the 49ers have in 2016.
Second-year safety Jaquiski Tartt showed some big time playmaking ability in his rookie season. And, in 2016, he will look to take over Bethea's spot next to Reid.
No matter what group the 49ers put out there, the safety position will be one of the best in 2016.
No. 1: Defensive Line
The strongest position group for the 49ers in 2016 will be the defensive line.
Key additions like 2016 seventh overall selection defensive end DeForest Buckner will bolster an already strong front that features former first-round selection defensive end Arik Armstead.
The big men in the middle at defensive tackle in Quinton Dial and Mike Purcell solidify the line.
Both Armstead and Buckner played together at the University of Oregon and have also played under current head coach Chip Kelly. This means the group already has chemistry together and can feed off each other in game situations.
Rookie Ronald Blair's versatility to play any position along the line provides great depth. And the veteran presence of Glenn Dorsey, who can teach the nuances of the position, also helps.
With two first-round defensive ends who stand at 6-foot-7 and 295 pounds, and three defensive tackles who can disrupt the interior, the NFL is about to find out what the strongest part of the 49ers are.
All statistics, records and accolades courtesy of CBSsports.com and ESPN.com unless otherwise indicated.
This article originally appeared on