Rams' Todd Gurley Gives Salty Response to Analyst's Stat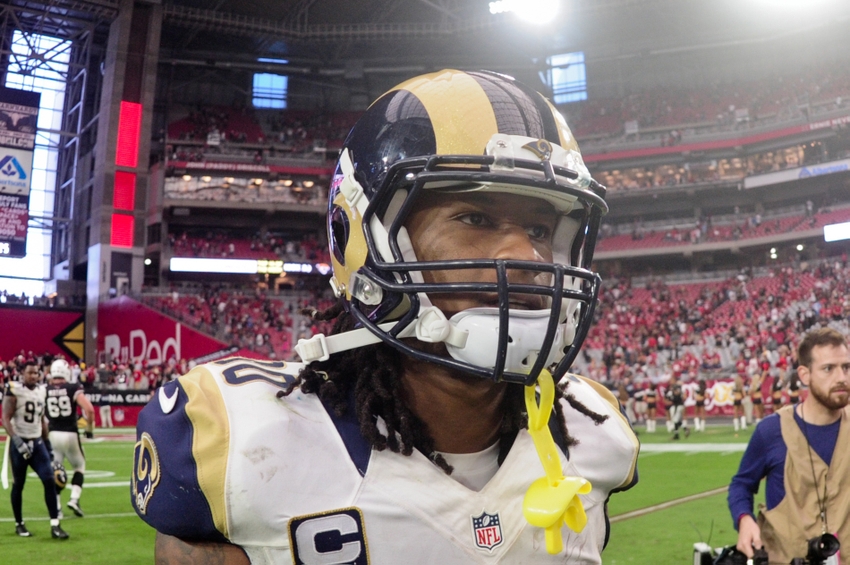 Los Angeles Rams running back Todd Gurley wasn't too happy about getting a reminder that he isn't breaking big plays this season.
Sophomore running back Todd Gurley has yet to break a play longer than 20 yards on the ground this season, which is surprising considering he was so explosive as a rookie for the Los Angeles Rams.
On Tuesday, NFL.com expert Chris Wesseling pointed out that Gurley had more runs of 20-plus yards in his first NFL start than he has in nine games this season.
Here's the tweet by Wesseling:
State of #Rams O: @TG3II had more rushes of 20+ yards in his first NFL start than he's managed this entire season.

— Chris Wesseling (@ChrisWesseling) November 15, 2016
Now, for context, there are tons of depressing stats thrown out about Gurley every day and it's likely to continue unless Gurley can turn things around.
So, why Gurley decided to respond to this particular tweet is anyone's guess:
@ChrisWesseling thanks for the reminder

— Todd Gurley II (@TG3II) November 15, 2016
Perhaps things are hitting a boiling point for Gurley. After all, how many times can you look at tweets like these and not get upset?
Fantasy owners and #Rams fans – Have you seen the real Todd Gurley? #FantasyZone pic.twitter.com/mDlBw2NLC8

— Red Zone Channel (@RedZoneChannel) November 6, 2016
Gurley is averaging just 3.1 yards per tote and is on pace to fall short of 1,000 yards this season. He has also yet to run for 100 yards or more in a game and is widely considered the biggest fantasy football bust in 2016.
Gurley doesn't need this kind of distraction, as it's most important he focus on the task at hand. The Georgia product has always proven to be a focused player, so it's doubtful any of this is a cause for concern.
Besides, his problems have little to do with himself and a lot more to do with the team around him. Gurley has the talent to get better and return to his rookie form, it's just taking a little longer than people expected.
This article originally appeared on