Rams' Stan Kroenke, Kevin Demoff Refuse to talk Jeff Fisher Extension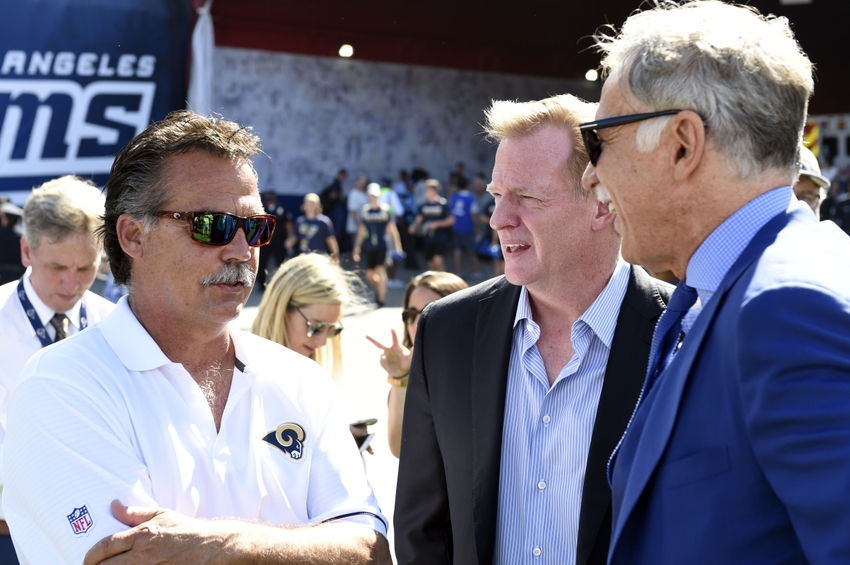 Both Los Angeles Rams owner Stan Kroenke and COO Kevin Demoff refused to comment on any contract extension for Jeff Fisher.
Los Angeles Rams owner Stan Kroenke refused to talk a contract extension for head coach Jeff Fisher, which was echoed by the team's COO Kevin Demoff.
When asked about Fisher's future during the team's groundbreaking ceremony on Thursday for the new stadium in Inglewood , Kroenke had a big fat no comment, according to Alden Gonzalez of ESPN.com.
In fact, Kroenke even referred reporters to Demoff in regards to both Fisher and general manager Les Snead's futures.
So, Pro Football Talk's Mike Florio asked Demoff about it:
So I asked Demoff for an update.

"No updates on their contracts," Demoff said via email.
Well, there you have it. After reports surfaced before the season that Fisher and Snead might both be in line for extensions, it turns out that may not be the case.
Instead, Fisher looks headed for the exit in Los Angeles. The Rams are now 4-6 after another offenseless loss to the Miami Dolphins that saw Fisher's squad blow a 10-0 lead with six minutes left to play. While heartbreaking nonetheless, it was a typical Sunday afternoon for the hapless Rams.
Rookie quarterback and No. 1 overall pick Jared Goff survived his debut, but there wasn't much to be excited about. In Goff's defense, it doesn't seem the Rams are ready to let him off the leash quite yet and it's something that needs to change before season's end. We have to see what this kid has.
How Does Jeff Fisher Still Have A Job?
The same old problems remain for the Rams. They can't get anything going on offense – Todd Gurley did find the end zone in Week 11, but still only managed 3.8 yards per carry – and this team just isn't very good outside of its defense.
Fisher and Snead should both already be out of a job as the Rams head for another season below .500, the fifth time such a season has occurred in Fisher's five years as head coach.
I can't recall any coach who has done a worse job for five seasons and still been able to keep his job. If Fisher isn't fired after this season finishes how we all think it will, we have to start wondering if the Rams head coach and general manager have dirt on Kroenke and Demoff.
This article originally appeared on