Rams' Robert Quinn Reveals What Sent Him to Hospital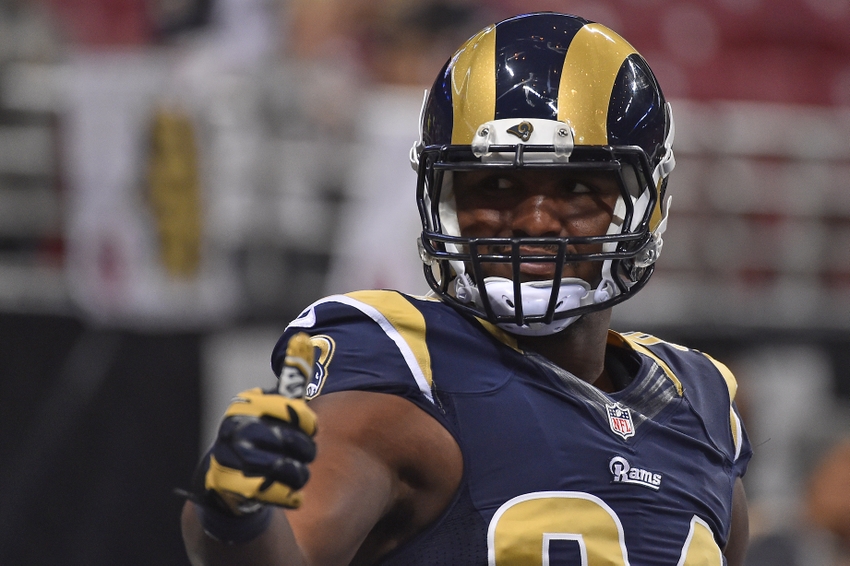 Los Angeles Rams defensive end Robert Quinn has revealed what sent him to the hospital on Monday morning.
We've already heard that Los Angeles Rams defensive end Robert Quinn was hospitalized for seizures earlier in the week. Now the 26-year-old is apparently disputing that claim.
Quinn returned to practice for the Rams on Friday and finally spoke to the media about the reason he was hospitalized.
According to Alden Gonzalez of ESPN, Quinn says it was dehydration that sent him to the hospital despite reports saying it was seizures:
"That's what I took from the whole thing," Quinn told reporters after Friday's practice. "Drink more water — and often, at that."

"It kind of just overwhelmed me," said Quinn, who took 82 percent of the defensive snaps in Sunday's 9-6 win over the New York Jets. "It really just surprised me. Happened so fast; didn't really have a lot of time to think about it. Just dealt with it when I realized what was going on; kept on moving forward."
Along with the multiple reports, there was a 911 call released earlier in the week that seemed to confirm the Rams defensive end suffered seizures. Quinn's mother-in-law sounds very upset in the call and even says she thinks he's having a seizure.
Whatever the case may be, we're just happy to see Quinn is doing OK.
Will Robert Quinn Play on Sunday?
To further prove Quinn is doing better, he was able to get in a limited practice on Friday for the first time this week.
As far as his status for Sunday goes, right now it seems up in the air:
Quinn said his status for Sunday's home game against the Miami Dolphins is "going to come down to the doctors, Fisher, and ultimately how I feel. Hopefully I can get out there on Sunday and be somewhat productive."
Considering how serious Quinn's situation seemed from the 911 call, it would be pretty surprising to see him out on the field on Sunday. Regardless, Quinn looks to be on track to play against the Miami Dolphins in Week 11 if no other problems arise
This article originally appeared on