Rams' Kevin Demoff Almost Guarantees a Jeff Fisher Extension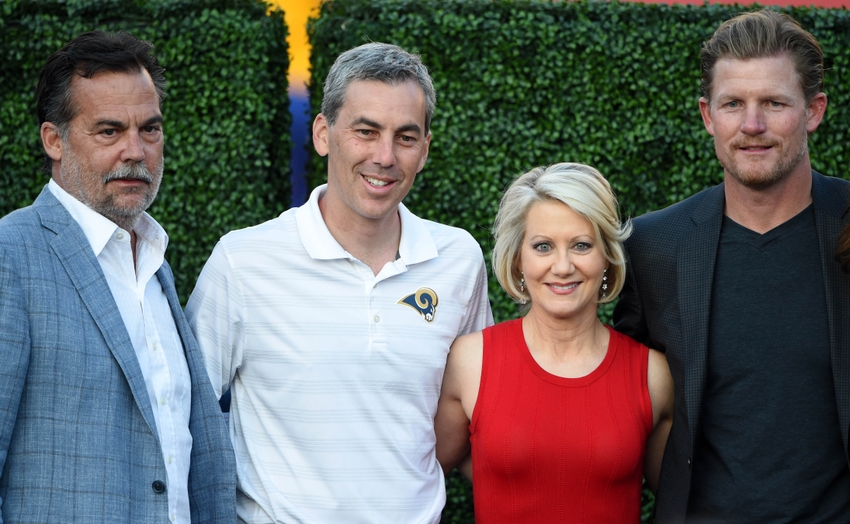 A quote from Los Angeles Rams COO Kevin Demoff makes it sound like the team will bring head coach Jeff Fisher back beyond the 2016 season.
Excuses, excuses. That's all the Los Angeles Rams seem to know anymore, which is usually spearheaded by Jeff Fisher; but now Rams COO Kevin Demoff is getting into the excuse game.
It seems Fisher's excuses are contagious. Just yesterday Fisher said he took blame for the team's 4-7 record, but then quickly made the excuse that the team has been through a lot with the move to Los Angeles.
It's an excuse we've heard before and it only sounds worse the more we hear it.
Everyone on planet Rams with the exception of the Fisher himself and the front office wants the head coach gone. His decisions are mind-boggling both on and off the field, which was proven by his recent spat with Rams legend Eric Dickerson.
As far as on the field, just look at Fisher's four-straight seasons of losing records and the fifth that's about to be added when the 2016 season is over.
Kevin Demoff's Comments on Jeff Fisher
Despite pleas from Rams fans to get rid of Fisher, Demoff didn't sound like a guy who is going to fire his head coach prior to Sunday's loss and is instead jumping on the excuse bus that Fisher is driving, per NFL Network's Sam Wyche:
"Everybody will want to judge Jeff through the prism of just the record, but that's totally unfair when you look at the set of circumstances he was handed this year," chief operating officer Kevin Demoff told me. "It was different than any team in the NFL.

"We moved halfway across the country, then had OTAs in Oxnard. Training camp was in Irvine, now we're in Thousand Oaks. We moved coaches and players and families. To provide leadership and consistency, he's done a model job."
We can only hope Sunday changed his mind a bit, but we're not holding our breath.
Hold on, it gets worse:
"He's a terrific leader of men," Demoff said. "Players, coaches and staff — he has their complete respect in the way he runs the franchise. It's easy to talk about the record, but you have to take a snapshot of everything this year and give him the credit that he's due.

"The past two years, he's had to deal with the specter of relocation. This year, the actual relocation. A couple of coaches have had to deal with the specter of relocation. No coach has had to deal with an actual relocation. You have try to understand what this team has been through and the success he has had."
Does Record Mean Nothing?
We have taken a nice, clear snapshot of this year – and the four years prior – and it's the track record of a coach who should be fired. After all, we're talking about FOUR LOSING SEASONS, with a fifth on the way.
Only Tom Landry and Bert Bell have survived such a horrific stint, and one turned out to be a Hall of Fame coach, while the other was the owner of the team. Fisher is neither of those things for sure.
If that wasn't enough, he's now alienating an entire fanbase by insulting a Rams legend who was only speaking his mind, and truthfully I may add.
Not only did Demoff make an excuse for Fisher, he made the same exact one the embattled head coach did. I guess this is what Fisher meant when he said he was on the same page as upper management.
My only question is: did Fisher and the team spend all summer moving equipment to their new home in Los Angeles themselves and they're now too tired to play at a high level?
If we're not judging Fisher on his five horrific seasons with the Rams, then what are we supposed to judge him on? Whether or not he's a good guy? Is this what coaching in the NFL has become?
The company line is now "we're not good, but it isn't our fault" and Fisher is the poster boy. If the COO of this franchise is OK with this being an explanation for the team's lack of success – as opposed to, you know, the coach is doing a bad job – then Fisher isn't going anywhere.
What a disaster.
This article originally appeared on