Rams' Jeff Fisher Talks Job Security, Denies Jared Goff Report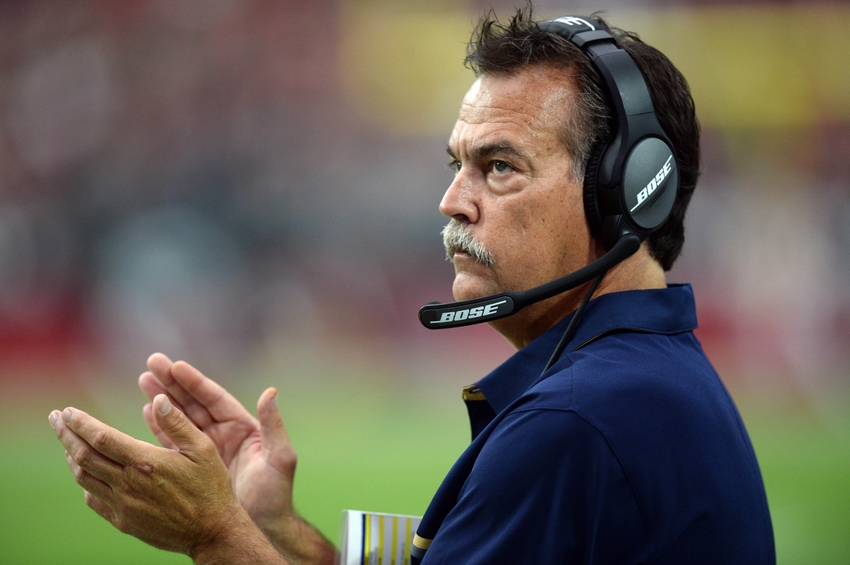 In his weekly Monday evening press conference, Los Angeles Rams head coach Jeff Fisher shrugged off the notion that he could be fired.
Los Angeles Rams head coach Jeff Fisher isn't worried about getting fired after the team has lost four straight games and fallen to a 3-5 record.
Speaking to reporters on Monday evening, Fisher says he and owner Stan Kroenke are "on the same page" and that his job security isn't a concern, according to Alden Gonzalez of ESPN:
"No, actually not uncomfortable at all," he said. "I'm uncomfortable because I didn't expect to be 3 and whatever we are. But I'm not uncomfortable at all. I never look over my shoulder. No, we're moving on. Stan (Kroenke) and I are on the same page, he understands what we've been through, he's as disappointed as I am at the losses — two three points and a seven-point the last three games. He understands that we're competitive, and we're doing everything we can to turn this thing around."
Fisher has been getting slammed lately for the team's poor performances and his refusal to put No. 1 overall pick Jared Goff in. The Rams head coach made it clear Case Keenum is still the starter and will be behind center in Week 10.
Earlier reports suggested that the Rams would put Goff in once eliminated from playoff contention, however Fisher denies that is the case:
Jeff Fisher says the popular hypothesis that Goff won't play unless the Rams are out of the playoff race is inaccurate.

— Greg Beacham (@gregbeacham) November 8, 2016
Fisher went on to say more about Goff's development:
Fisher: "Jared's improving. But Case, right now, especially against this defense, gives us our best chance."

— Myles Simmons (@MylesASimmons) November 8, 2016
There goes that "gives us our best chance to win" line again. That quote doesn't bode well for Goff's status at the moment.
This article originally appeared on