Rams' Jeff Fisher Talks Jared Goff Debut, O-Line Changes, Troy Hill DUI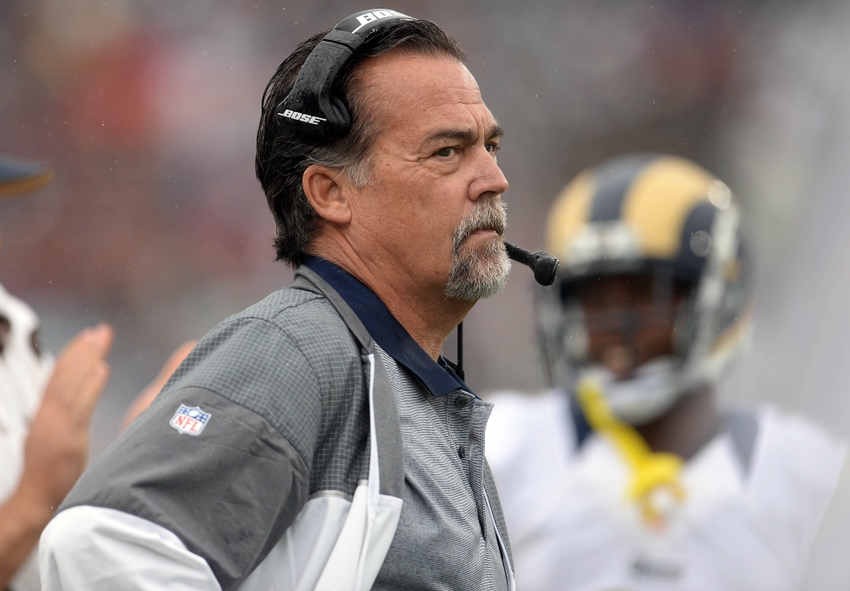 Los Angeles Rams head coach Jeff Fisher spoke to the media on Monday night in his weekly presser, touching on many different subjects.
Los Angeles Rams head coach Jeff Fisher had his weekly presser on Monday night and discussed Jared Goff's debut in Week 11, potential changes to the offensive line and Troy Hill's DUI.
Goff made his NFL debut this past Sunday against the Miami Dolphins and threw for 134 yards while failing to get into the end zone. The Rams ended up blowing a 10-0 lead late in the fourth quarter and lost to the Dolphins.
Despite lackluster numbers in his first game, Fisher likes what he saw from Goff, according to Greg Beacham of the Associated Press:
"I was impressed with what he did," Fisher said. "He's not going to say he was OK, because we lost, but I thought he managed things well. No delay of games. He was in complete control. … We didn't take our shots down the field that, in retrospect, we probably needed to do, but he knew where to go with the football. I was proud of his first outing. We get a stop or intercept a pass, one of the two or three we had our hands on, to win the game, and we're talking about Jared right now and nothing else."
Even Dolphins head coach Adam Gase had good things to say about Goff:
"I thought he did a pretty good job as far as what we were bringing at him," Gase said. "We were trying to pressure him a little bit, give him some different looks, and he didn't really seem bothered by much of it."
Jeff Fisher on Offensive Line and Penalties
One of the biggest problems the Rams have had this season is in their offensive line, which continues to struggle. Fisher is apparently getting fed up enough to consider some changes:
"We're looking at everything right now," Fisher said. "We need production. We need to minimize mistakes, and we've got some repeat mistake-makers, so that's still under discussion."
One of those repeat mistake-makers is left tackle and former No. 2 overall pick Greg Robinson, who is the most penalized player over the past two seasons. Robinson also negated an 11-yard scramble by Goff and a first down in the fourth quarter on Sunday with an illegal block that was well behind the play.
Here's what Fisher had to say about penalties hurting the team and the possibility that it might force his hand to make changes:
"It's those things that are hurting us, and those guys have to understand," Fisher said Monday. "So there potentially may be some different guys playing this week."
Jeff Fisher on Troy Hill DUI
Finally, Fisher touched on cornerback Troy Hill, who was arrested on the Saturday morning before the Rams' loss on Sunday. Hill got into an accident with a semi truck and was later busted for DUI.
As expected, Fisher was not happy about it:
"I spoke to him briefly today," Fisher said of Hill, who has started four games this season. "Very disappointed in him. Disappointed in his choices."
Hill is likely facing a suspension for his arrest.
With the way things are now, Fisher would be wise to shake things up a bit. Clearly the offensive line is the place where the most changes should be made and it would send a wake-up call to guys like Robinson who aren't playing up to snuff.
Whatever Fisher does couldn't possibly result in anything worse than what the Rams are doing now. After all, with the team scoring 10 points or less in its last four games, there's nowhere to go but up from here.
This article originally appeared on