Rams' Jeff Fisher Responds to Eric Dickerson Ban Comments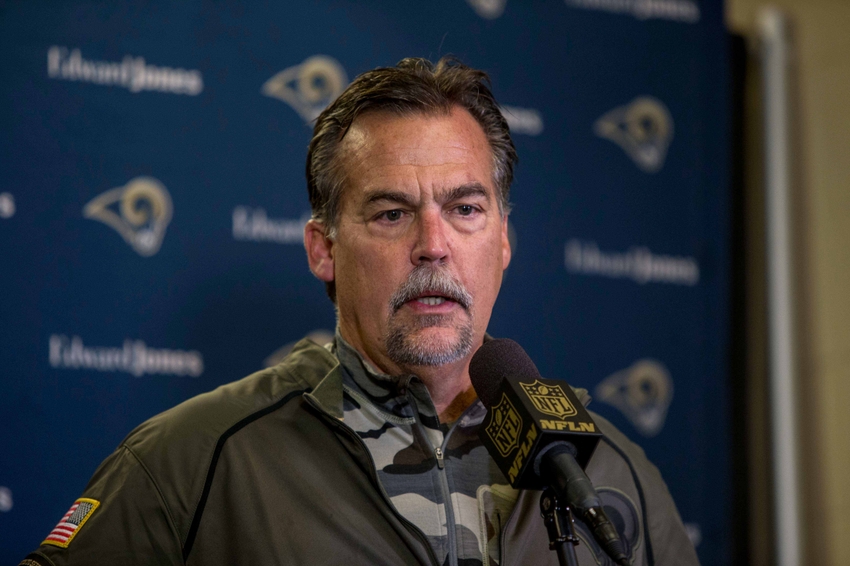 Los Angeles Rams head coach Jeff Fisher has responded to Eric Dickerson's comments about the ban imposed on him.
Los Angeles Rams head coach Jeff Fisher has responded to comments made by Eric Dickerson that implicate the head coach in imposing a ban on the legendary running back.
Dickerson roasted Fisher on Monday night, saying Fisher was the one who banned him from the team's sidelines for making players feel uncomfortable due to his honest critiques of the team this season.
Dickerson also made it clear that he would not return to any Rams game or event while Fisher is still the head coach.
Jeff Fisher's Account
After hearing about Dickerson's comments on Monday night, Fisher defended his conversation with Dickerson, while not directly taking credit for imposing a ban on the Rams legend, per Gary Klein of the New York Times:
"I had a discussion with Eric and it was brought to my attention Eric wanted some things from the organization and it was shortly after he had been critical of us, of me, of the players and of our quarterback coach.

"And there's a natural conflict there. He has every right to be critical because we're all frustrated with the respect to the season and he has every right to comment and to be critical. But there's a line that has to be respected, when you on one side criticize the organization and come back and ask the organization for something."
So, in short, Fisher doesn't think the Rams should do anything with or for Dickerson because he's telling the truth. Yeah, that makes this all better.
More From Jeff Fisher
"The conversation was good and that's how we left it. I offered him whatever he needed, no different than any of our alums. But there's an understanding, and I think it's a logical understanding, that if you're going to go over here, which you have every right to do, and then come back and ask for this — it doesn't work that way."

"When the conversation was over, I wanted on behalf of the organization to afford him every opportunity to become part of what we're doing…. There was no way, on behalf of the organization, that we wanted to alienate E.D."

"We want him to be a part of this organization. That's what we stand for. … In no way shape or form do we want to eliminate  him. We want to include him. If Eric took it as if we were eliminating him, it was a misunderstanding, just as Kevin said in his tweets. We want Eric to be a part of it and we still want Eric to be part of it."

"I have engaged every single player to the best of my ability to be a part of this. If Eric has an issue with the organization, that's Eric's issue, not ours. We welcome him with open arms. Eric happens to be the only player that has gone on the record and been critical of what we're doing, but that's OK. He's entitled to his opinion. This is a new experience for us and this is a new Rams family and we want to  include all the former Rams in our future."
Eric Dickerson's Account
Here is Dickerson's account of the conversation, also per Klein:
"I see a 314 number calling in. So I get on the phone and say hello. He says, 'Hey, Eric, this is Jeff Fisher.' I said, 'How you doing, Jeff?' He said, 'I just wanted to call you. I want to tell you a few things here. I don't have time for this, but I'm going to tell you. You're not going to be talking about the football team, talking about our team, talking about my coaches, expecting to get things from this football team. We're not going to give you anything. We're not going to support you in anything. As long as I'm here as coach, we feel uncomfortable with you coming on the sideline. The players are uncomfortable with that. So as long as I'm head coach here, I'm just going to let you know it's not going to happen."
So Fisher doesn't want to eliminate Dickerson as long as he paints a rosy picture about the team that just isn't there. It's as if Dickerson's comments are needed for Rams fans to see how inept he and this organization have become.
Fisher didn't help his case at all with these comments. If anything he just confirmed how big of a jerk he was to Dickerson and how off his reasoning was for trying to ban a player who has done more for this organization in one game than Fisher has done for it in five years.
This article originally appeared on