Rams' Jeff Fisher Discusses Move to Start Jared Goff in Week 11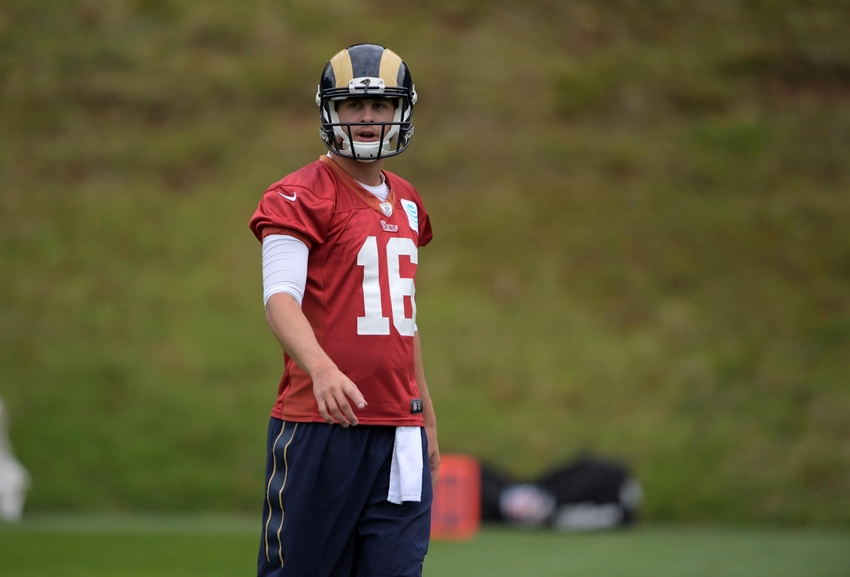 After a report surfaced that No. 1 overall pick Jared Goff would become the starter for the Los Angeles Rams in Week 11, head coach Jeff Fisher officially confirmed the move.
Los Angeles Rams head coach Jeff Fisher has made it official that Jared Goff is the team's new starting quarterback, and thus the Goff era begins after 10 long weeks of waiting.
When talking to the media on Tuesday, Fisher discussed the highly-anticipated move to start the Goff, which comes just one day after he called the rookie the team's No. 2 quarterback:
Jeff Fisher, on what "ultimately swayed" him to start Jared Goff over Case Keenum: "His progression, week after week after week." pic.twitter.com/m0QEsEMbeO

— Jack Wang (@thejackwang) November 16, 2016
"I don't want to say it's a new era, but in a lot of ways, it is." – Fisher on Goff taking over as starting QB @CVRamsClub

— Joe Curley (@vcsjoecurley) November 16, 2016
"Case is a pro. He understands." – Fisher on Keenum

— Joe Curley (@vcsjoecurley) November 16, 2016
"It's an exciting time for us. Im excited to watch him play. I'm excited to watch him prepare this week." – Fisher on Goff

— Joe Curley (@vcsjoecurley) November 16, 2016
In the last three weeks with Case Keenum at quarterback, the Rams scored a combined total of 29 points and lost two of those games. If not for the defense, the Rams easily would have had a loss in all three.
For the season, Keenum is among the worst quarterbacks in the league in total QBR, and the Rams' offense as a whole ranks near the bottom of the league in per game averages of passing yards, rushing yards, and points.
The writing was on the wall for some time now and Fisher's hand was rightfully forced after Keenum continued to struggle. He could no longer justify Keenum remaining as the starter for any other reason than Goff not being ready.
When asked if the playbook would change for Goff, Fisher confirmed what quarterbacks coach Chris Weinke said weeks ago:
The Rams will not scale down their game plan for Jared Goff. Fisher is confident Goff can run everything they need.

— Greg Beacham (@gregbeacham) November 16, 2016
Jared Goff's Time Has Come
Whether or not this turns out to be a success remains to be seen, but it was time for the move to happen. Keenum wasn't getting any better and, as a result, neither were the Rams.
Sure, Goff is in a tough position out of the gates with a lackluster offense around him, however Los Angeles needs to see where Goff stands before the season ends so it can plan accordingly next offseason.
And that plan should also involve the decision on Fisher's future, which will be heavily reliant on Goff's success.
In Other News: Jeff Fisher Gives Robert Quinn Update
Here's what Fisher had to say about Quinn, who has already been released from the hospital after reportedly suffering two seizures on Sunday:
Jeff Fisher says Robert Quinn is doing well. It's a "day-to-day thing" to see if he plays Sunday.

— Greg Beacham (@gregbeacham) November 16, 2016
That's great news and we're happy to hear Quinn is going to be fine after suffering two seizures on Sunday.
This article originally appeared on