Raiders Robbed of Touchdown by NBC Spidercam in 4th Quarter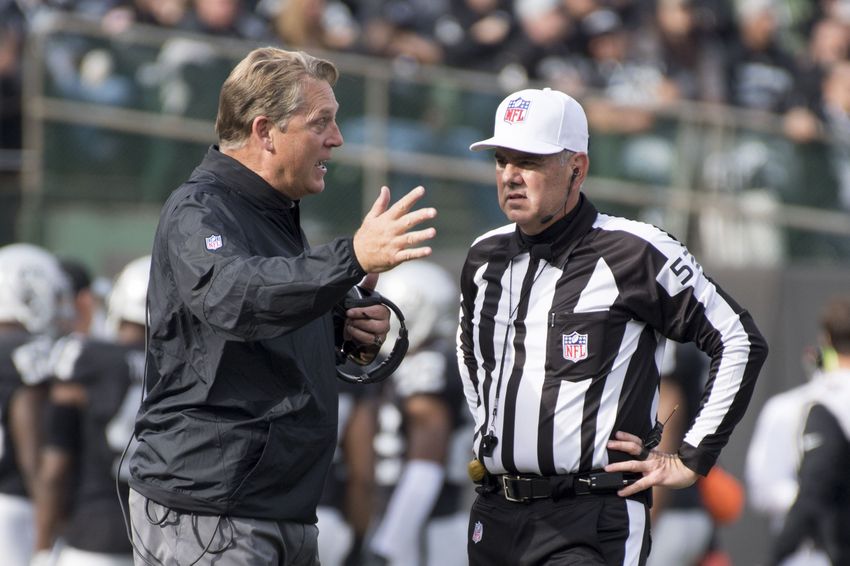 NBC may have cost the Raiders a win after a pass appeared to hit the Spidercam
Jack Del Rio and the Raiders entered Arrowhead Stadium as underdogs on Thursday Night Football, and nearly pulled off the "upset." While Oakland attempted a comeback late, they painfully fell short by just a score.
A tough 21-13 loss left the Raiders with a long flight home after battling not just the Chiefs, but the freezing temperatures in Kansas City.
The biggest difference in the Raiders loss may not have been at fault of the teams' play on the field, but the NBC broadcast.
With nine minutes left in the fourth quarter, Derek Carr scrambled out of the pocket and threw a pass to Amari Cooper down field. After getting a step ahead of Marcus Peters, Cooper looked as if he could take the tying score to the house.
Instead, the ball fell awkwardly to the side of a very confused Cooper. At first glance, many thought Cooper misjudged the ball, or that the wind changed the balls' course of direction.
Instead, it looks as if the NBC Spidercam was hit by Carr's pass, something the company has obviously denied.
Take a look for yourself.
Carr pass hits SpiderCam wire. #Raiders pic.twitter.com/Io77P132Pu

— ℙJ (@oaktheman) December 9, 2016
The ball certainly changed direction, and the chances it hit one of the Spidercam wires is highly possible.
What could this apparent interference by the Spidercam mean for the Raiders playoff positioning? By breaking Oakland's six-game winning streak, the Chiefs move into first place in the AFC West after beating the Raiders twice this season.
Instead of being the number-two seed in the AFC with homefield advantage, the Raiders are now holding the fifth-seed.
Oakland still has the Chargers, Colts, and Broncos remaining on their schedule, while Kansas City is left with the Broncos, Titans, and Chargers.
You can not throw the Super Bowl champion Broncos out of the race with eight wins, especially with games against the Chiefs and Raiders on the docket.
But for now it looks as if an NBC engineer was looking for the Chiefs to cover.
This article originally appeared on