Raider Nation is the 5th Ranked NFL Fanbase in FanSided's Fandom 250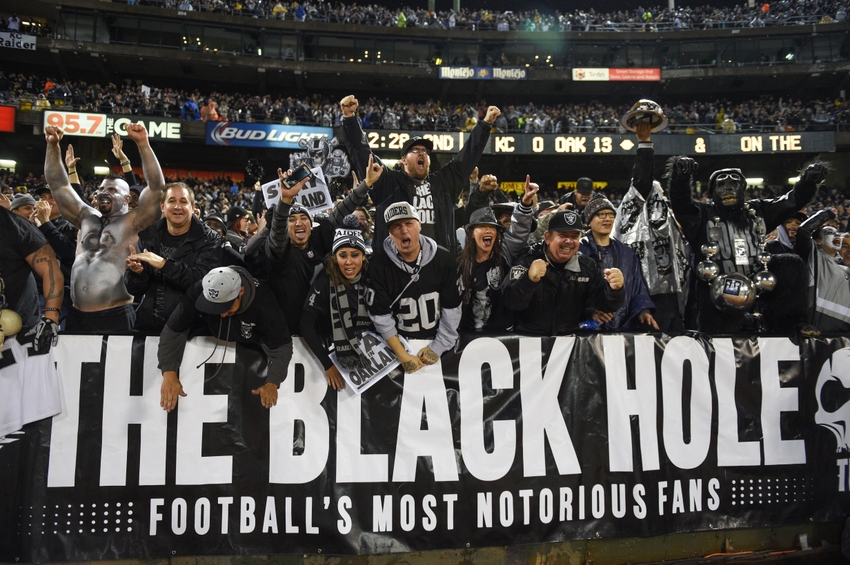 Raider Nation, the passionate fans of the Oakland Raiders, have been ranked as the 5th best fanbase amongst NFL teams (and 53rd overall) in FanSided's Fandom 250 rankings.
On November 1st, FanSided announced an inaugural ranking of the world's 250 best fandoms. This includes sports franchises around the globe, as well as fans of TV shows, movies, superheroes, tech companies like Apple, and more. Anything that has a dedicated fanbase would be considered a nominee.
There would be thousands and thousands of fandoms considered for the rankings, but only 250 would make the cut.
"As our network of fandom-powered communities has grown in diversity, we've been continuously inspired by the dedication and passion our readers bring to their favorite sports teams, TV shows, movies, athletes, superheroes….the list goes on and on. As such, we decided to shine a spotlight on those passionate fans by taking on the impossible task of ranking the best 250 fandoms in the world," said FanSided co-founder and CEO, Adam Best.
The final rankings have been announced, and Raider Nation has earned the 53rd overall spot, and are 5th amongst NFL teams.
Only 15 NFL teams cracked the top 250.
Here is an excerpt from FanSided's ranking of the Raiders:
Despite not making the playoffs since 2002, the Raiders have enjoyed one of the best home field advantages in the league. Oakland is home to the Black Hole, where grown adults and children alike (mostly adults) can go down to the end zone and wear face paint and wild outfits. It is one of the most iconic fan zones in all of sports, right up there with the 12th Man and the Dawg Pound.
The NFL teams ranked ahead of the Raiders are the Patriots, (4th amongst NFL teams, 30th overall), the Steelers (3rd amongst NFL teams, 23rd overall), the Packers (2nd amongst NFL teams, 21st overall) and the Cowboys (1st amongst NFL teams, 5th overall).
From #1 to #5, the rankings were the Cubs, Star Wars, Beyonce, Game of Thrones and the Cowboys. The entire rankings includes quite the variety of fandoms, so be sure to checkout the entire list.
What are your thoughts on the Raiders ranking? Both their overall ranking amongst the entire 250, as well as their ranking compared to other NFL teams.
More from Just Blog Baby
This article originally appeared on