Pump the Brakes on 49ers Quarterback Colin Kaepernick After Week 10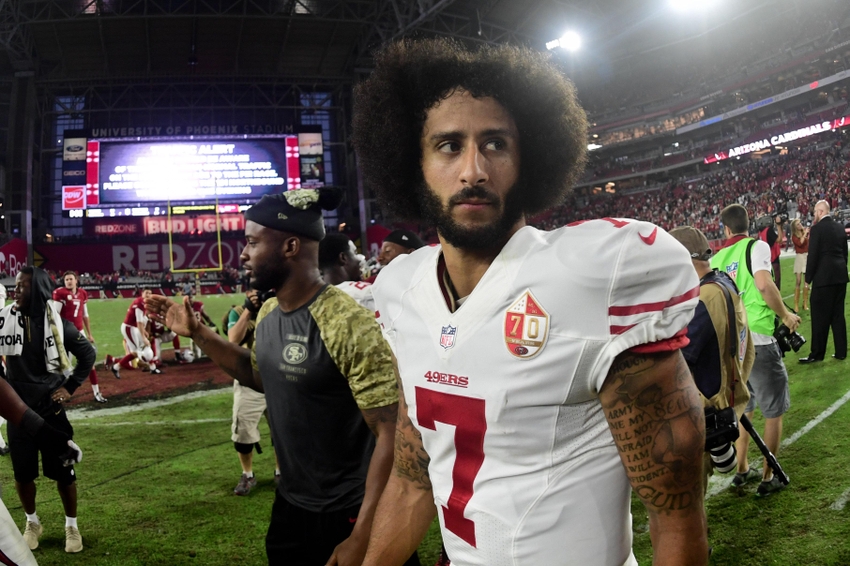 San Francisco 49ers quarterback Colin Kaepernick has enjoyed better-than-average performances against the New Orleans Saints and Arizona Cardinals in Weeks 9 and 10, respectively. But Niners fans should curb their enthusiasm expecting this sort of thing to be a regularity.
Yes, the last two games for San Francisco 49ers quarterback Colin Kaepernick have been pretty good.
49ers vs Cardinals: Week 10 Grades and Analysis for San Francsico
Week 9 against the New Orleans Saints marked Kap's second-highest passing-yard total of his career. The 393 yards through the air, along with two touchdowns against one interception, led to a 102.3 passer rating — his best on the season.
Back that up with a solid effort in Week 10 against the Arizona Cardinals, and fans might be thinking Kaepernick is starting to look more like the playmaker he was back in 2012 and 2013.
Hold up for a moment here.
The 49ers made the right decision to bench former starter Blaine Gabbert and give Kap the reins. Gabbert owned a 69.6 passer rating and a 5:6 touchdown-to-interception ratio before being benched.
On the flip side, Kap has an 82.2 rating with five passing touchdowns against only two picks.
It was the right choice. But it doesn't mean Kaepernick is back on track to being the quarterback he once was.
Same Old Mistakes
Kap's efforts in Week 9 might have been ones to remember. But let's recall his lone interception.
Take a look at the following clip where Saints linebacker Craig Robertson picked off Kaepernick for what, at the time, was a huge shift in momentum:
Notice something wrong? Watch Kaepernick's head. He's locked onto wide receiver Jeremy Kerley, which allowed Robertson to jump the route.
Even more concerning, Kap could have waited just a moment longer to let Kerley clear the linebacker. Additionally, tight end Garrett Celek (No. 88) was relatively open on the crossing route towards the middle of the field for what would have been a first-down catch.
Kaepernick largely avoided these kinds of mistakes in Week 10 against Arizona. But his tendency to stare down receivers hasn't exactly gone away.
Other Points to Consider
New Orleans' defense is terrible. No team in the NFL has allowed more passing yards (2,634) this season than the Saints.
So one has to take Kaepernick's Week 9 performance with a grain of salt.
And while his completion percentage spiked to 61.54 during that game, Kap is still completing only 53 percent of his attempts on the year. It's a number lower than Gabbert's 58 percent mark.
Yes, Week 10 was different. Arizona's pass defense is vastly superior to what New Orleans had to offer. But the Cardinals were also missing safety Tyrann Matheiu (shoulder), who happened to pick of Kap twice in Week 3 a year ago.
Remember that game?
Kaepernick stated, after the game, he was feeling more comfortable in head coach Chip Kelly's offense. Maybe it's starting to show.
And considering the 49ers' needs across the board heading into this offseason, maybe Kap is worth retaining for another year after all.
Still, these two games aren't a perfect indication of any sudden turnaround. The Niners have to face off against the New England Patriots in Week 11, which may put to rest any notion Kaepernick is back on the ascent.
A good performance there might be a better indication. But if he struggles, fans will be asking the same questions we've seen of Kap dating back to 2014.
This article originally appeared on