Projected 2017 NFL Draft Order: Week 9 Update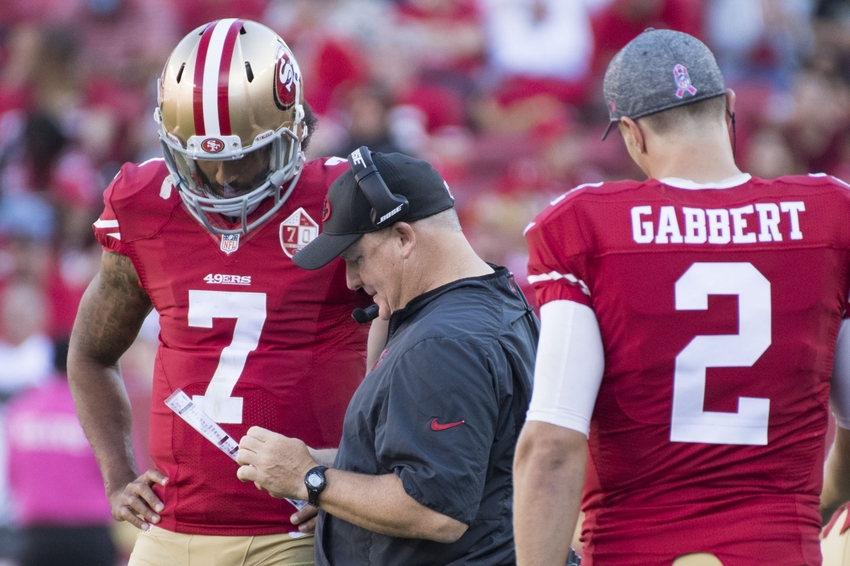 Another week as past and we are inching closer to finalizing the 2017 NFL Draft Order.
This version of my projected 2017 NFL Draft Order uses the NFL Power Rankings written by Jaclynkelli Kronemberg for a base.
In this update the San Francisco 49ers steal the No. 1 pick away from the Cleveland Browns. The Browns have shown some signs of life over the past few weeks and are starting to get healthy at the quarterback position.
They also have Corey Coleman coming back into the mix who will pair with Terrelle Pryor to give the Browns a dangerous wide receiver duo.
San Francisco has looked worse with each passing week. The biggest issue this team has is at the quarterback position where both Colin Kaepernick and Blaine Gabbert have looked awful. It doesn't help that they have been unable to get consistent production from the wide receiver position.
The Chicago Bears and Jacksonville Jaguars are also still in the mix to land the No. 1 overall pick. Jacksonville is more talented than their record shows which means they could rattle off several more wins before the end of the season.
All  the teams in the mix for the No. 1 pick need help at the quarterback position. This is a problem because this draft just doesn't have a quarterback worthy of coming off the board that early.
1. San Francisco 49ers
2. Cleveland Browns
3. Jacksonville Jaguars
4. Chicago Bears
5. Tennessee Titans
6. Indianapolis Colts
7. San Diego Chargers
8. Tampa Bay Buccaneers
9. Baltimore Ravens
10. New York Jets
11. Carolina Panthers
12. New Orleans Saints
13. Detroit Lions
14. Cincinnati Bengals
15. Miami Dolphins
16. Tennessee Titans (via LA)
More from With the First Pick
17. Arizona Cardinals
18. Buffalo Bills
19. New York Giants
20. Washington Redskins
Playoff Teams
21. Pittsburgh Steelers
22. Houston Texans
23. Seattle Seahawks
24. Green Bay Packers
25. Oakland Raiders
26. Cleveland Browns (via Phi)
27. Kansas City Chiefs
28. Philadelphia Eagles (via Minn)
29. Atlanta Falcons
30. Denver Broncos
31. Dallas Cowboys
32. New England Patriots
This article originally appeared on