Pro Football Focus Has Praise for Titans Offensive Line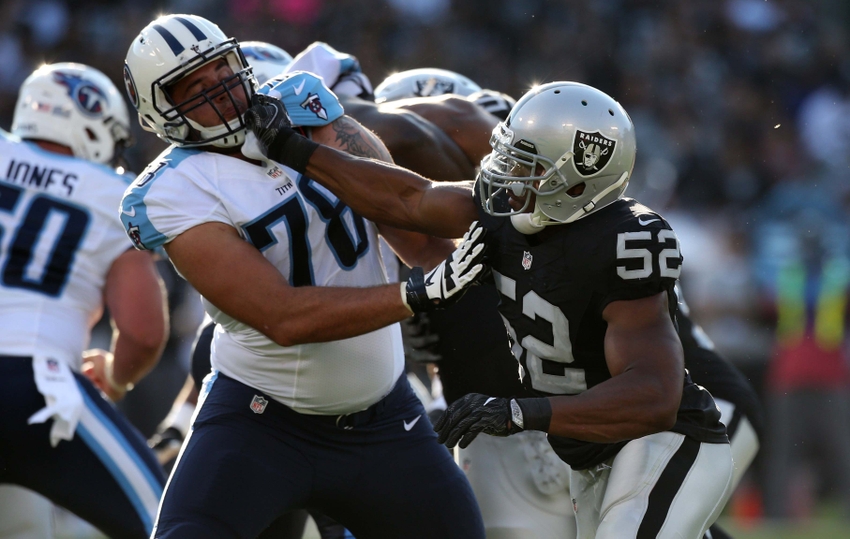 Pro Football Focus is a handy objective tool and another set of eyes on what happens during NFL games. They do great work and back up their statistics and ratings with plausible and worthy analysis. Today they came out with their offensive line rankings of all 32 teams through Week 11, and the Titans unit came in sixth overall. Here's what they had to say.
6. Tennessee Titans (81.6)

The Titans were the best line in the league over the first month of the season, but they have fallen off in recent weeks—enough to slip in the rankings. Both LT Taylor Lewan and RT Jack Conklin had poor games in the past month, and Lewan keeps finding foolish ways of getting himself flagged, even at times ejected from games. The interior trio of Josh Kline, Ben Jones, and Quinton Spain have been solid, and when called upon, Brian Schwenke didn't embarrass himself in relief duty. This is one of the few lines in the league with no real weak link, but it just hasn't maintained the elite play it showed early on in the season.
I agree with most of what they say. Lewan's penalties are getting out of control, and it crescendoed poorly on Sunday when he got ejected for pushing a referee. He's been great all year, but he really needs to keep his emotions in check because it's beginning to hurt the team. We've had a revolving door at both guard positions and it's pretty impressive that we haven't negatively noticed any one player who has played there at every point of the season. It's a testament to the coaching staff and the chemistry all of the team's offensive linemen have developed together.
Their praise for our offensive line was also found in a tweet they sent out yesterday, highlighting Jack Conklin as their highest-graded right tackle for the year. Conklin has been a lot better than I believed he would be at this point. Rookie offensive linemen tend to struggle early on, but Conklin has been steady and dependable through his first 11 games. The majority of draft "experts/pundits" on Twitter were not fans of Conklin going into the draft, saying he was slow and soft and didn't deserve more than second round grade. Well, he's quieted those concerns quickly. We're all thankful for that.
More from Titan Sized
This article originally appeared on