Primera Mirada: Oakland Raiders vs. Houston Texans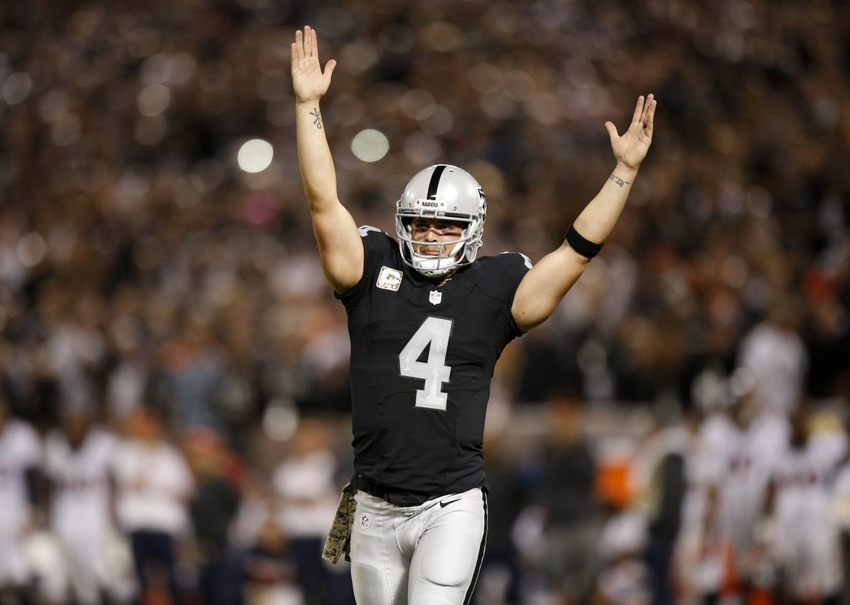 The Texans and Raiders will close Week 11 of the 2016 NFL Season, live on Monday night, in Mexico City. Here is a first look at their matchup.
Los Texans y Raiders cerrarán la Semana 11 de la temporada 2016 de la NFL, en vivo el lunes por la noche, en la Ciudad de México. Aquí está una primera mirada en su matchup.
This is a battle of teams at the top of their divisions. The Texans are 6-3 with a two game lead in the AFC South. While the Raiders are 7-2, tied for the AFC West lead.
Esta es una batalla de equipos en la parte superior de sus divisiones. Los Texans están 6-3 con una ventaja de dos juegos en el Sur de la AFC. Mientras que los Raiders están 7-2, empatados por el liderato de AFC West.
They both come into this game riding winning streaks. Houston of two straight and Oakland of three straight. The Texans are coming off a three point win at the Jaguars and the Raiders are coming off a bye.
Ambos entran en este juego montando rachas ganadoras. Houston de dos consecutivos y Oakland de tres rectas. Los Texans están saliendo de una victoria de tres puntos en los Jaguars y los Raiders están saliendo de un adios.
The Houston D is only giving up 317 yards per game, 4th best in the NFL. They will be facing an Oakland offense that is averaging 401 yards per game, 5th best in the NFL.
El Houston D sólo está dando hasta 317 yardas por juego, el cuarto mejor en la NFL. Ellos se enfrentarán a una ofensiva de Oakland que está promediando 401 yardas por juego, el quinto mejor en la NFL.
The last time these teams played, back in 2014, it was the home opener of the Derek Carr & Khalil Mack era. I was there and it was a 30-14 Texans win.
La última vez que estos equipos jugaron, en 2014, fue el inicio de la era Derek Carr y Khalil Mack. Yo estaba allí y fue un 30-14 Texans ganar.
The Raiders have won the last two times they played in Houston. One of which, everyone probably remembers, as it was the day after Al Davis died in 2011.
Los Raiders han ganado las dos últimas veces que jugaron en Houston. Uno de los cuales, probablemente todos recuerden, como fue el día después de que Al Davis murió en 2011.
This is another opportunity for the Raiders to showcase their skills during primetime, in front of the world. It's the first chance for this new Raider era, to re-establish this team as a perennial winner on Monday Night Football.
Esta es otra oportunidad para los Raiders para mostrar sus habilidades durante el prime time, frente al mundo. Es la primera oportunidad para esta nueva era de Raider, de restablecer este equipo como ganador perenne en el Monday Night Football.
This article originally appeared on