Preston Smith and the Defense Propel Washington to Victory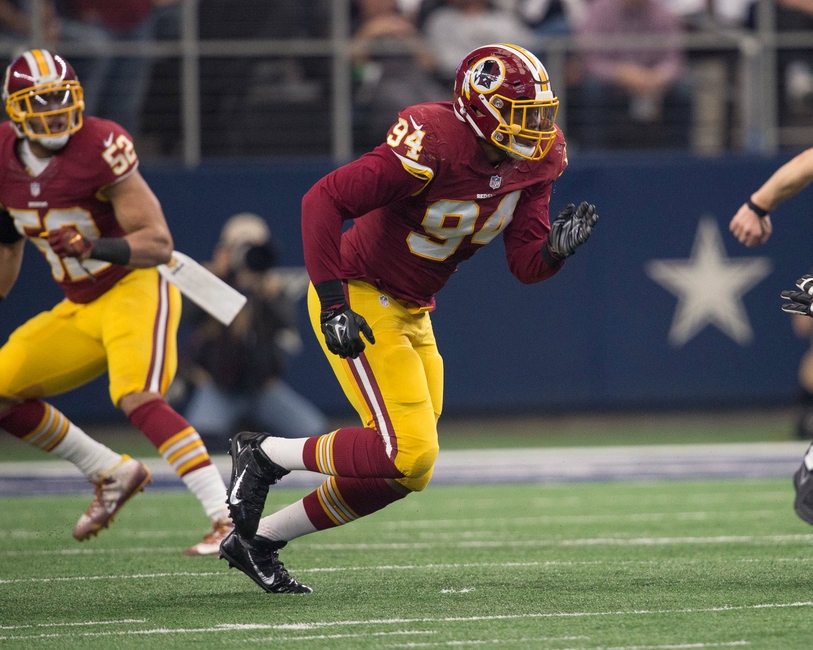 After leading 14-0 at the end of the first quarter, the dynamics of the game changed. In the end, it was the defense that saved the day.
Preston Smith entered Sunday's matchup with 1.5 sacks on the year. He left FedEx field Sunday with two, pushing his total this year to 3.5.
Smith's big time contributions not only came by way of hits on quarterback Sam Bradford, but he also contributed with his hands. Shocking as that might sound, the 6-foot-5, 268 pound standout from Mississippi State made a game saving interception late in the fourth quarter that ultimately lead to a victory for the Redskins.
Those defensive heroics saved the Redskins from yet another heartbreaking loss. The feel of the game had a haunting resemblance to the Week 7 matchup between the Redskins and the Lions. This time, however, the Redskins prevailed victors.
The offense continued their red zone woes as they were unable to strike in the end zone. Instead, the Redskins were forced to settle for four second half field goals. In turn, that left the defense with the daunting task to slow down former Maryland standout Stefon Diggs and Bradford.
A task the defense answered as they held the Vikings scoreless in the second half.
The defense surrendered 284 yards passing and just 47 yards rushing as the Vikings finished the afternoon with 331 total yards. The Redskins have continued their quest to become stronger on third down; on Sunday the Vikings were 5 of 11 on third down conversions.
Plenty of players made an impactful presence Sunday, but none more than Smith.
For that, he receives the unofficial Riggos Rag Game Ball of the Week.
This article originally appeared on