Predominantly Orange Week 11 NFL Power Rankings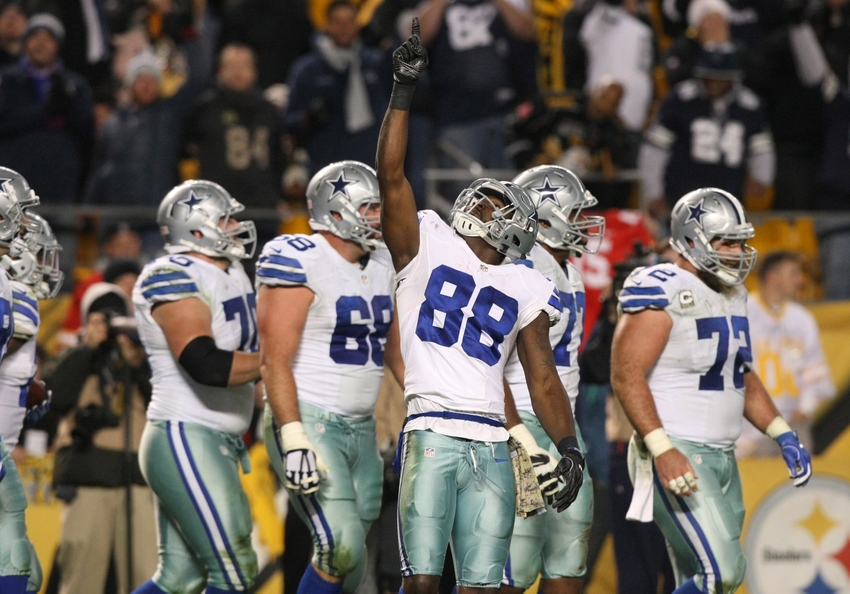 The Week 11 Power Rankings feature a newcomer to the number one spot. See who that is, and where your team falls right here at Predominantly Orange.
The Patriots have fallen, meaning the week 11 Power Rankings have a new number one spot.  The number 32 spot has not changed however, as the Browns seem poised to become the second team in league history to go 0-32.  Who falls in between?  Please find out here:
The Rankings
1. Dallas Cowboys (2)
How 'bout them Cowboys?  America's Team is number one in the power rankings, and they are playing like it.  How 'bout this combination of rookies?  A big question: which one has been more impressive?  Dak Prescott is making this decision very easy for the Cowboys.  Barring injury, Tony Romo should be holding a clipboard for the rest of the year—something he himself made very clear in his emotional press conference.
2. Kansas City Chiefs (4)
Since getting destroyed by the Steelers, the Chiefs have been one of the hottest teams in the league.  Due to the Raiders bye week, they are now sitting atop the AFC West.  They have already crushed the Raiders in Oakland, and in two weeks they will have the opportunity to do that to the Broncos in Denver under the bright lights of Sunday Night Football.
3. New England Patriots (1)
It sure seems like it comes down to a goal line stop each time the Patriots and Seahawks get together.  The big news coming out of this game—The Patriots can be slowed when they face a good defense.  The bigger news coming out of this game—Gronk has a chest injury after getting destroyed by Earl Thomas.  This will be something to watch as Gronk is the key to that Patriots offense.
4. Oakland Raiders (3)
It sure is a bummer when you go on a bye week and lose the division lead.  The Raiders shouldn't be too concerned though, they are still 7-2 and already own a big win against the Broncos.  Now they are rested up and ready to hit the real meat of their schedule.  They passed their first big test of the year, but now they have many more to come.  Stay tuned.
5.  Seattle Seahawks (6)
What a great road win this was for the Seahawks.  Russell Wilson is feeling noticeably better than he was earlier in the season.  This is the type of win that could catapult the Seahawks right back to the Super Bowl.
6. Denver Broncos (7)
Even a banged up Denver defense is still very potent.  The Broncos forced the sound New Orleans offense into four turnovers on the day.  If not for their own turnover problems on offense, this game could have been a rout.  This team has some big problems on the offensive side of the ball.  The good news though—they have a bye week to get their defense healthier, and they have a head coach in Gary Kubiak that is more than qualified to get the best out of his team as the Broncos enter the toughest stretch of their schedule.
7. Philadelphia Eagles (12)
For a young team, the Eagles are inconsistent, which is to be expected.  What is great to see though are three marquee wins—Steelers, Vikings, and now Falcons.  These weren't lucky, fluky wins either, these were three solid victories.  This team has to feel great about where they are at now, and where they will be for years to come.  They may be in last place in their division, but they have the 3rd highest point differential in the entire NFL.
8. Atlanta Falcons (5)
The Falcons are still in a good position, but some of these losses could catch up to them later in the year.  Only two losses separate the first place Falcons, and the last place Panthers in the division.  The Falcons would be wise to not drop too many more games against teams they are better then or else they could see their division lead slip away mighty quickly.
7. Arizona Cardinals (8)
It is tough to win in the NFL—especially in division games.  With that said, a three point win against the pitiful San Francisco 49ers cannot project a whole lot of confidence for a team that has been mightily inconsistent throughout the year.  The Cardinals have some work to do if they'd like to make a third straight trip to the playoffs.
10. New York Giants (9)
The Giants are really playing some good football now, winning all the close games that they weren't winning a year ago.  They play in perhaps the most competitive division in football, but if they keep it up, they should be able to make a play at a wildcard spot.
11. Washington Redskins (13)
Long live the days of "You like that!?!?"  Enter "OOOH WEEE," a reference to Rick and Morty.  This is the new celebration from Kirk Cousins after yet another Redskins win.  The Skins are playing some very strong football, and they are in prime position to make a return trip to the playoffs.
12. Houston Texans (16)
It really doesn't matter how they've got there—6-3 is 6-3.  The Texans finally got their elusive road win, and now they get to travel to Mexico for a true test against the Oakland Raiders.  We'll see if they can get a streak going outside of Houston.
13. Tennessee Titans (20)
At 5-5, these Titans are dangerous.  They proved it in week 10, as they absolutely beat the snot out of Aaron Rodgers and the Green Bay Packers.  They have the most potent rushing attack in the NFL, and a young quarterback that is really starting to find his way.  Houston had better watch out—the Titans are coming.

14. Pittsburgh Steelers (10)
The good news is the Steelers offense came back to life this week.  The bad news—they are now 4-5, and way behind in the race to the playoffs.  Both the Raiders, and the Broncos are at 7 wins, and are firmly entrenched in the wildcard spots.  The Steelers have work to do if they don't want this to be a lost season.
15. Miami Dolphins (24)
And just like that the Dolphins have won four in a row and are above .500.  Adam Gase has this team playing very well.  If they continue to rise, and New England can slip up, the Dolphins could still win the division.  It's wishful thinking to think that the Patriots will fall off, but Dolphins fans can dream right?
16. Minnesota Vikings (11)
That 5-0 start really seems like a distant memory as all the sudden they are looking up at the Lions in the division.  Losers of four straight, the offense has significant issues that have cropped up since their fast start.  Most notably, this team just cannot run the ball.  It's not like Adrian Peterson was doing any better before he got hurt as he was only averaging 1.6 YPC.  The offensive line is the big issue here, and their defense has been unable to carry the weight.
17. Detroit Lions (21)
Fresh off a bye, and now in first place in the NFC North, the Lions get to take on the porous Jaguars.  This is a game that should be taken very seriously by the Lions.  Yes, they should win. But they have already had a few losses this season in games very similar to this.
18. Baltimore Ravens (23)
It seems that the absence of Steve Smith was far bigger than they thought.  Since his return, the Ravens have gotten back on track, and due to the struggles of the Steelers and the Bengals, the Ravens still lead the division—even after a four game losing streak not long ago.  The Ravens will need to continue to get wins as the Steelers are only a game back, and now their quarterback is healthy once again.
19. San Diego Chargers (17)
The Chargers appeared to be on some sort of roll, and appeared to be closing in on yet another win.  Then Rivers happened.  This has been the type of mistake that has haunted Phillip Rivers throughout his career and made it hard to ever be considered a truly elite quarterback. Whatever slim hope the Chargers had of winning this division is likely squashed, and now with the Denver win, a wildcard would seem like only a remote possibility.
20. Tampa Bay Buccaneers (20)
The Bucs just earned a huge win as they made up a game on the first place Falcons.  The Bucs are 4-5, but still right in the thick of things.  The only bad thing is they don't have the opportunity to get one back in a head-to-head match up, as they have already played the Falcons twice.  The good news though is that they split the games, so the Falcons don't own a head-to-head tiebreaker.
21. Green Bay Packers (14)
The Packers are a real mess right now, losers of three straight—two straight against the terrible AFC South.  It's very odd to look at the standings and see the Packers below .500 after nine games.  Something isn't right, and now there are rumblings of a deteriorating relationship between Mike McCarthy and Aaron Rodgers.  You'd figure McCarthy would be out the door before Rodgers, but it will be interesting to watch how it all plays out.
22. Carolina Panthers (15)
The Panthers had some momentum, and even held a double digit lead.  But a last second loss to the Chiefs really put a damper in their plans to get back in the division race.  The good news—both the Falcons and Saints lost.  The Bucs did win, so they only lost ground to one of the three teams ahead of them.  Still, it sure would have been a good time to hang on for a win and get back in the thick of things.
23. New Orleans Saints (18)
The Saints have now blown two last second opportunities to beat AFC West teams.  All they had to do was kick the extra point.  Instead they blow an opportunity to pull within a half game of Atlanta in the division race.  Now they have a short turnaround and have to travel to Carolina.
24. Cincinnati Bengals (22)
Not sure which season is more disappointing—the Packers or the Bengals.  It will be very hard for Andy Dalton to shake his first round playoff woes when he's sitting on the couch.  It's not too late for a turnaround as they only have one more loss than the first place Ravens, but they need to get going now.  There is no more time to screw around.
25. Buffalo Bills (19)
Buffalo really played a good game against he Seahawks, even though it ended in defeat.  It's been an up and down year, but they seem to look the part of a better team than their 4-5 record would indicate.  Rex Ryan would hope to have his crew refocused and ready to roll coming out of the bye.
26. Indianapolis Colts (25)
Last we saw the Colts, they were putting together their finest performance of the year in a Lambeau win.  Now after a bye, they get a chance to make up some ground in the division as they host the upstart Titans.  This will be a huge game for Indy–win and they are likely only a game back of Houston.  Lose and they will be looking at a hole that is too deep to dig out of.
27. Chicago Bears (27)
We saw good Jay Cutler against the Vikings.  It was time for bad Jay Cutler to rear his ugly head against a very poor Bucs defense.  Would you like to know what Cutler's QBR was Sunday?  Four. Just four.
28. Los Angeles Rams (29)
For the second time this season, the Rams have won a game without scoring a touchdown. Despite the win, Jared Goff will finally get the chance to show why he was the number one pick. Goff will make his first career start in front of the Los Angeles crowd—maybe he can help the Rams score a touchdown.
29. New York Jets (28)
At least Bryce Petty could get his team into the end zone once.  His kicker couldn't convert the extra point, nor could his team beat a team that couldn't get into the end zone themselves, but at least they scored a touchdown.
30. San Francisco 49ers (31)
The Niners get a bump this week for almost beating the Cardinals.  That and because the Jaguars have been just that disappointing.  Kaepernick is better than Gabbert, but he's really not good.  Chip Kelly should be given one more year, but next year will have a short leash.
31. Jacksonville Jaguars (30)
Despite the record, the Texans are not a very good team.  They've been outscored by 27 points on the year.  And yet, the Jaguars just let them come into Jacksonville and secure their first road win of the year.  It's like a broken record, week after week—when is Gus Bradley going to get the axe?
32. Cleveland Browns (32)
Cody Kessler had thrown a touchdown, and had the lead—then he was benched.  What???  Now, he is starting again next week.  What???  The Browns are likely to go 0-16, and they deserve it. Meanwhile Carson Wentz just had a huge win against the Falcons.
Please Follow Us On Twitter
More from Predominantly Orange
This article originally appeared on