Playoffs? Miami Dolphins are not out of it yet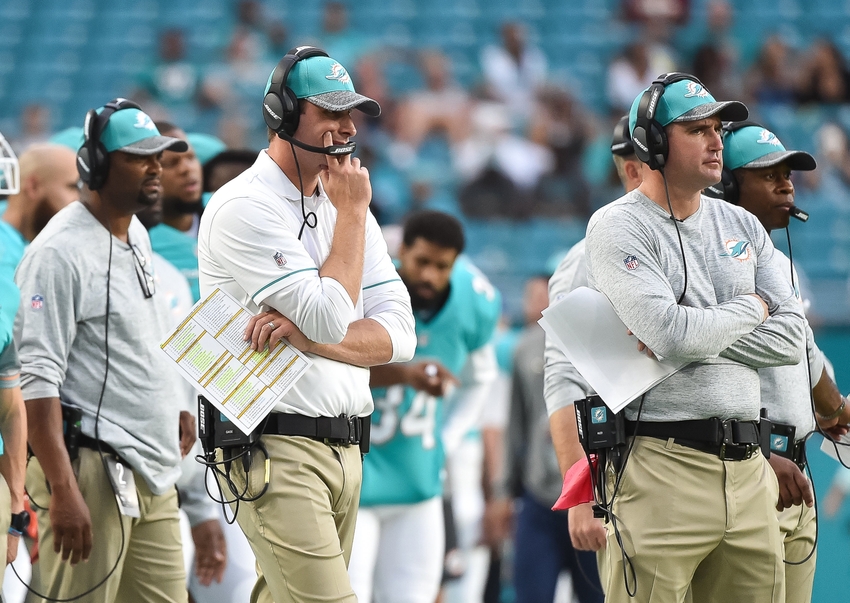 The Miami Dolphins started the season 1-4 but something clicked and now after a four game winning streak, the Dolphins are back in the thick of the playoff picture.
Is it too early to talk Miami Dolphins playoffs? Yes and no. Miami finds themselves in the 7th position in the AFC which is one game out of the wild-card spot. Ahead of them are two AFC West teams, Oakland and Denver who both sit at 7-2.
There is a lot of football to be played for certain but the Dolphins are basically finding themselves two games out of the AFC East race and two games out of the WC race. In the division, the Dolphins have lost one game to New England with one game left at season's end. Miami has not played any of the AFCW teams that are holding playoff spots and they won't face any of those teams this year.
Which means that while the Dolphins could win out, they still do not control their own destiny.
The Raiders still have games against both the Chiefs and Broncos on their schedule while the Broncos still face the Chiefs twice and the Patriots four weekends from now. Could the Dolphins fans be rooting for a Bronco loss against a division rival?
For Kansas City, two games against the Broncos, one against the Raiders, and a tough game against the Falcons are on their schedule.
The Broncos appear to have the harder schedule ahead and with a bye week this coming weekend, the Dolphins could move within one game of the Broncos for the 6th seed with a victory in Los Angeles. Then it's a divisional race to the finish that could see the Dolphins hopes resting on late season wins against the Bills, Jets, and Patriots.
The fact that the post-season is even being discussed at all is impressive given the teams 2016 start, lack of depth, and struggling positional units but Adam Gase and Vance Joseph have made the necessary adjustments to put their players in the right positions.
Miami has a very thin margin of error right now and five teams are within one game of taking their spot. The Tennessee Titans, who the Dolphins lost to, are 5-5. One half game back as the wait for the bye week to conclude. Pittsburgh, Buffalo, and San Diego are all one game back with the Dolphins holding head-to-head tie breakers against them. Indianapolis is also one game back.
It is going to be a very intriguing finish to a season that most fans and media gave up on just over a month ago.
More from Phin Phanatic
This article originally appeared on