Playing QB for the Cleveland Browns isn't safe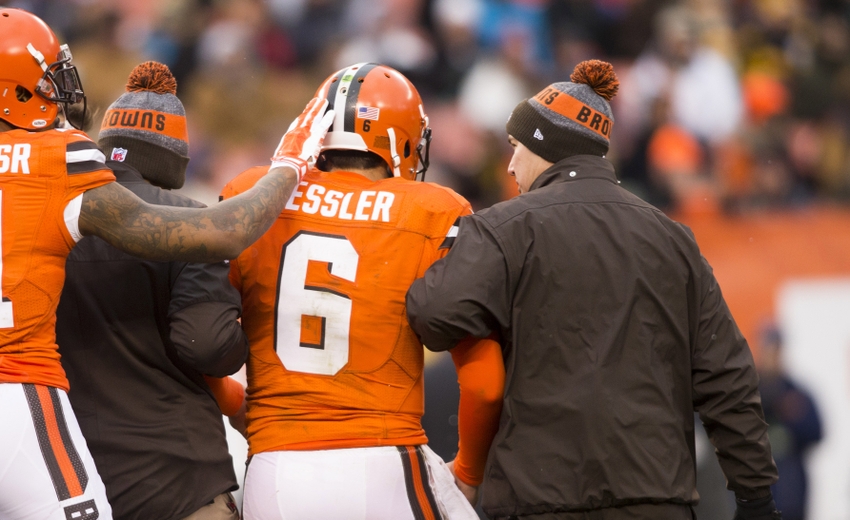 The lack of a competent offensive line makes playing quarterback for the Cleveland Browns one of the most dangerous jobs in the NFL.
It's beginning to get more and more difficult to watch the Cleveland Browns play football.
Not just because the team is 0-11 and is on pace to go down as the worst team in NFL history, but rather because of the beating the players are taking. Specifically, the quarterbacks.
Rookie quarterback Cody Kessler was knocked out of yet another game this season, this time with his second concussion of the season. He went down after Lawrence Timmons had a free path to him, lowering his shoulder into Kessler. The rookie's helmet bounced hard off the cold turf, taking him out of the game and possibly ending his season.
The hit from Timmons can be considered dirty, as it came when Kessler was already going down, but it was not illegal in nature.
Kessler's injury problems stem from two major causes. The first is his inability to get rid of the ball, holding onto it for far too long, especially with a weak offensive line. But there is no excuse for the second cause, which is the fact the Browns have perhaps the worst offensive line in franchise history.
There were several instances in yesterday's loss when defenders had an untouched route to the quarterback. Both Kessler and Josh McCown were absolutely destroyed, combining for eight sacks between the two. A common sight was seeing linemen openly ignore blitzing Steelers, leaving the quarterback vulnerable to a big hit. This is a time when the ball needs to be thrown away immediately, but this still shouldn't be happening.
Whether it be the fault of the scheme, the quarterback, or the linemen themselves, devastating hits on the quarterback cannot continue. Watching the Browns feels like watching a middle school football game, when one team's defensive line is just shoving kids to the ground and piling on the quarterback.
A rookie quarterback now has to deal with his second concussion this season, while a veteran, with no pocket awareness or care for his own body, is going to be the starter for as long as he can stay healthy, which may not be too long.
This means rookie Kevin Hogan may even get a start, unless Robert Griffin III is deemed healthy enough to start following the bye week. But even if he is, he may not last long behind this paper line.
Any college quarterback who may be on the Browns' radar may want to seek some more NCAA eligibility, as playing on this team is just too dangerous right now.
More from Dawg Pound Daily
This article originally appeared on