Pittsburgh Steelers reward Antonio Brown's patience, hard work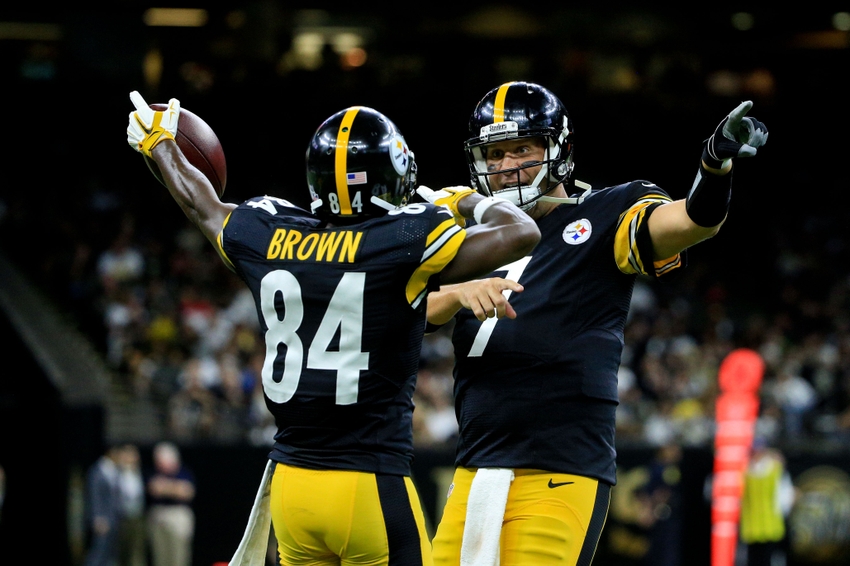 The Pittsburgh Steelers gave Antonio Brown a $4 million advance on his 2017 contract, upping his salary in 2016 and promising an extension in '17…
The Pittsburgh Steelers have always had a way of keeping their own players happy, and of course star wide receiver Antonio Brown is no exception.
Brown, who is undeniably the best wide receiver in the game today, was set to make just over $6 million this season, well below the top paid receivers in the league. There was no real threat of a holdout from Brown, who put his nose to the ground and worked hard this offseason, earning a bit of an 'advance' pay raise from the Steelers as a precursor to an eventual long-term deal.
Steelers moved up $4 million from next year to this year, boosting Antonio Brown's base salary to $10.25 this year, per source.

— Adam Schefter (@AdamSchefter) August 31, 2016
Antonio Brown got no new years added, and Steelers are promising to give him a true extension after this season, per source.

— Adam Schefter (@AdamSchefter) August 31, 2016
This is about as peaceful as you could hope for a contract negotiation with a stud player to go, at least as far as this one has gone. The Steelers have let go of some star receivers in recent years, most notably Mike Wallace and Emmanuel Sanders.
Each player has had varying levels of success in their new ventures outside of Pittsburgh, but the addition of Todd Haley to the offensive coaching staff has helped to breed some success at the position seemingly no matter who is put out there. Brown has seen a stellar start to his career turn into a weekly output of dominance. The guy is simply unreal to watch.
The way he runs routes, his quickness, his deep speed, his consistent hands, his ability to feel the sideline and have body control — it all adds up to an unstoppable force at the wide receiver position, and the Steelers have good reason to be extending him next offseason.
Per team policy, Brown won't be getting a new deal this year, but the fact that they were willing to give him this much advance on his pay for next year as well as essentially 'promise' an extension next offseason shows just how highly they think of Brown.
It's a classy move from the Steelers organization, and Brown's patience earned him a nice pay increase this season while also freeing up $500,000 on the Steelers' salary cap this year. It's a great deal all-around, and it's going to lead to a massive contract extension for the league's top playmaker next offseason.
This article originally appeared on