Pittsburgh Steelers Mock Draft: Bye Week Edition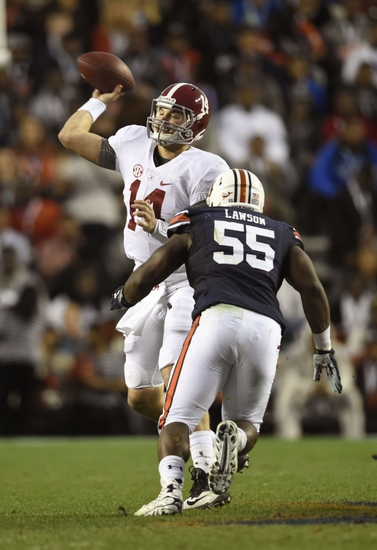 With the bye week over and another Sunday of Steeler football approaching, let's take a look at our first 2017 Steelers Mock Draft.
It's definitely never too late to take a look ahead at the upcoming crop of NFL talent.
Before Steelers football resumes this Sunday, I thought it would be fun to do a Mock Draft exercise. I used Fanspeak's Mock Draft Simulator and drafted as the Steelers, who were picking 25th overall.
I will list the results and my general thinking process regarding each pick below. For all you living room general managers out there, I urge you all to try the simulator out and leave your results in the comments section below. Tell me who you would draft to help out our Steelers!
Round 1: OLB Carl Lawson, Auburn
I decided to go EDGE rusher here with the Steeler's first rounder, considering that Pittsburgh's lack of a defensive pass rush may be their biggest weakness. Carl Lawson is a unique physical talent and would probably step right in as the Steeler's best EDGE rusher. While injuries have plagued Lawson for his entire career, he is finally putting it together in his Junior season. Lawson has managed to collect 7.5 sacks in the Tiger's first 8 games of the season.
Carl Lawson does a tremendous job here against Laremy Tunsil. Deceptive strength w/ great pass rush reperto… https://t.co/5lx2X9H9rO

— Jonathan Valencia (@JonValencia_WiB) June 19, 2016
Possible Options: The other two players I considered using Pittsburgh's first round pick on were Iowa CB Desmond King and Alabama TE O.J. Howard.
Desmond King would fill the obvious need of additional secondary help, while providing ball skills and physicality that are much needed in the Steelers defensive backfield.
O.J. Howard certainly would have been a luxury pick, with greater needs on the defensive side of the field. However, it is scary to envision his potential role in the Steelers prolific offense.
Round 2: CB Jourdan Lewis, Michigan
With the Steelers second rounder I decided to tackle another obvious need by addressing the defensive secondary. Jourdan Lewis would be an ideal addition to Pittsburgh's defense.
As a Senior, Jourdan Lewis is an experienced cornerback on one of the most talented defenses in the nation. He has the potential to serve as a lockdown corner in the NFL with his cover skills that allow him to remain glued to his target's hip pocket. Additionally, Lewis also can hold his ground in the run game with his high degree of physicality.
You may have heard of Lewis after he made one of College Football's craziest catches of the season with his leaping, one-handed interception to clinch Michigan's win over Wisconsin. Lewis possesses fantastic ball skills and is constantly in position to create turnovers due to his coverage abilities.
Possible Options: Two other players I considered here were both Washington Huskies: DL Vita Vea and WR John Ross.
Vea, who I previewed in a recent Draft Watch article, has above average athletic abilities for a man of his size. He dominates against the run by occupying space and standing up blockers, and can even rush the passer from the interior.
John Ross is a dynamic athlete who is a scoring machine, racking up 13 total touchdowns in Washington's first 8 games. 11 of those scores came on the receiving end, where Ross is a dynamic threat from the slot. He additionally adds value as an explosive return man.
Round 3: S Budda Baker, Washington
So far this draft has been defense heavy. With the third straight defensive selection in a row, I drafted Budda Baker, the rangy, versatile safety from Washington. Baker plays a highly aggressive game both in run defense and in coverage.
In coverage, Baker excels in a multitude of positions, including as a deep safety and slot corner. Baker covers a lot of ground and has the necessary athleticism to break on passes. Furthermore, Baker plays with a fiery passion and intensity, and can lay punishing hits at the catch point despite his small stature. Baker has a knack for always being around the ball and making plays.
Possible Options: Two other players I considered with this 3rd round pick were Oklahoma WR Dede Westbrook and Michigan DL Chris Wormley.
The Steelers are in need of a slot WR to work the middle of the field and Westbrook would be an excellent selection to fit this role. He uses a combination of excellent timing and suddenness in his routes and knows how to create separation. However, his slight frame may push him down draft boards unless he bulks up in the pre-draft/combine process.
Wormley would be a solid depth option on the Steelers d-line. It is easy to envision him spelling Heyward and Tuitt for snaps and providing Pittsburgh with some much needed backup talent at the position.
Round 4: CB Chidobe Awuzie, Washington
Ok, I knew this draft would be defense heavy but never did I think it would get this out of control …
With the 4th straight defense selection in a row, the defense loving Still Curtain writer selects Chidobe Awuzie, a solid cornerback from Purdue.
Steelers vs. Patriots Fantasy outlook
One commonality amongst all of my draft picks have been that each prospect plays with a passionate intensity and aggressive physicality. This is something that I feel is lacking with Pittsburgh's defense at times. Awuzie uses his physicality to disrupt WRs timing and break up passes at the catch point. Additionally, he is a sound run defender who is one of the best tacklers on his team.
Possible Options: Two other options here are Baylor wideout K.D. Cannon and Florida S Marcus Maye.
I felt myself wanting to go offense with this selection and take Cannon, but I figured there would be greater value at drafting a WR in the later rounds. Nevertheless, Cannon is a dangerous deep threat.
Round 5: EDGE Daeshon Hall, Texas A&M
What have I done?
5 straight defensive selections in a row.
This mock is a mess … even though the Steelers defense is greatly in need of infusing some young talent.
Regardless, the Steelers will likely need to add several OLBs to their roster. James Harrison is likely to retire and Jarvis Jones is set to hit free agency. Daeshon Hall is an intriguing EDGE option who is overshadowed by playing across from Myles Garrett, but highly talented in his own manner.
Upcoming

Schedule

11/6

at

Baltimore Ravens
11/13

Dallas Cowboys
11/20
at

Cleveland Browns
11/24
at

Indianapolis Colts
12/4

New York Giants
Possible Options: Iowa QB C.J. Beathard and Michigan CB Channing Stribling. I figured I had already covered all the needs in the secondary, and while it would fill a need Beathard probably wouldn't serve as an upgrade over Landry Jones.
Round 6 (Pick 1) : WR Ryan Switzer, North Carolina
After my offensive position coaches had been calling for my head, I decided to go offense for a change. I passed on several wideouts throughout this mock because I had Switzer pegged as my slot WR of choice. As a slot WR, Switzer may perhaps be the best route runner in the class. He effortlessly creates separation over the middle of the field and is a dynamic run after the catch threat.
Round 6 (Pick 2) : DT Derrick Nnadi, Florida State
With the Steeler's second selection in the 6th round, I went with a hulking DT from Florida State, Derrick Nnadi. From the little I have seen of Nnadi, I was surprised he was available at this point. Nnadi is more than your classic run stuffer, as he can push the pocket and pressure the QB a little.
Possible Options: Two options I considered with these picks were Washington S Kevin King and San Jose St. TE Billy Freeman.
Round 7: RB Justin Davis, USC
With another offensive selection, I went Justin Davis from USC. He could potentially earn a roster spot on the Steelers, especially considering Deangelo could walk in free agency next offseason. Davis possesses some solid burst and vision in the run game, but has room to improve in terms of his pass protection.
Possible Options: Two final options I considered here were Utah G Isaac Asiata and Clemson C Jay Guillermo.
More from Still Curtain
This article originally appeared on