WATCH: Antonio Brown violates Broncos' 'No Fly Zone' in Steelers win
Earlier this week, Broncos safety T.J. Ward said the Steelers' offense was hot because it hadn't faced Denver's vaunted secondary yet. Apparently, Antonio Brown didn't get the memo.
The Steelers receiver exploded for 189 yards on 16 receptions with two touchdowns in Pittsburgh's 34-27 win on Sunday. Both scores came against Broncos cornerback Chris Harris, who hadn't allowed a passing touchdown in two years. Brown beat Harris one-on-one down the seam for the game-winning touchdown from 23 yards out with 3:24 remaining. Harris appeared to be expecting inside help, but safety Josh Bush didn't get over in time.
There's no stopping Antonio Brown: The Sequel. #DENvsPIT https://t.co/Evc7O1bt6V

— NFL (@NFL) December 21, 2015
Brown broke Harris' streak midway through the third quarter with this 9-yard touchdown from Ben Roethlisberger, who completed 40 of 55 passes for 380 yards and three touchdowns with two interceptions.
It's been over two years since Chris Harris allowed a TD. Antonio Brown made sure to put an end to that. #DENvsPIT https://t.co/FqiJGtXlxj

— NFL (@NFL) December 20, 2015
While Ward was inactive for the third straight game with an ankle injury, Harris had nothing but respect for Brown's accomplishments.
"It was the best versus the best and he won. I have not given up a touchdown in two years," Harris said via Steelers.com. "The way I played was very disappointing, and I let my team down. He is a good receiver. He's the best receiver in the game right now. I just did not make any plays today."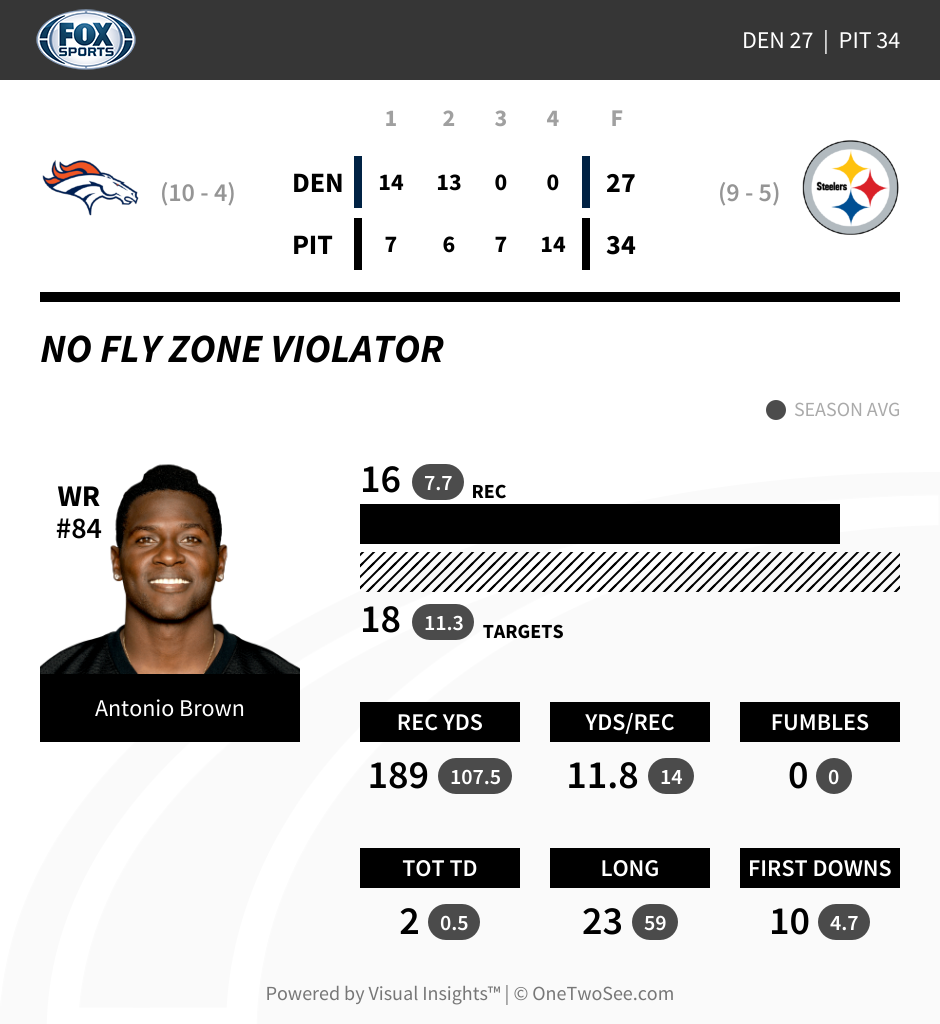 Roethlisberger's other touchdown pass went to Markus Wheaton, who finished with 62 yards on 6 receptions. Martavis Bryant reeled in 10 catches for 87 yards.
MORE NEWS:
Want stories delivered to you? Sign up for our NFL newsletters.