Pierre Garcon Named Redskins Walter Payton Man Of The Year Recepient For 2016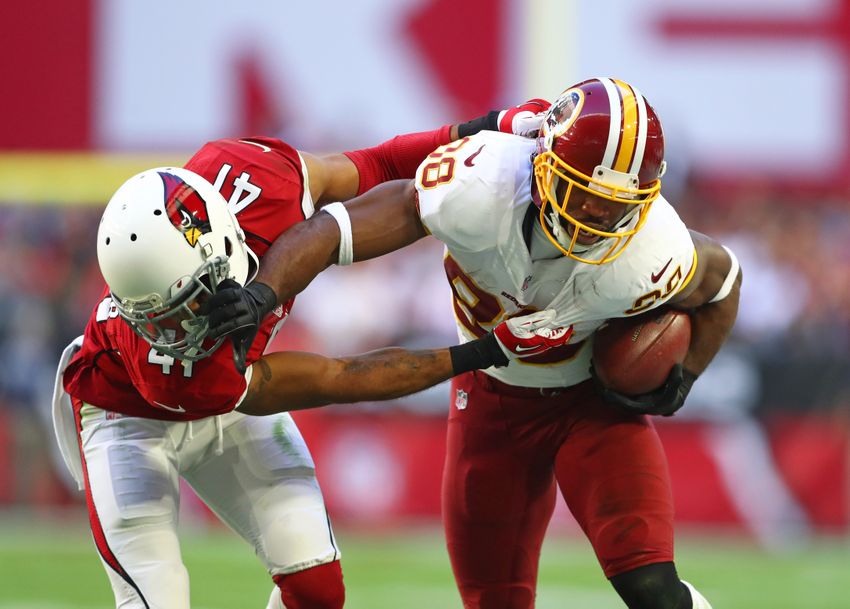 On Wednesday, the Washington Redskins announced that their nominee for the Walter Payton Man Of The Year was Pierre Garcon. The veteran receiver certainly deserves the honor.
Pierre Garcon has long been a productive player on the field, but his impact stretches far off of it as well. The Washington Redskins officially named Garcon their Walter Payton Man of the Year for 2016. The award is given to players that demonstrate a dedication to community service and volunteer efforts while also putting together a strong on the field performance.
There is no doubt that Garcon deserved the award. He founded the Pierre Garcon Helping Hands Foundation in his rookie year, and he has been running it since. Garcon has also showed a dedication to the people of Haiti and has helped their country after various disasters. This year, he helped the country out after Hurricane Matthew, per the Redskins website:
Following Hurricane Matthew's destruction earlier this season, Garçon made an effort to be on the forefront of the Redskins relief efforts. He travelled to Haiti on Monday, October 10, hours after scoring the go-ahead touchdown in the Redskins victory over the Baltimore Ravens. Garçon's visit to Haiti focused on bringing medical supplies and bottled water to Hospital Bernard Mevs, and is just one example of his dedication to his family's homeland.
On the field this year, Garcon has started all 12 games and has posted 59 receptions and 714 yards. He is on pace to have his best season in total yardage since 2013, and he is averaging his highest number of yards per catch (12.1) since his first season with the Skins back in 2012. Most importantly, he has been a consistent weapon for Kirk Cousins and has helped lead the team's offensive endeavors.
There is a chance moving forward that Garcon could get even higher honors. Every year, the league picks one player as the league's Walter Payton Man Of The Year, and that is picked during Super Bowl week. The last time the Redskins had a finalist for the award was London Fletcher back in 2009.
At the end of the day, Garcon absolutely deserves this honor. Congratulations to Pierre for the honor, and thank you for your contributions to the community!
This article originally appeared on