Philadelphia Eagles: Wendell Smallwood Can Come Up Big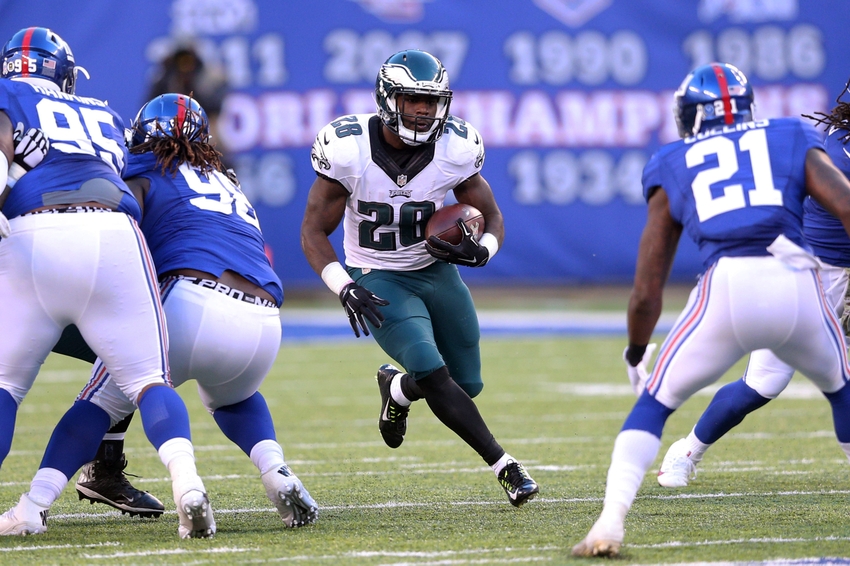 Every win counts for the Philadelphia Eagles in a tight NFC East race and their most important player in Week 12 could be running back Wendell Smallwood.
A fifth-round pick out of West Virginia, Wendell Smallwood came into the NFL with little fanfare. But the Philadelphia Eagles lack of depth at the running back position always made him an intriguing sleeper for fantasy owners. Ryan Mathews is a quality starter when he's healthy, but the oft-injured feature back suffered an MCL sprain in last week's loss to the Seattle Seahawks.
With Mathews out for Week 12 against the Green Bay Packers, Smallwood steps in as the starter. Mathews has found the end zone eight times this season and he's been an average option on the ground with 4.2 yards per carry.
Smallwood's sample size is smaller, but the rookie has averaged a solid 4.4 yards per carry on 57 attempts. Two weeks ago in a crucial win against the Atlanta Falcons, Smallwood put together his second-best performance of the season with 70 yards on 13 carries. Back in Week 3, he turned a season-high 17 rushing attempts against the Pittsburgh Steelers into 79 yards and a touchdown.
According to Philly.com's Zach Berman, Eagles offensive coordinator Frank Reich is a fan of "everything about" the rookie.
At West Virginia, Smallwood showed that he has three-down potential in the NFL and he was one of the quickest running backs at the NFL Combine as a high performer in both the three-cone drill and 60-yard shuttle.
His Week 12 opponent, the Packers, are sixth in the NFL in total rushing yards allowed and have surrendered a meager 3.7 yards per carry. However, the Packers defense is among the worst in the NFL. That reputation comes from their shoddy pass coverage due to injuries at cornerback, as the likes of Quentin Rollins have been getting toasted with regularity. In back-to-back weeks, the Tennessee Titans and Washington Redskins dropped 40+ points on Green Bay.
The Packers stats against the run look good on paper, but they have shown holes in that department, too. Green Bay allowed more than 150 rushing yards to the Titans elite attack in Week 10 and Robert Kelley had a breakout performance against the Packers defense with 137 yards and three touchdowns on 24 carries.
This means that Smallwood has an excellent opportunity on his hands. First of all, while Mathews is an established starter in this league, I doubt the Eagles have locked in the idea of him remaining the starter if Smallwood proves he is better.
Secondly, this is an opportunity for Smallwood to be the guy who helps out Carson Wentz. We've seen time after time that Wentz has the arm talent and decision-making chops to be a top-10 quarterback in this league. However, the numbers haven't been there for the No. 2 overall pick. The Eagles are 25th in net yards per pass attempt and Wentz has a subpar 84.2 QB Rating.
The failings are on the wide receivers and we know that Wentz isn't going to get adequate help from players like Nelson Agholor and Dorial Green-Beckham. While the Eagles rushing attack has been good enough to place sixth in total yardage, it hasn't always been consistent.
It seems like the magic number for the Eagles on the ground is 120. Like most teams, if they get enough yardage on the ground, they are in line for a victory. This is even more true for the Eagles, though, because the rushing attack needs to be more of a weapon in order to overcome the lack of standout pass-catching options.
Mathews still has an outside shot at playing if he practices on Saturday. But at this point, I would consider Smallwood the Week 12 starter on Monday Night Football. This is a big chance for him to take advantage of a Packers defense that is on a slide and it is also a chance for him to be a three-down, drive-sustaining back who can be Wentz's right-hand man.
On film, Smallwood didn't seem to be a future star at the position, but that's why the Eagles took him as a fifth-round pick. He's a smart, well-rounded value back, and he has enough traits to possibly be a sure-fire starter in this league. The Eagles have been good this season, but they are in last place in a competitive division. Monday's battle with the Packers is a chance for someone like Smallwood to prove that he can help a promising-but-flawed Eagles team win more games by being one of the missing pieces.
This article originally appeared on