Philadelphia Eagles: The Antonio Brown Trade Talk Isn't Dying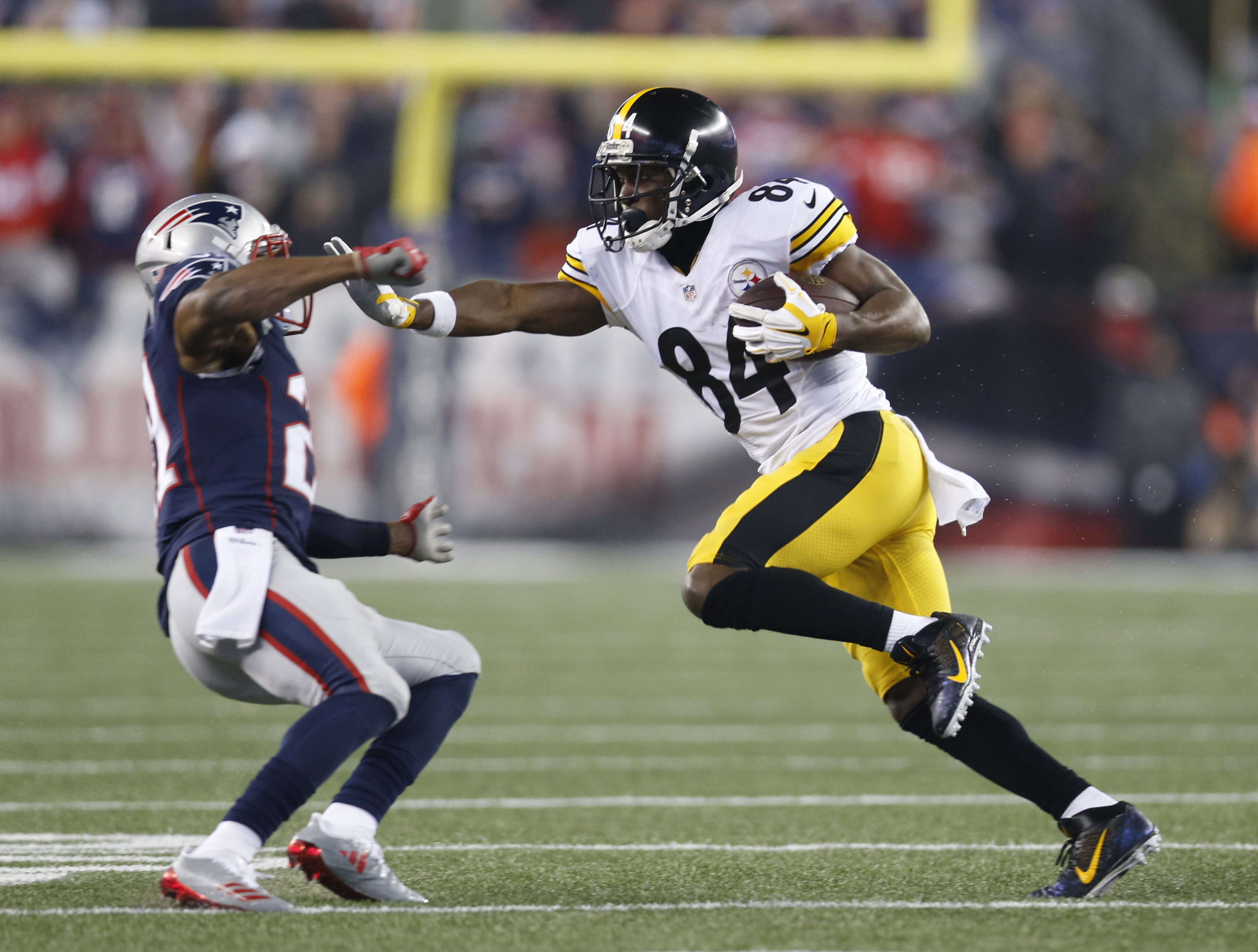 The Philadelphia Eagles are in a full-blown hunt for offensive weapons, and wide receiver is topping the list by a pretty wide margin.
Talk has swirled around free agency and the NFL draft for weeks already. Will they make a push for Alshon Jeffery if he leaves Chicago? Will they try to draft Mike Williams or Corey Davis? It's so easy to get lost in these things that people are forgetting the obvious. This Eagles regime is known for being aggressive on the trade market. What's to stop them from going that route to get their guy.
It seems there's even a name that is gaining steam on that front. A name that people are having a hard time accepting to be true.
Mike Florio of Pro Football Talk got the ball rolling when he indicated that the recent behavior of Antonio Brown is creating a tense situation with the Pittsburgh Steelers. First his controversial locker room video after beating Kansas City in the divisional round. Then the reports that the team was concerned he was less focused on team success and more focused on his own personal stats.
"The recent leak to NFL Network reporter Aditi Kinkhabwala, who is embedded with the Steelers, that the team believes Brown cares too much about his statistics and that he was "pouting" after the first touchdown of Sunday's loss to the Patriots could be regarded as a deliberate effort by the team to slide Brown toward the trading block."
NJ.com columnist Eliot Shorr-Parks who covers the Eagles took immediate notice of that statement. He believes it's almost certain the team is watching the situation carefully.
"That comment should get the attention of Eagles front office executive Howie Roseman. Although the NFL Draft is still three months away, things are starting to take shape as more-and-more teams becomes eliminated.

Wide receiver is one of the Eagles' most pressing needs, and Roseman has promised to address the weakness this offseason. With quarterback in Carson Wentz to build around, adding better receivers should be a top priority.

In 2017, Brown will be entering the final year of his contract, and he likely will seek a contract worthy of one of the NFL's top receivers. If the Steelers are souring on Brown, trading him would allow them to get something in return before risking he would leave as a free agent."
It seems absolutely inconceivable to think about. Brown is one of the two best wide receivers in the NFL. The stats alone bear that out with 632 catches, 8,377 yards, and 50 touchdowns in 101 games. He's still just 28-years old. It's hard to imagine the Steelers would even be considering this. Then again, this is a franchise with a long track record of success at drafting at developing wide receivers.
People thought they were crazy to let Plaxico Burress walk in 2005. No bother. In comes a young kid named Santonio Holmes. Then he decides to leave it 2010. Again the Steelers just adjust to a speedster in Mike Wallace. He also departs for that big contract elsewhere. Lo and behold Pittsburgh has a 6th rounder named Antonio Brown waiting in the wings. Why should they fear moving on from him when they already done this several times before?
Don't forget Martavis Bryant is set to return from suspension in 2017 while Eli Rogers also stepped up this past season. They aren't totally unprepared to handle the loss and the wealth of draft currency they'd get in return could assist in making that even easier. On the flip side the Eagles would get their young quarterback Carson Wentz a legitimate star receiver. Somebody who can open up their offense.
Whether GM Howie Roseman would be willing to pay the price is of course the big question. It will cost at least a 1st round pick (probably more) and lots of money that the Eagles have to find.
This article originally appeared on