Philadelphia Eagles re-invest in their magic man, Jon Dorenbos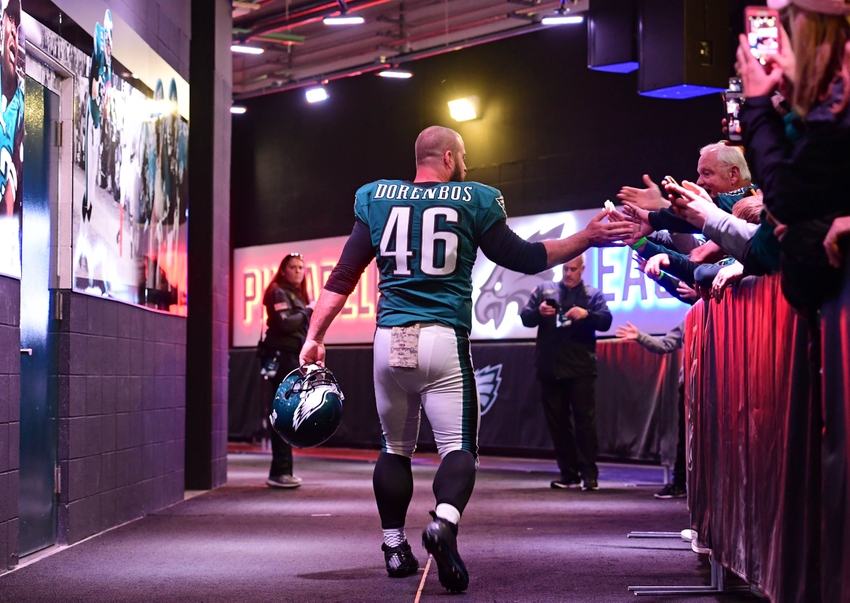 This week the Philadelphia Eagles extended Jon Dorenbos' contract for three more years, through 2019.
Jon Dorenbos brought a different spotlight to the Eagles squad this offseason. He stole the show on America's Got Talent.  As the team's long-snapper, he has gone unnoticed as an undrafted free agent from UTEP. Still, he's managed to carve out a 14 year NFL career. He's been to the Pro Bowl twice (2009, 2014), and he's currently one of the anchors of one of the best special teams' units in the league.
Recently, while discussing Dorenbos' and Chris Maragos' extensions with the media, head coach Doug Pederson acknowledged the importance of special teams, reminding everyone that it's one of the three major components of football. Pederson also didn't hesitate to state how both Dorenbos and Maragos were leaders and relied upon by their teammates.
The numbers don't lie for the Eagles
Philadelphia currently ranks 16th in the league for average net yardage per punt (41.8). Punter Donnie Jones and Dorenbos have worked well together. Similarly, the birds rank 10th in the NFL for average return yards  (11.6) and are tied for 6th in the league for touchbacks on punts (4). The Eagles', Dorenbos included, are 15th in the NFL in forcing fair catches (12).
Dorenbos is a household name in Philadelphia. His work as a magician and motivational speaker shows fans another side of a man with one of the most important special teams responsibilities. Since Dorenbos joined the team in 2006, the birds have endured only two losing seasons, 2012 (4-12) and 2015 (7-9). Yes, offense and defense are important, but special teams is also essential to winning games. Philly fans know this better than most. Just think back to what's known as "Miracle at the Meadowlands part two", when DeSean Jackson put an exclamation point on a 21-point come-from-behind victory by way of a walk-off punt return.
More from Inside the Iggles
This article originally appeared on