Philadelphia Eagles lose Sunday night heartbreaker to Dallas Cowboys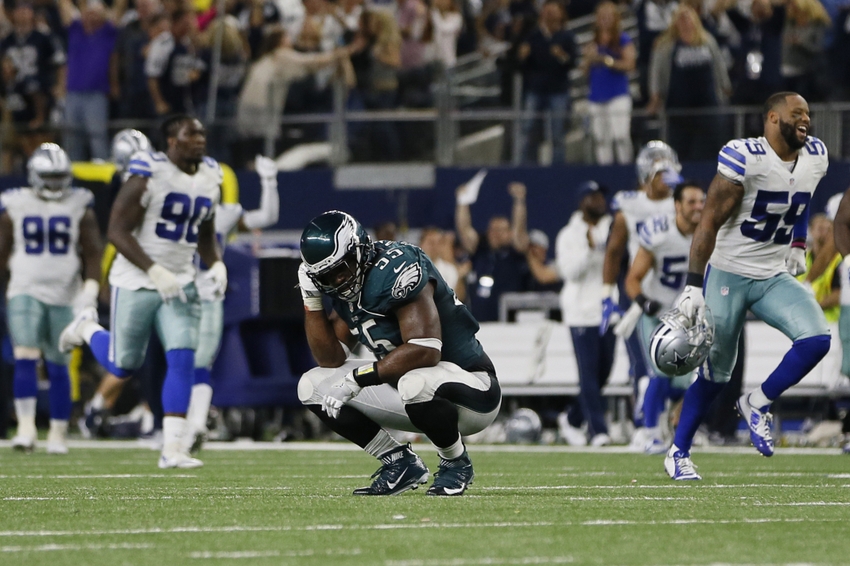 The Philadelphia Eagles lost.
The Philadelphia Eagles lost to the Dallas Cowboys. It was stupid and awful and I wouldn't be sad if a comet decided to collide with planet Earth right now. Philadelphia's record now falls to 4-3, giving the Cowboys a comfortable lead in the NFC East with a 6-1 record.
Not everything was completely bad, but there were a lot negatives in this catastrophic series of events that was aired on national television Sunday night.
The turning point of the game was Wendell Smallwood's fumble on the first play of an Eagles fourth quarter drive while they were ahead 23-13. Smallwood may be a rookie who has been nominated for the Pepsi Rookie of the Week twice this season, but that does not discount just how horrible his fumble was. As good as Smallwood has been this season, he is largely responsible for the Eagles' loss and that turnover is absolutely inexcusable.
More from Inside the Iggles
Speaking of costing the Eagles the game, Doug Pederson may have done just that. Pederson's decision to punt the ball rather than give Caleb Sturgis the opportunity to kick a 53-yarder to extend the Eagles' lead (Sturgis made a 55-yarder earlier in the game) was huge and played a major role in Philadelphia's loss to their bitter rivals. On top of that, Pederson's time management was questionable and his playcalling was the definition of vanilla. It was a bad night for Pederson, who showed his inexperience as a head coach at the worst possible time.
The Eagles' receivers were also putrid. Once again, drops were a major problem for Philadelphia's wideouts and it should not come as much of a surprise if the Eagles decide to make a trade over the next few days in an attempt to bring in a more effective pass-catcher. Because right now, the current group is not getting it done.
It's only Week 8, but this could end up being a devastating loss for the Eagles down the road. Luckily, they get one more chance to beat Dallas when they take on the Cowboys in Philadelphia on New Year's Day in Week 17.
This goes without saying, but that game might be kind of important.
This article originally appeared on